Last week I posted my 30 Healthy Summer Recipes recipe collection – so many of my favorites from the blog! – but today I've got a brand-new recipe for you: Strawberry Rhubarb Overnight Oats Breakfast Parfaits!
I know how many of you are as crazy about Overnight Oats as I am, and like all of my Overnight Oats recipes, this one's quick and easy to make. But it's also a total beauty food – perfect for getting that Inner Glow.
Apart from all of that, these parfaits are just so pretty. Just look at those gorgeous layers!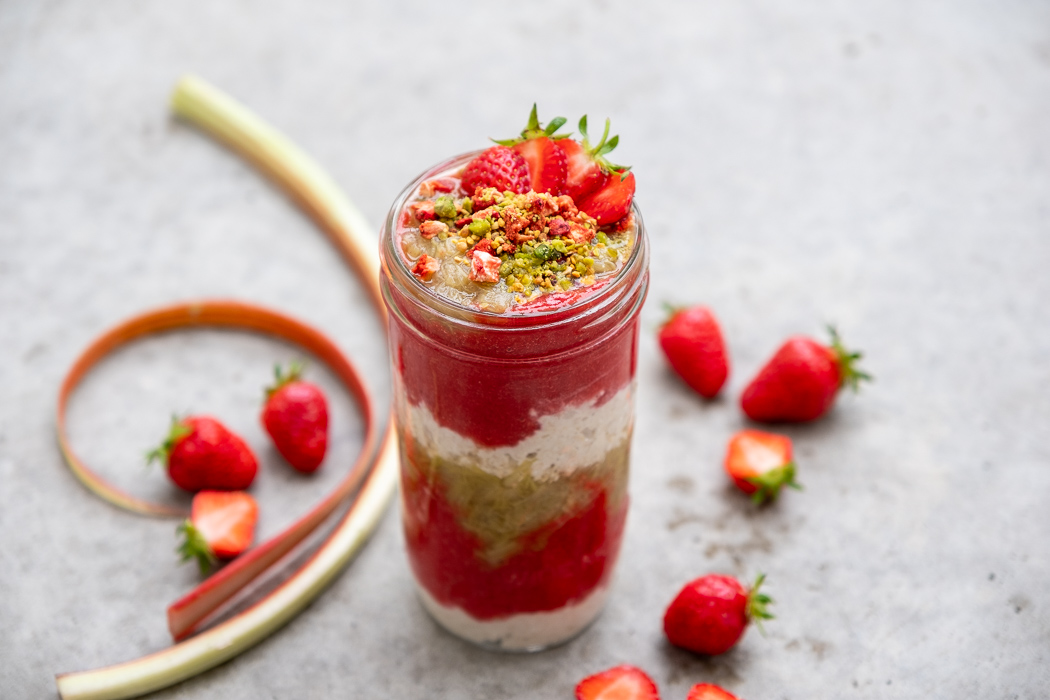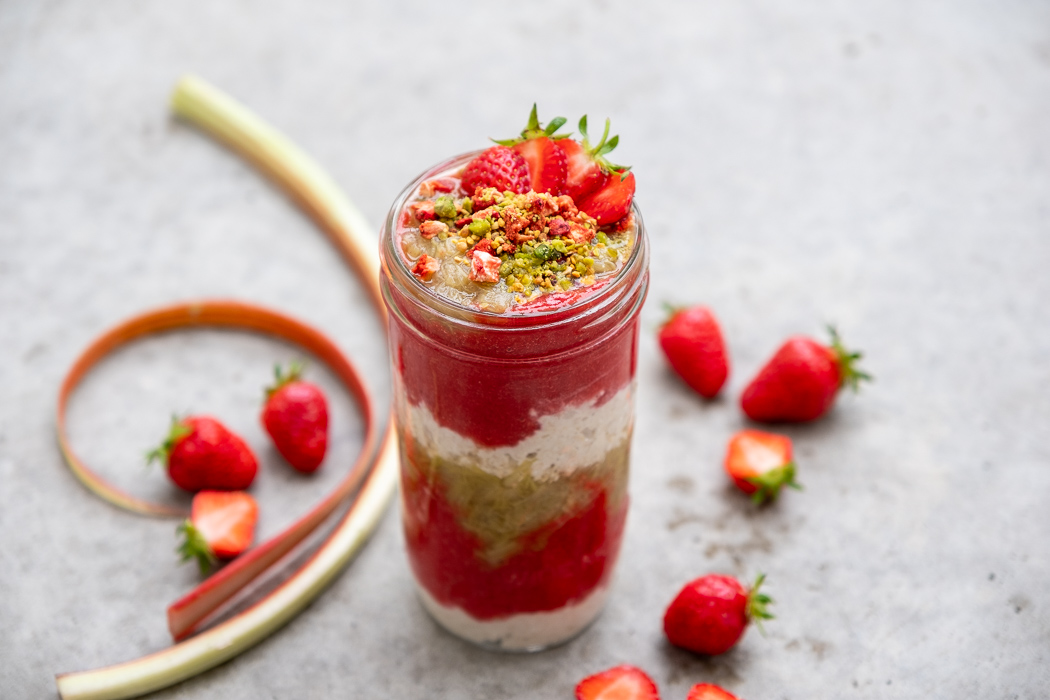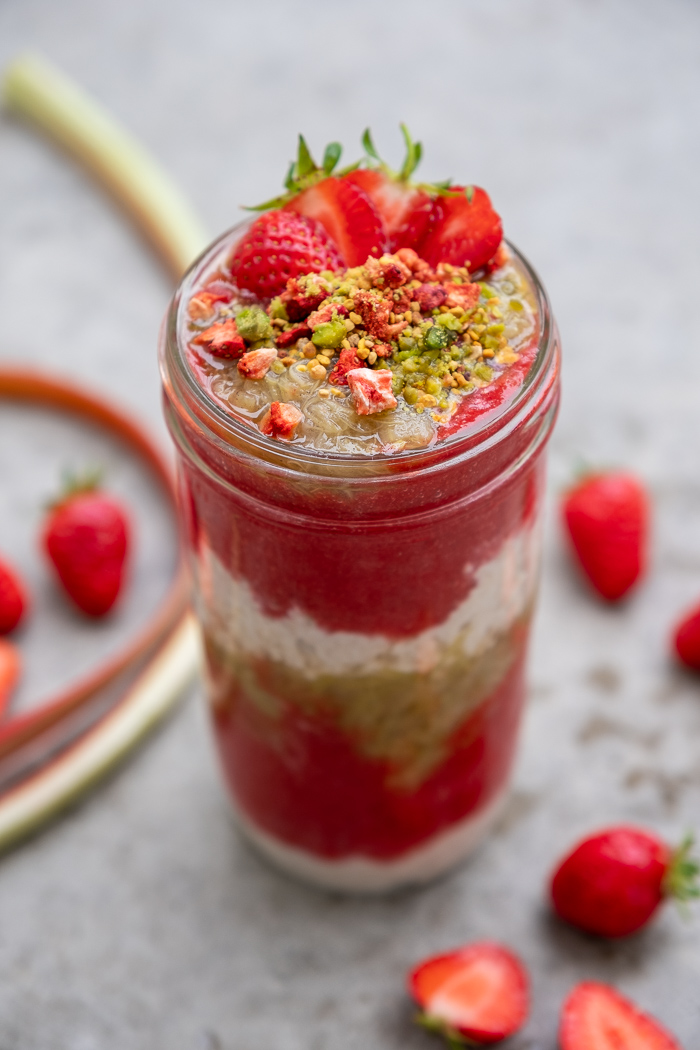 Rhubarb season may be officially over here in Germany, but my husband and I still have some stocked up in our kitchen. I'll usually buy rhubarb in bulk during rhubarb season, then preserve it by cooking or freezing – I highly recommend doing that! But if you're unable to get ahold of any rhubarb, don't worry – this breakfast is just as delish with just the strawberries and vanilla.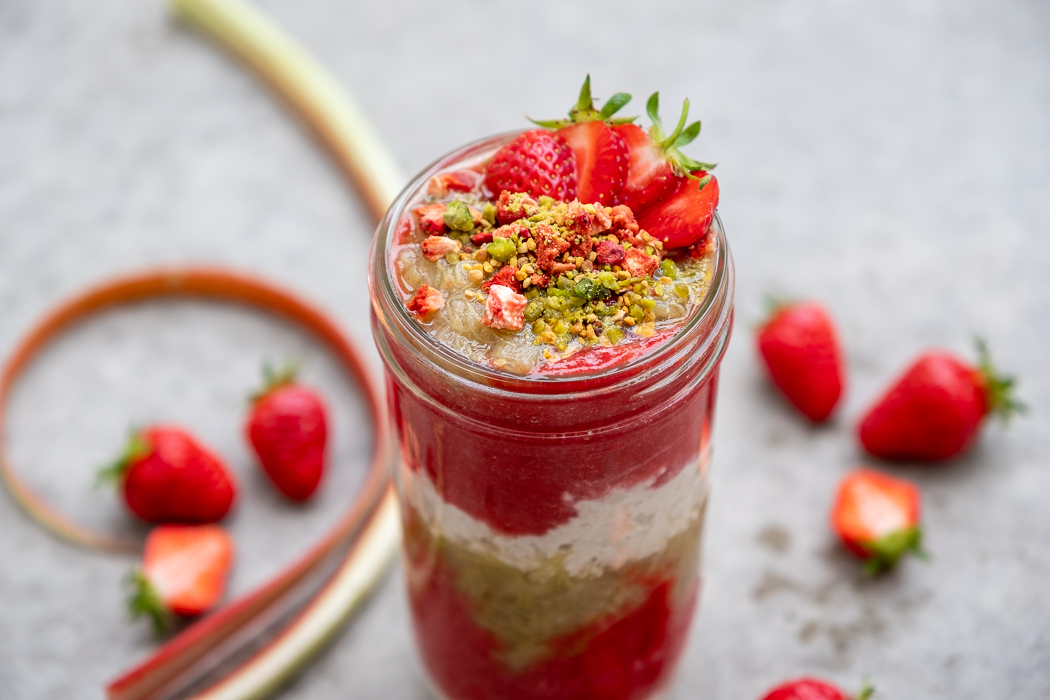 Strawberry Rhubarb Overnight Oats Breakfast Parfaits are packed with nourishing ingredients:
Oats
Oat are super healthy and if you're into them (and you know I am!), they should become a regular part of your diet. In addition to all the fiber, which promotes healthy digestion, they contain many minerals such as iron, zinc, magnesium, and phosphorus, as well as vitamins (especially vitamins B1 and B6). They also contain a lot of vegetable protein (approx. 12 g protein per 100 g oat flakes). Whether you prefer rolled oats or tender oats, oats are always a whole food, containing the outer layers of the grain.
Whether cooked as oatmeal or soaked as Overnight Oats, I love oats! (You can find even more Overnight Oats and breakfast recipes here.
Strawberries
Strawberries are one of the regional superfoods up here in Northern Europe. They're rich in vitamin C, an antioxidant, which makes them a total beauty food! Strawberries also contain anthocyanins, another kind of antioxidants. This plant pigment gives fruits and vegetables an intense color, from red-violet to dark blue. Anthocyanins are found in strawberries, blueberries, cherries, aubergines, red cabbage, beetroot, and grapes. They are among the secondary plant substances (polyphenols) that are said to promote good health, fighting inflammation and aging. Anthocyanins are also the reason why red wine – in moderation, of course – is said to have a health-promoting effect.
Strawberries also contain a lot of fiber, which in turn has a positive effect on digestion. Potassium, calcium, zinc, iron, and copper, among other things, ensure healthy bones and teeth and help fight fatigue.
The biotin also contibutes to healthy hair and strong nails, while the folic acid is necessary for many of the body's metabolic processes, including cell division.
Rhubarb
Rhubarb is also super healthy: in addition to fiber, it's packed with potassium, calcium, phosphorus, and vitamin C (antioxidants)! By the way, rhubarb is a vegetable and not a fruit.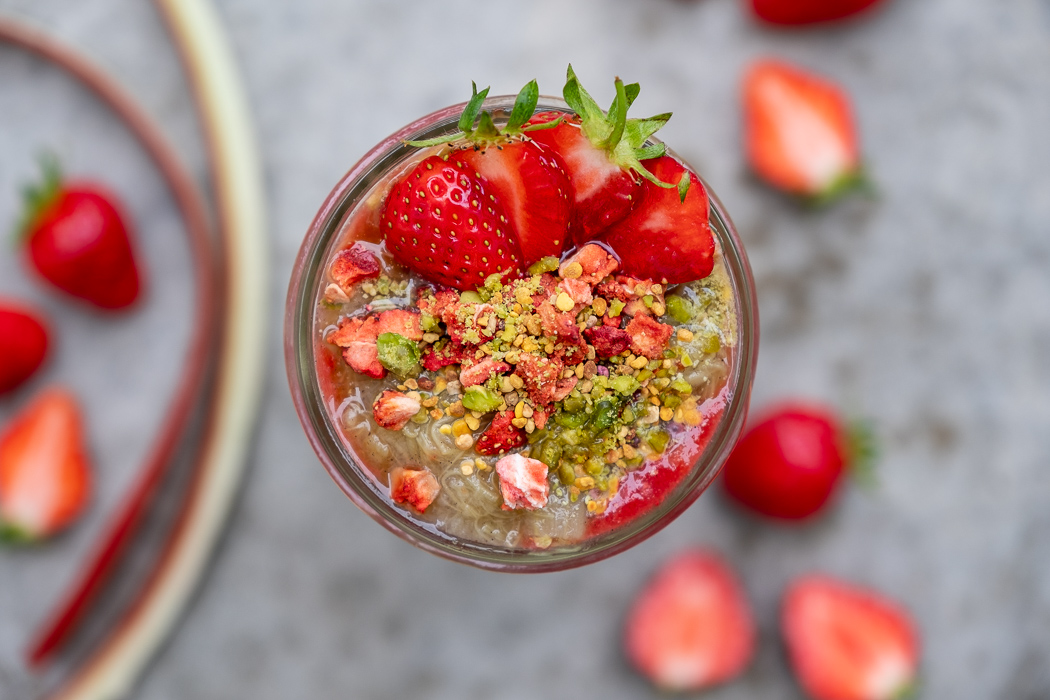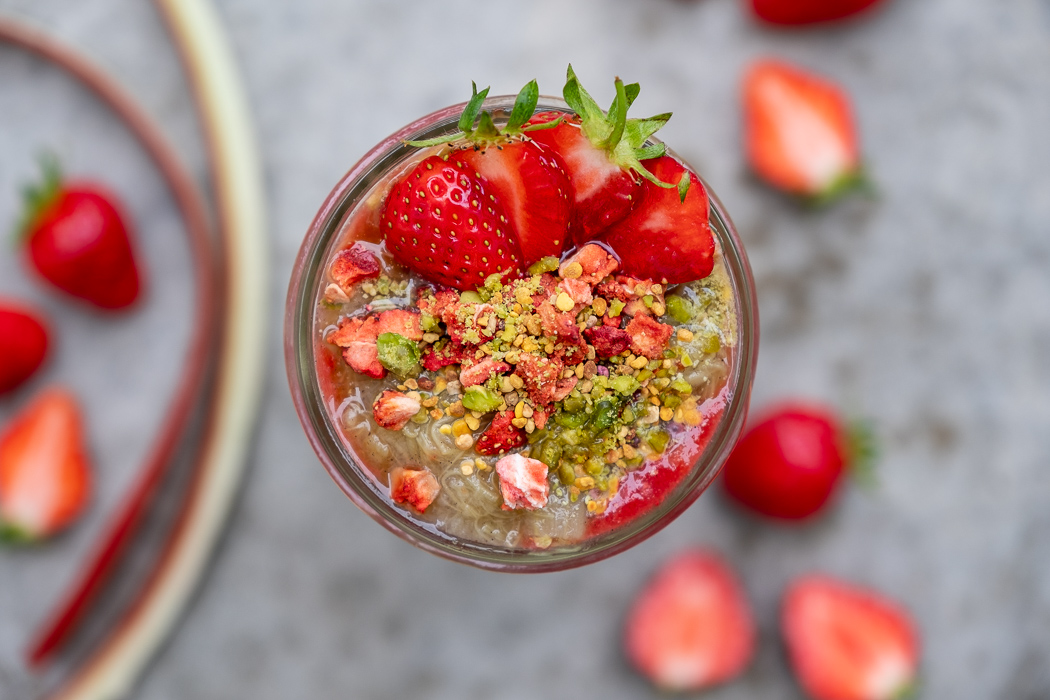 Here's the recipe:
Strawberry Rhubarb Overnight Oats Breakfast Parfaits

I usually sweeten rhubarb with some rice syrup, but these Strawberry Rhubarb Overnight Oats Breakfast Parfaits are sweet enough with just the fruit alone! The sweetness of the strawberries and the tartness of the rhubarb are a perfect pairing, as everyone knows – no additional sweetener needed. :-)

Rezept drucken

Rezept drucken
Passive Time 30 minutes
ZUTATEN:
100 g oats
250 ml oat milk
500 g strawberries
2 stalks rhubarb
1 generous pinch ground vanilla* or 1/2 tsp pure vanilla extract
ANLEITUNG:
Combines oats with oat milk. Divide into two bowls and let sit in the fridge overnight (or for at least 30 minutes).
Wash the strawberries, remove stalks, and purée fruit. Wash rhubarb, remove ends, and peel, and chop into pieces.
In a saucepan, bring rhubarb to a boil with 2–4 tablespoons of water and vanilla and simmer for 2–3 minutes, stirring occasionally. Remove from heat and let cool.
Pour half of the soaked oats into two glasses (first layer). Spread half the puréed strawberries on top (second layer). Then add rhubarb, oat flakes, and the rest of the strawberry purée (third layer)!
| | |
| --- | --- |
| | |
As toppings, I added a few chopped pistachios (healthy fats!), bee pollen* (vitamins, minerals, antioxidants!), and a few freeze-dried strawberries (gorgeous color and summer flavor!).*
Have fun and enjoy! :-)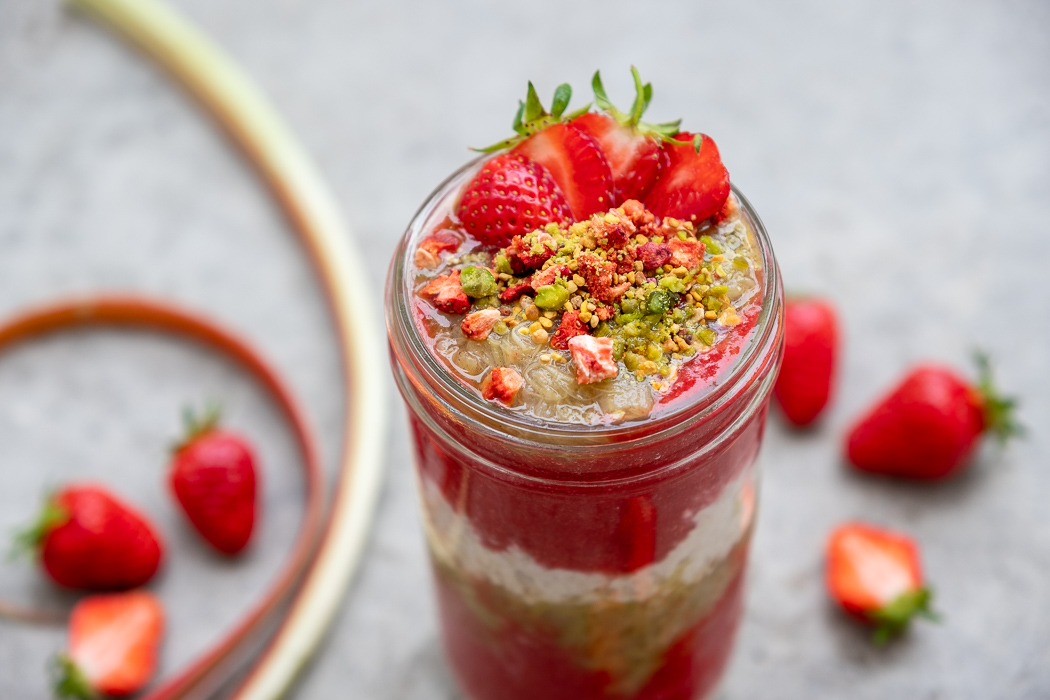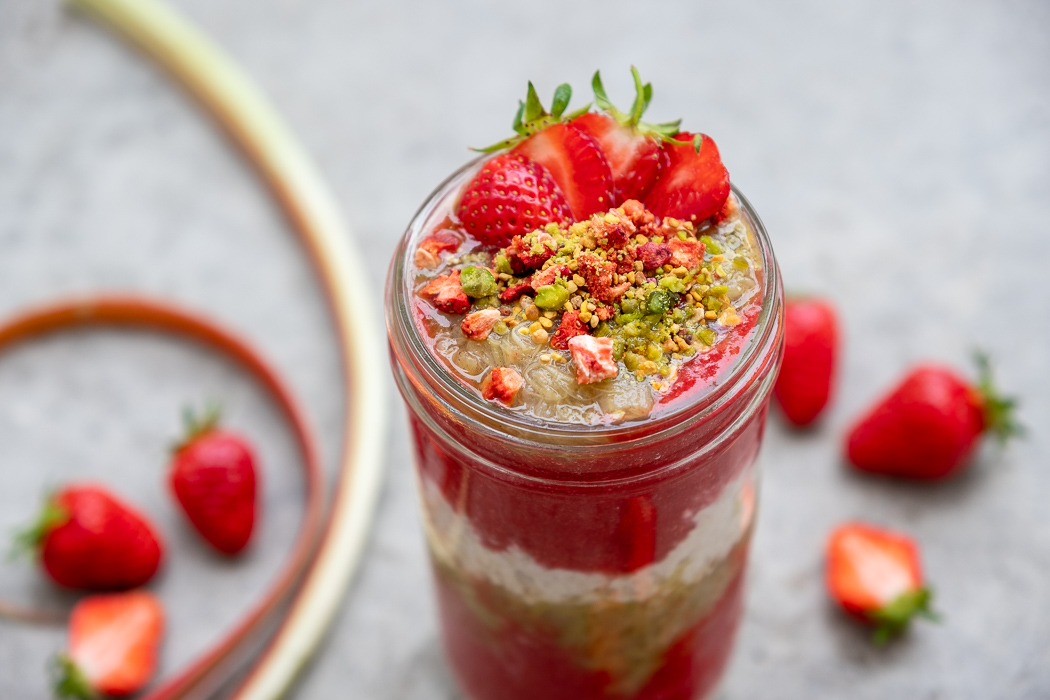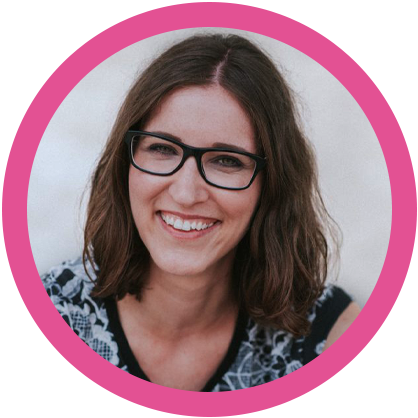 Ich bin Hannah Frey, Gesundheitswissenschaftlerin, Bloggerin und Kochbuch- und Ernährungsratgeber-Autorin. Ich helfe dir dabei, dich auch im stressigen Alltag mit wenig Aufwand gesund zu ernähren. Ich möchte dich zu einem gesunden Leben motivieren und inspirieren. Deshalb findest du hier jede Menge schnell zubereitete, einfache und alltagstaugliche Rezepte aus natürlichen Zutaten und ohne raffinierten Zucker – aber mit 100 % Geschmack!
https://www.projekt-gesund-leben.de/wp-content/uploads/2019/07/Erdbeer-Rhabarber-Overnight-Oats01.jpg
700
1050
Hannah Frey
https://www.projekt-gesund-leben.de/wp-content/uploads/2019/08/The-Healthy-Living-ProjectUnterschrift-Logo.png
Hannah Frey
2019-07-07 11:40:56
2019-07-30 16:59:10
Recipe: Strawberry Rhubarb Overnight Oats Breakfast Parfait {Beauty Food}