Wow, things have really been busy around here lately! Admittedly, I haven't had much time to cook. But since necessity is the mother of invention, as they say, I've just been making a lot of super quick and simple dishes. They also happen to be flavorful, light, and fresh – just in time for spring!
I was tempted to share some of these recipes with all of you, but I wasn't sure if they were too simple. So I did a little test: I posted a pic of my Quick and Easy Asparagus Salad with Bärlauch (Ramson) Pesto on Instagram, and the response was overwhelming! Did I mention this salad is ready in just 20 minutes?!
For those of you who aren't familiar with Bärlauch – otherwise known as ramsons, wild garlic, or "bear's garlic" (which is a literal translation Bärlauch) – it's a flowering plant and a wild relative of chives that's native to the temperate regions of Europe. The leaves, flowers, and bulbs are all edible, but most recipes calling for Bärlauch are referring to the leaves, which are used as herbs. Bärlauch is wildly popular here in Germany (and also, apparently, among brown bears), and it's used to flavor cheese, pesto, soups, sauces, pasta, omelets, and more.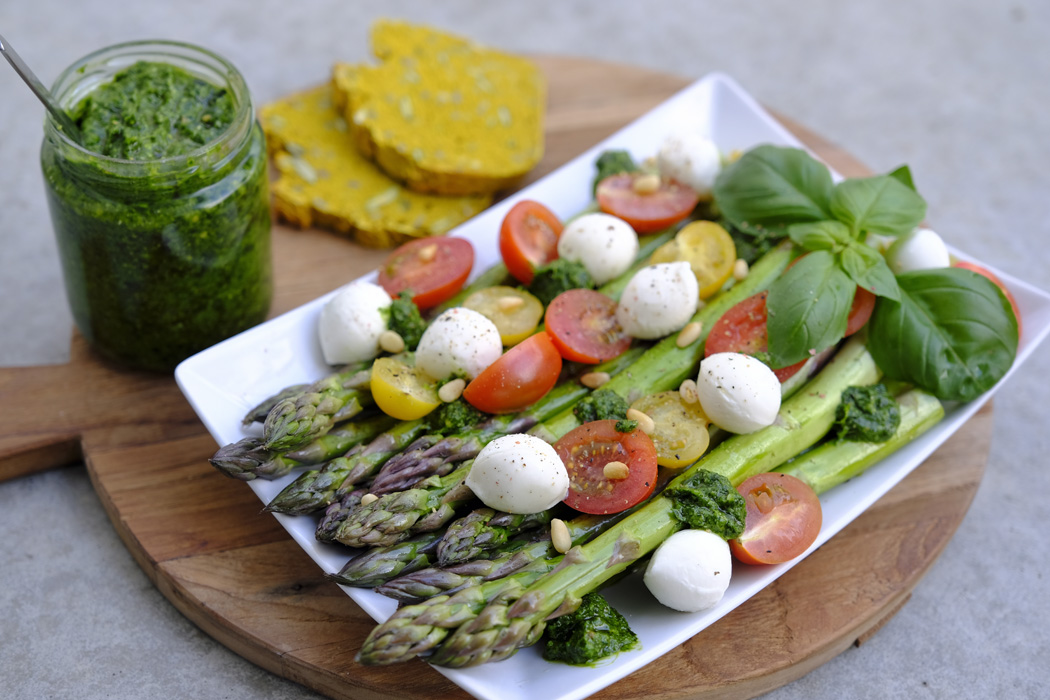 During Bärlauch season here in Germany (which runs from mid-March to early May), you'll find me whipping up every Bärlauch dish under the sun, and I try to preserve as much of this herb as possible. So far this year I've already made several jars of Bärlauch pesto, a Bärlauch dried vegetable stock powder (which I make every spring), and Bärlauch Preserves, which I'll introduce to you below.
BÄRLAUCH (RAMSON) PESTO
My Bärlauch Pesto is based on a simple, classic recipe – Bärlauch, olive oil, pine nuts, parmesan, and salt (see recipe box below) – that can easily be modified. In place of olive oil, for example, you can use a more neutral oil (like rapeseed oil), pine nuts can be swapped out for sunflower seeds, and the Parmesan cheese can be omitted entirely to make the pesto vegan.
The pesto takes only moments to make, and it's easy to double or triple the recipe to make a larger amount that can then be stored in the fridge for later use.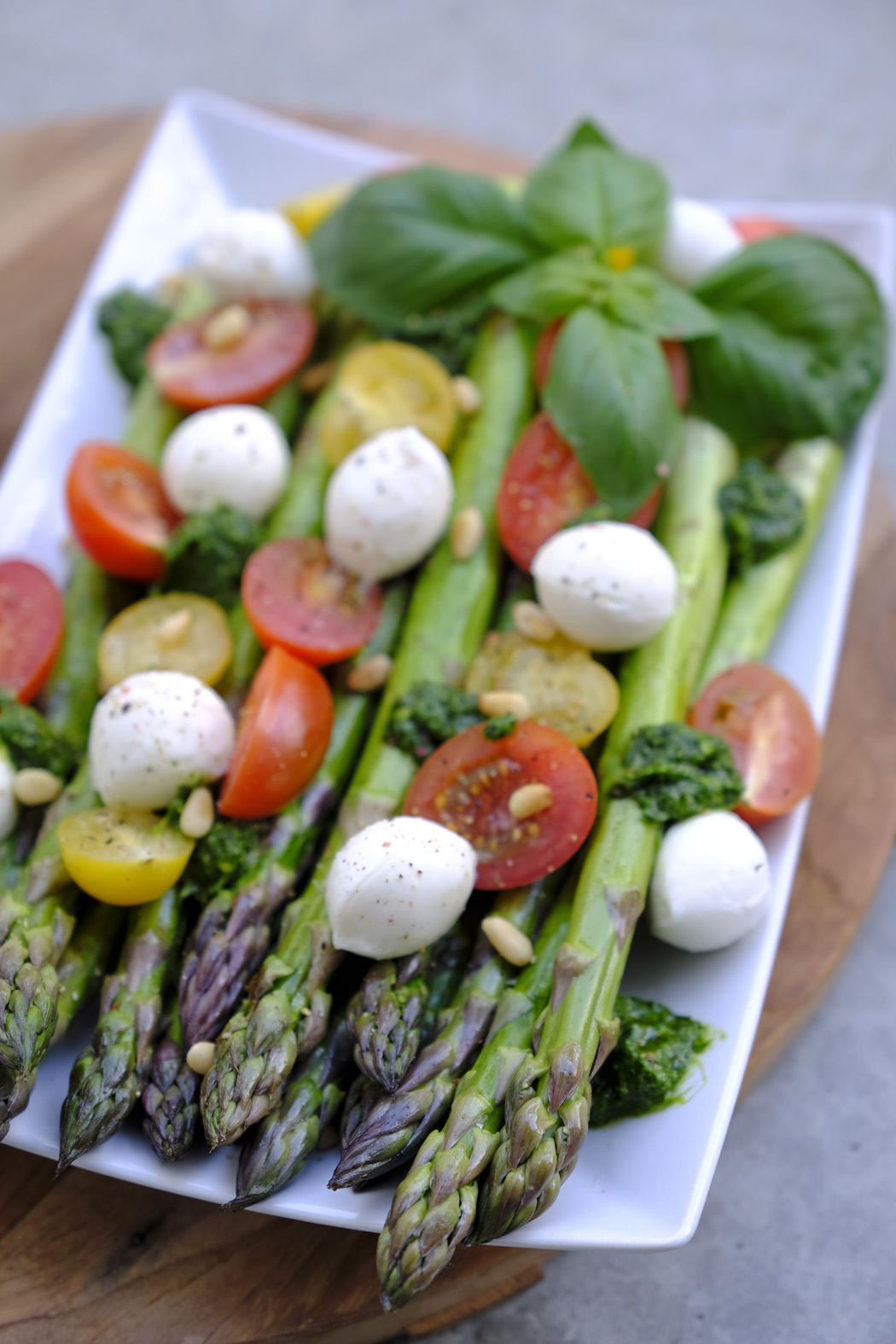 ASPARAGUS SALAD
I love the asparagus-Bärlauch combo – it really captures the flavors of Germany in the springtime – which is what inspired me to make this salad in the first place. What's great about green asparagus is that it's easy to prep and doesn't take long to cook. After the asparagus is ready, all you have to do is toss in the sliced cherry tomatoes and the mozzarella. To save even more time, use mini mozzarella balls – then you don't have to slice them! Mini mozzarella balls also look great when plated. :-)
Here's the recipe for the Asparagus Salad:
ZUTATEN:
500

g

green asparagus

2

tbsp

extra-virgin olive oil

200

g

cherry tomatoes

125

g

Mini-Mozzarella

2

tbsp

pine nuts
100

g

Bärlauch (ramson)

20

g

pine nuts

20

g

Parmesan cheese

150

ml

olive oil*

1

tsp

salt*
ANLEITUNG:
Wash asparagus and remove lower ends. Heat olive oil in a pan and sauté asparagus for about 5 minutes, flipping occasionally.

Meanwhile, wash and halve tomatoes.

In a pan, dry roast pine nuts (no oil) until they give off a toasty aroma. Put aside 2 tbsp for the salad and use the rest for the pesto.

Make the pesto: wash Bärlauch and roughly chop. In a food processor or blender, purée Bärlauch, pine nuts, parmesan, olive oil, and salt.

Plate asparagus with cherry tomatoes, pine nuts, and mozzarella balls. Top with 4 tbsp of Bärlauch pesto.

Store remaining pesto in a sanitized airtight jar in the fridge.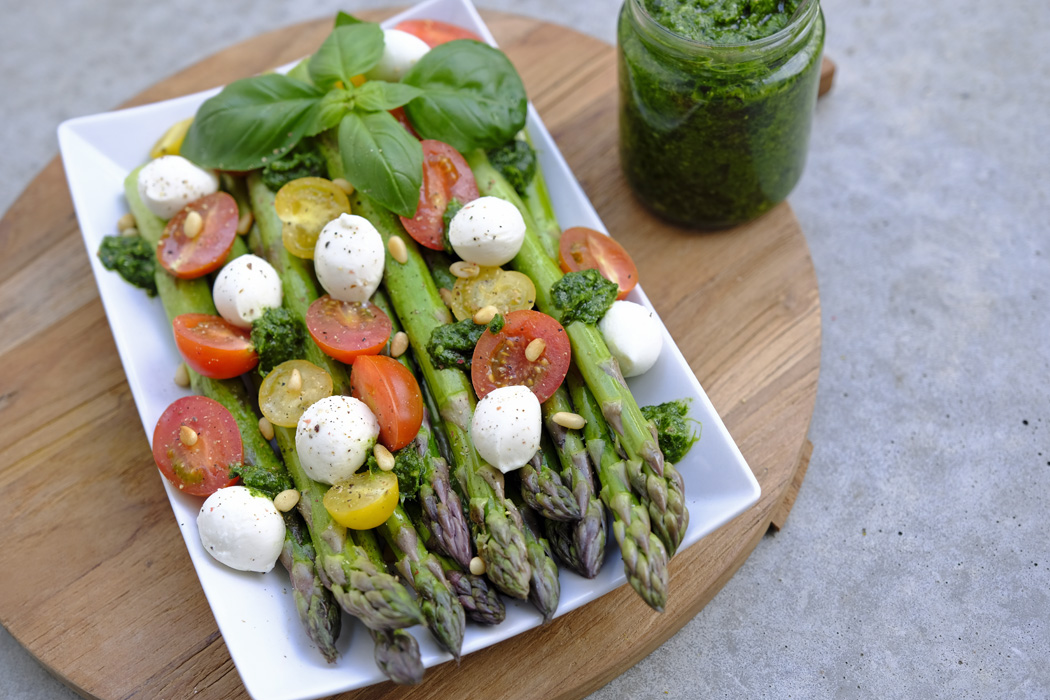 BÄRLAUCH (RAMSON) PRESERVES
There's another way to preserve Bärlauch: as a condiment! I often make a simple oil-based Bärlauch preserve that can be used to season a wide variety of dishes: everything from soup, savory baked goods, and vegetables to fish and meat dishes.
This recipe – just like the pesto recipe above – is super simple. Wash and sort 100 g of Bärlauch and blend with 100 g olive oil and 10 g salt in a high-speed blender. Store in the fridge in a sanitized airtight jar.
Since the preserve is made with oil and salt, it doesn't need to be stored in the fridge – but I do anyway. The Bärlauch Preserves will stay fresh for about one year. Make sure to always use a clean spoon or fork when removing the preserves from the jar in order to avoid mold.
Keep in mind that you only need a small amount when cooking, since the preserves are quite salty.
Bärlauch season is over soon, so if you want to save some for later, you'd better hurry! :-)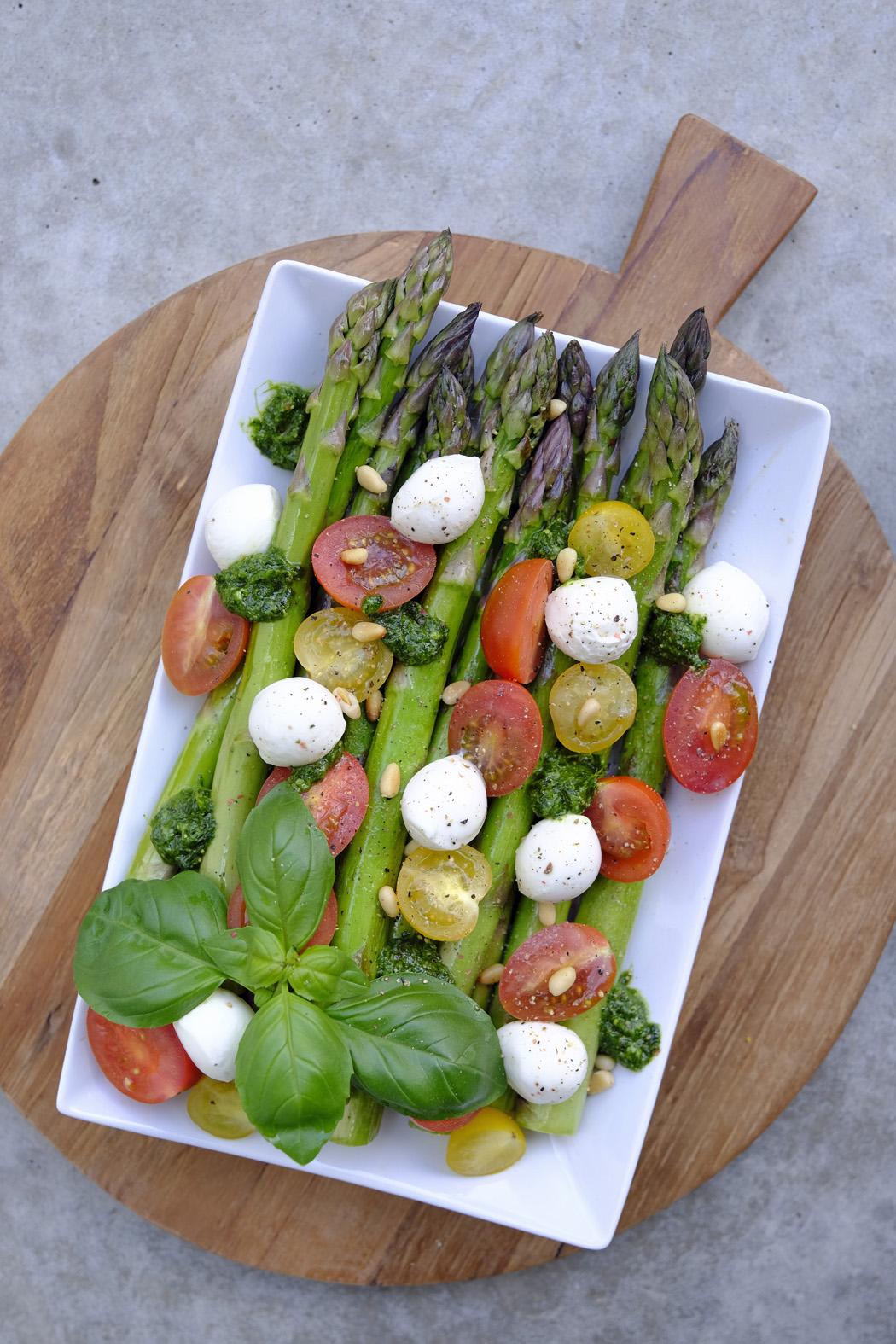 Have fun and enjoy!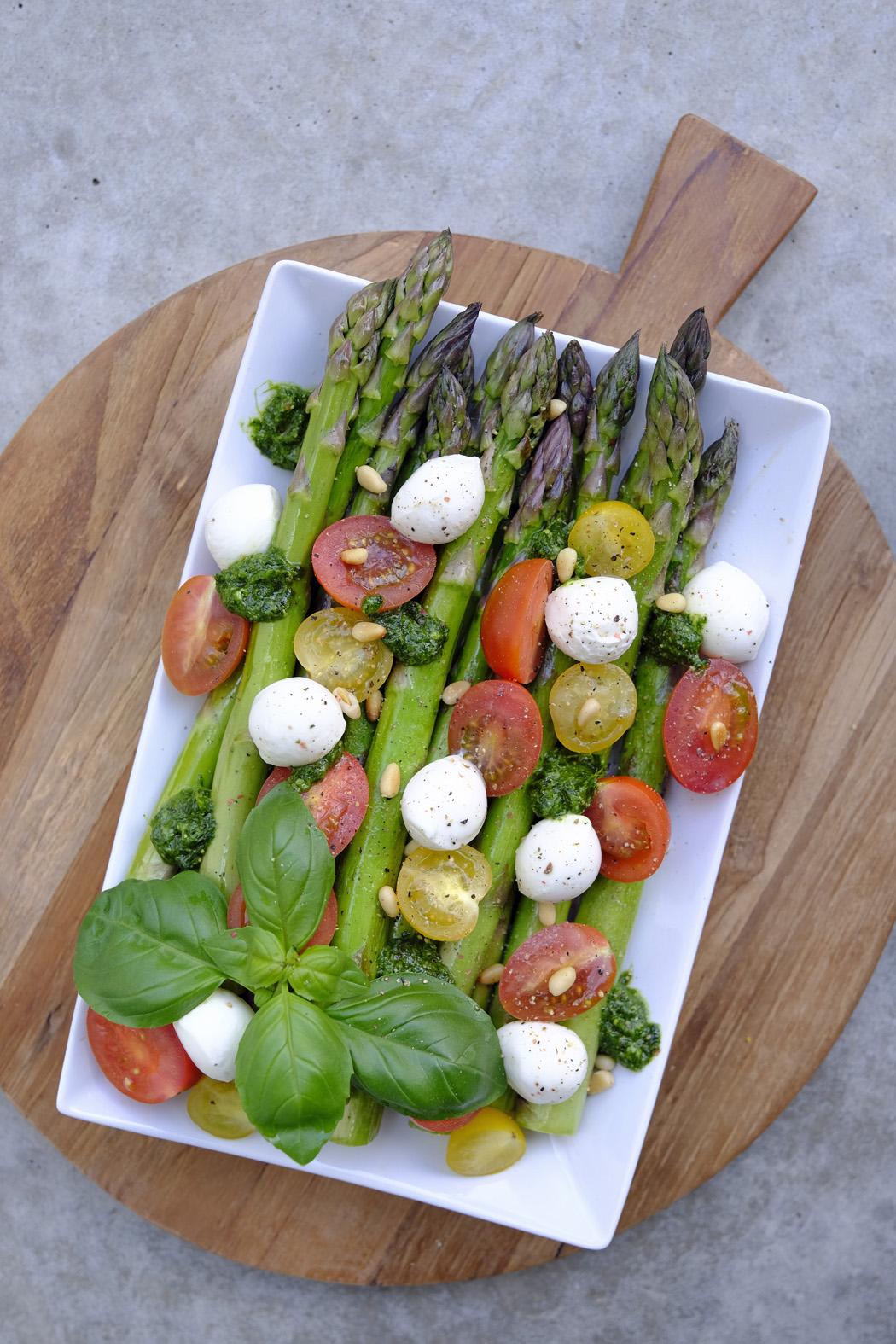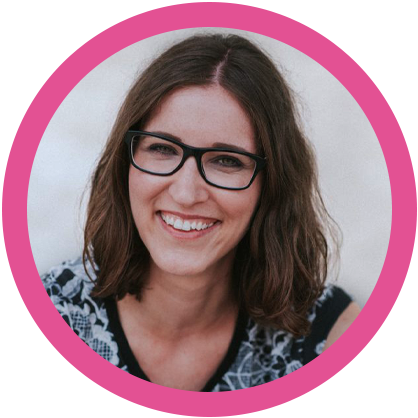 Ich bin Hannah Frey, Gesundheitswissenschaftlerin, Bloggerin und Kochbuch- und Ernährungsratgeber-Autorin. Ich helfe dir dabei, dich auch im stressigen Alltag mit wenig Aufwand gesund zu ernähren. Ich möchte dich zu einem gesunden Leben motivieren und inspirieren. Deshalb findest du hier jede Menge schnell zubereitete, einfache und alltagstaugliche Rezepte aus natürlichen Zutaten und ohne raffinierten Zucker – aber mit 100 % Geschmack!
https://www.projekt-gesund-leben.de/wp-content/uploads/2019/05/Schneller-Spargelsalat01.jpg
700
1050
Hannah Frey
https://www.projekt-gesund-leben.de/wp-content/uploads/2019/08/The-Healthy-Living-ProjectUnterschrift-Logo.png
Hannah Frey
2019-05-12 12:48:12
2019-10-08 13:20:15
Recipe: Quick and Easy Asparagus Salad with Bärlauch (Ramson) Pesto (Only 20 Minutes!)