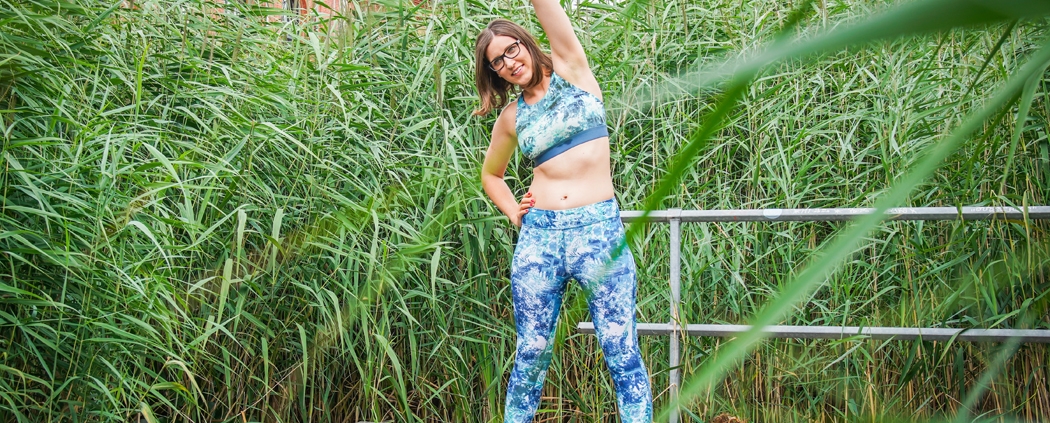 PROMOTION Not in the mood, the weather sucks, no free time … we all have plenty of excuses for why we don't exercise more often. I know it all too well! Even though I've gotten tremendous benefit from strength training – as I've explained here – it's not always easy for me to integrate it into my everyday life.
But who among us doesn't want to be fitter and healthier? Today, I'm excited to share 10 tips for motivating yourself to exercise – and also introduce you to the latest athletic wear from Tchibo, made from recycled materials. Beautiful, comfortable, well-made activewear is a major motivator for me! Read on and enjoy. :-)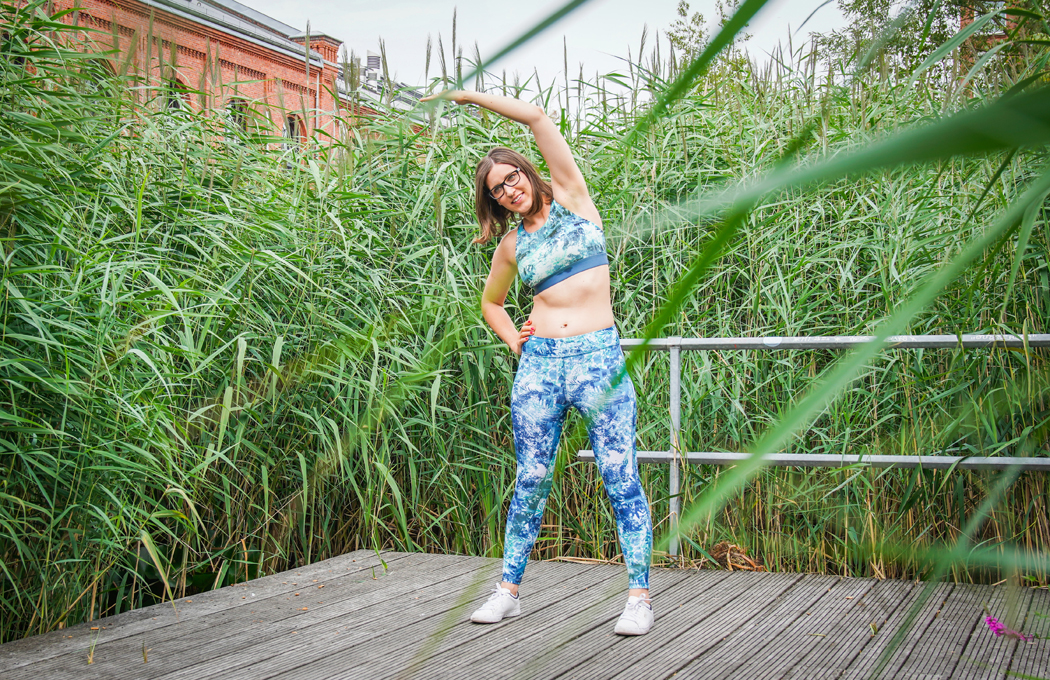 Click here for the current Tchibo sportswear collection
1. Set aside specific times and set realistic goals!

You're new to running and want to train for that half marathon next month? Forget it! You need to set realistic goals: for example, running 30 minutes without taking a break or running 20 km on a bike. Add your workouts to your calendar and take them as seriously as you do business meetings – you wouldn't cancel lunch with a client because the sofa is more comfortable, would you? For me, scheduling my workouts is essential – without it, I wouldn't be doing any sort of exercise regularly at the moment!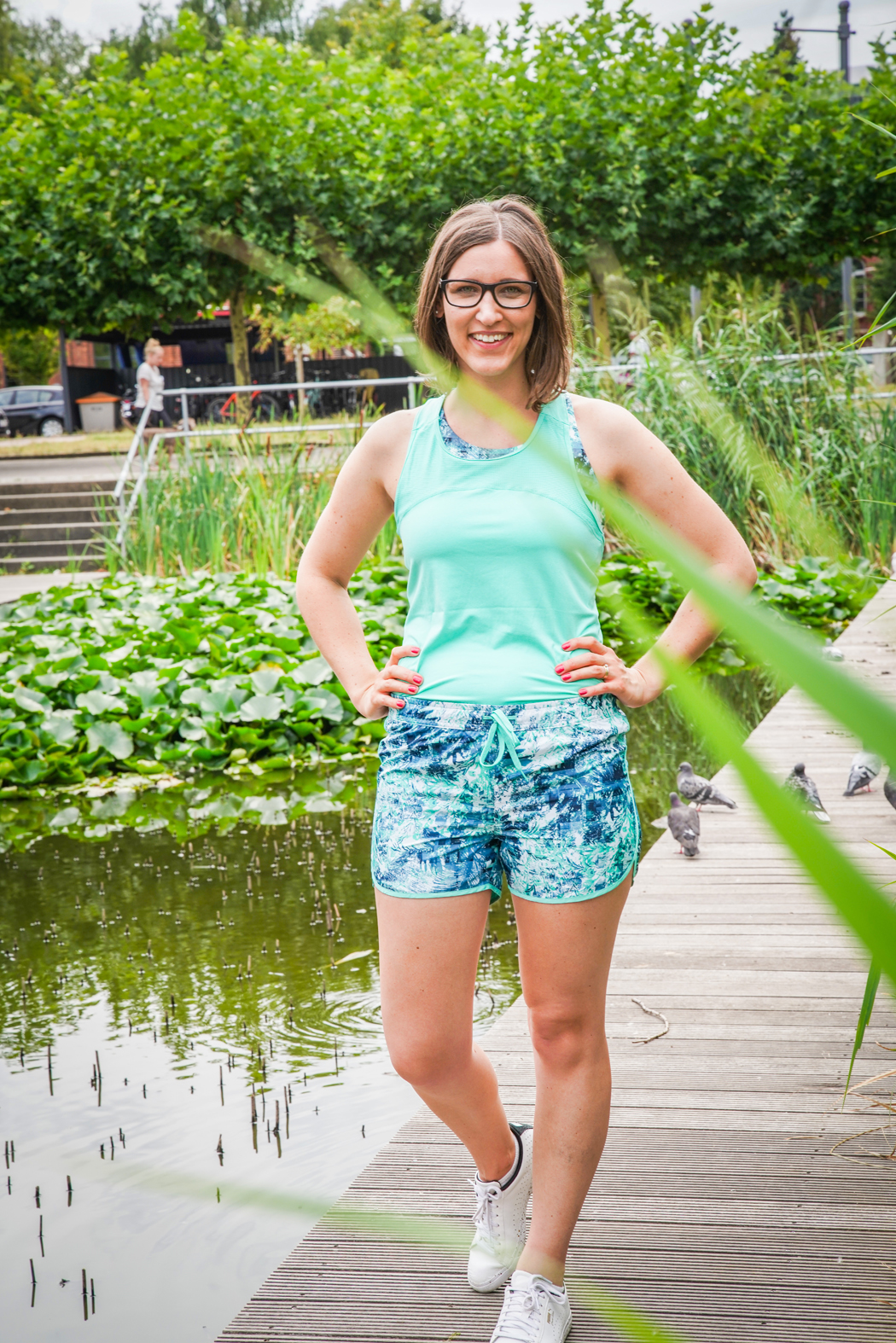 2. Track your results!

When I started blogging back in 2011, I not only tracked my workout details with Runtastic, but also shared them regularly on Twitter. Once I moved away from doing cardio, I stopped using it – but for all you cardio fiends out there, I highly recommend it!
3. Join a community and build up (good) social pressure!

Apps allow you to not only record your exercise stats, but also share them with your friends to get each other motivated! Even sharing anonymously can help – there are plenty of communities you can join online. All of this has been massively helpful for me in my training progress. Also, when you decide to take part in an event, tell your family, friends, and/or coworkers – that sort of (good) social pressure will keep you focused on your goal!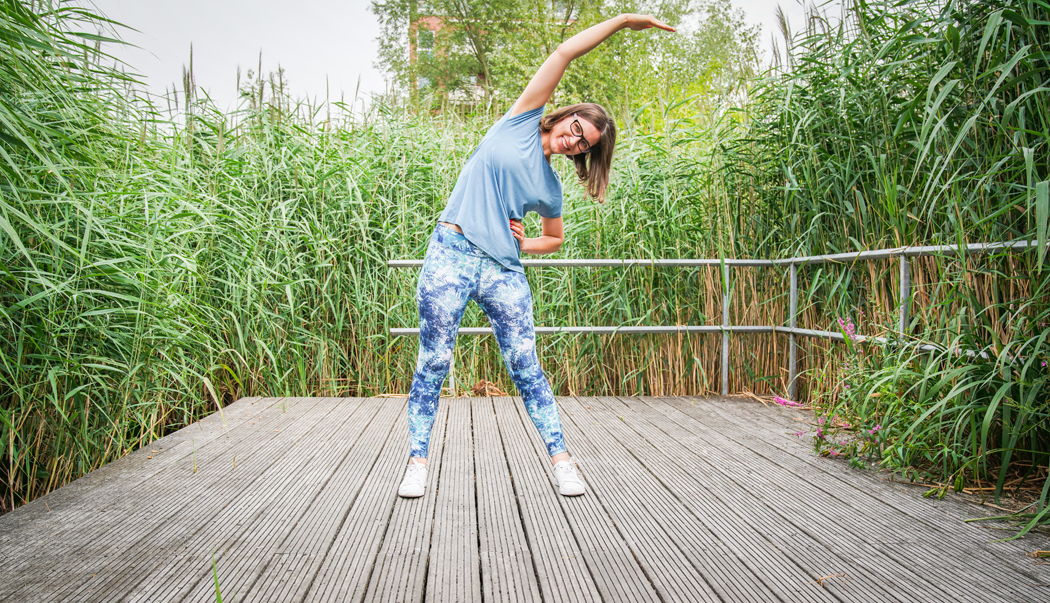 4. Train with friends!

Once you've already told your friends and coworkers what you're doing, you can even train together – it's pretty embarrassing to cancel exercise plans after you've asked another person to join you! I'll only cancel on someone when I'm actually really sick.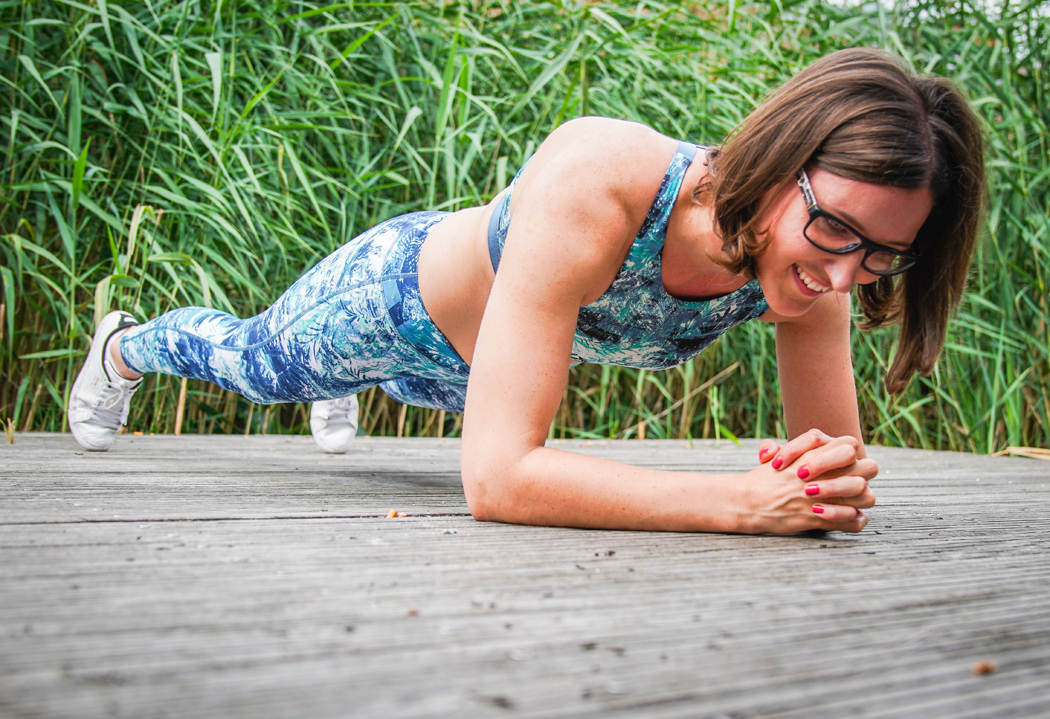 5. Blogs, Instagram, Pinterest
Let yourself be inspired and motivated by others! After Instagram, Pinterest is my favorite source of inspiration: I've made countless boards full of quotes and pics that motivate me.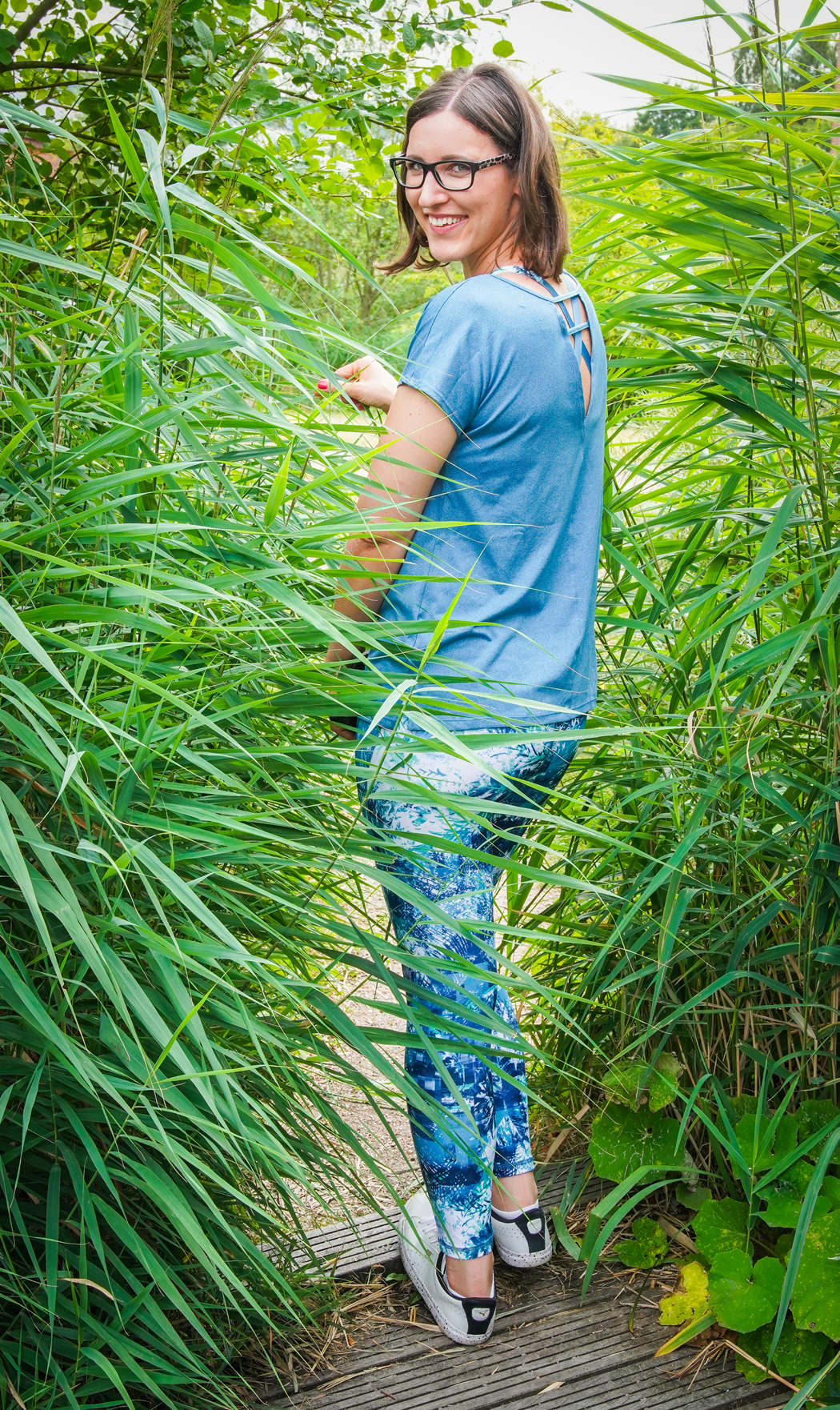 6. Sign up for an event!

Register for a run, book a (yoga) retreat, or plan the next mountain bike marathon (but keep in mind that the goal has to be realistic!). You'll want to do your best for the big event, and that will help keep you motivated. Okay, summer also counts – you'll want to look and feel great out there on the beach! :-)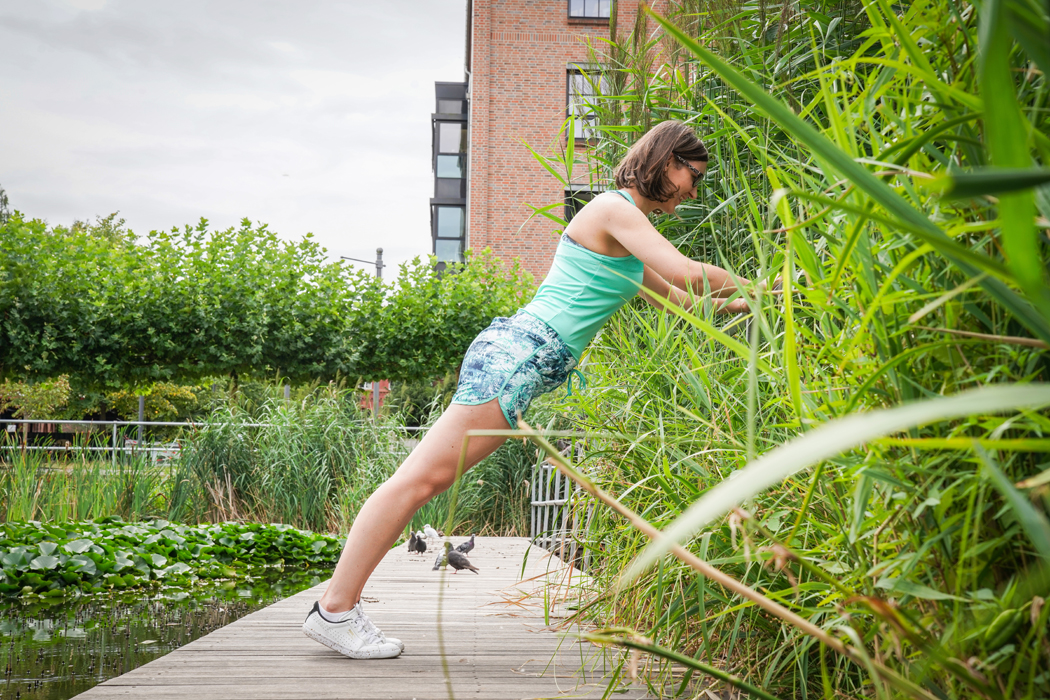 7. Choose beautiful sportswear!

Beautiful new activewear always motivates me to get out and exercise. I don't often buy gym clothes, but when I do, I try to make environmentally conscious decisions. The sustainable sportswear from the current Tchibo collection – which I'm wearing in the photos – is made from, among other materials, recycled PET bottles that are recycled into polyester. My running pants, for example, are made from 17 PET bottles! More info can be found here (in German only).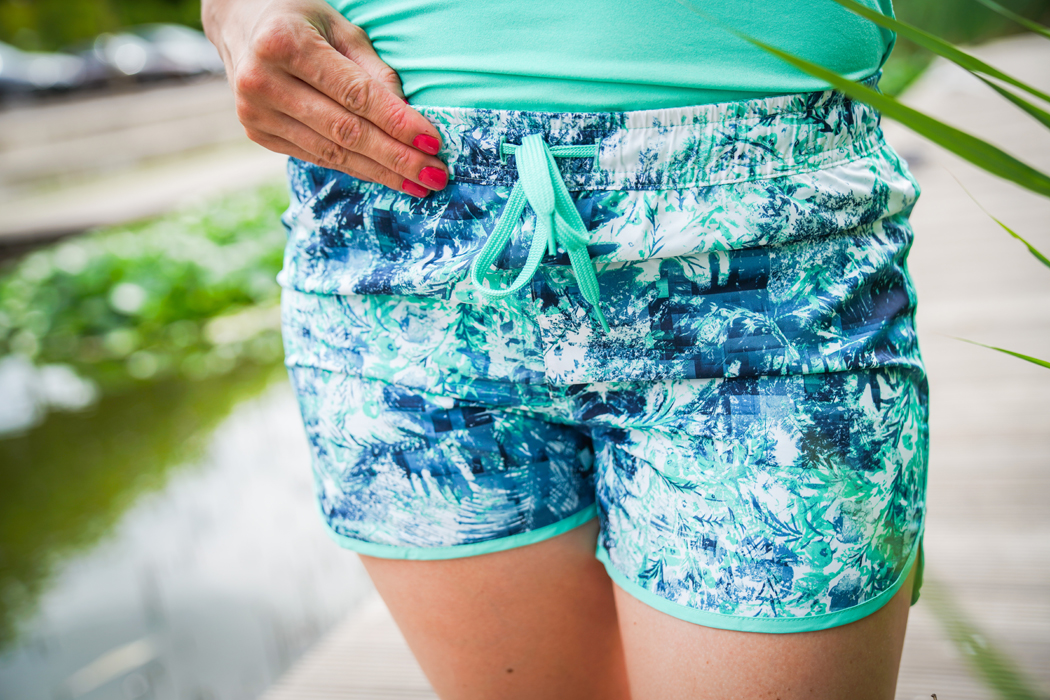 Wait a moment … clothing made from bottles? Yes, really! Tchibo's sustainable sportswear feels just like "normal" sportswear – it fits comfortably and I haven't noticed any differences to sportswear made from non-recycled fabrics. A big plus! By the way, water and other valuable resources are also saved during the treatment process, which helps protect the environment. And lastly: the pieces are gorgeous – just check out the patterns and detailing! :-)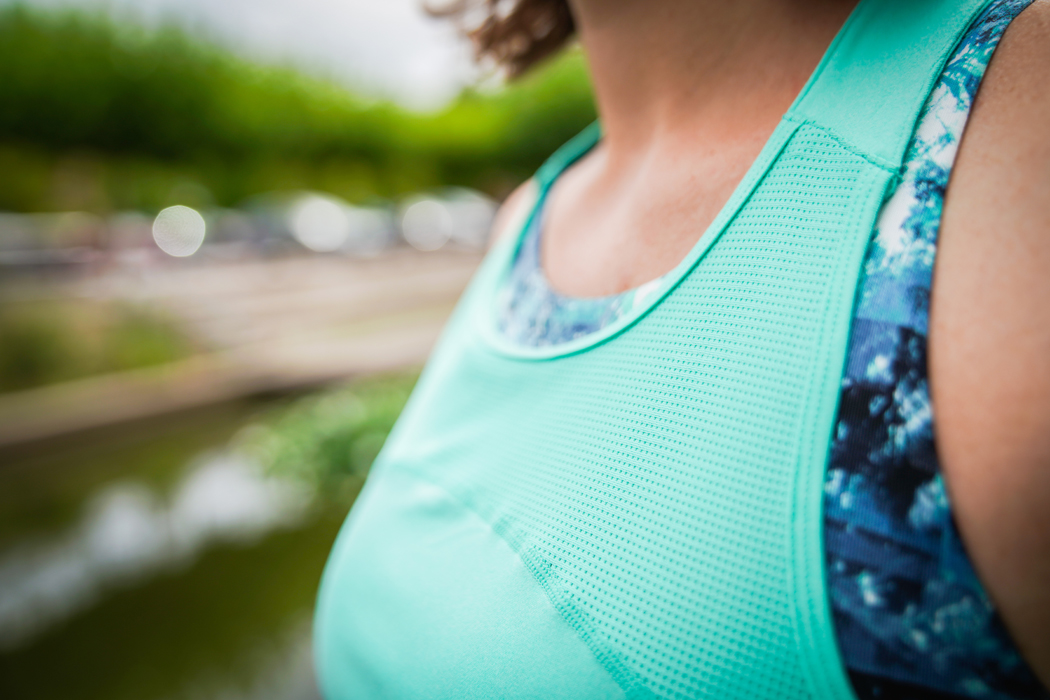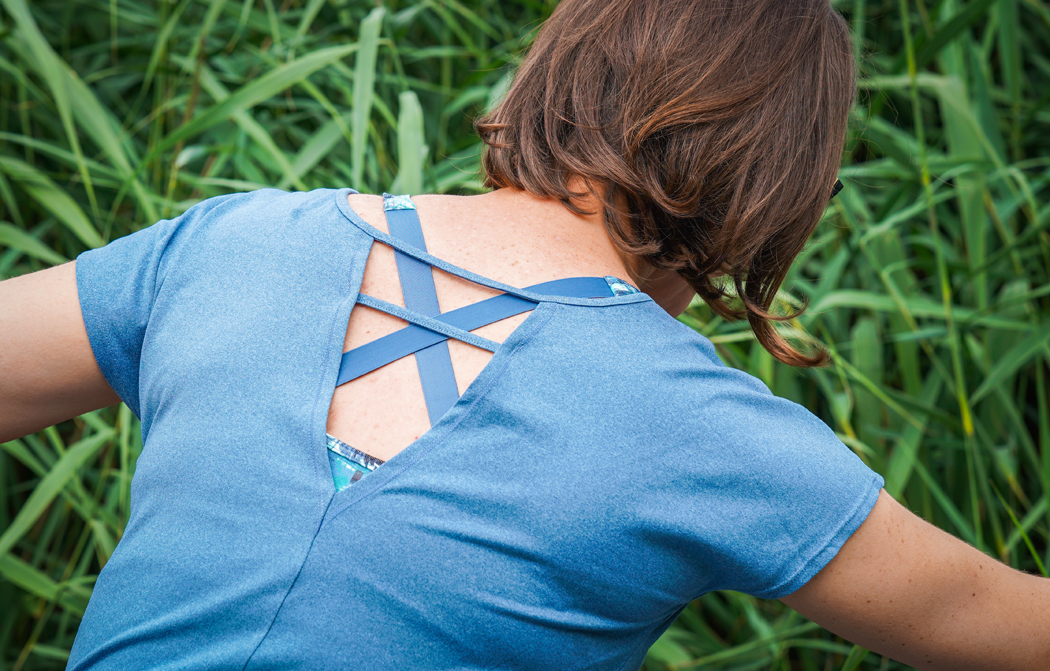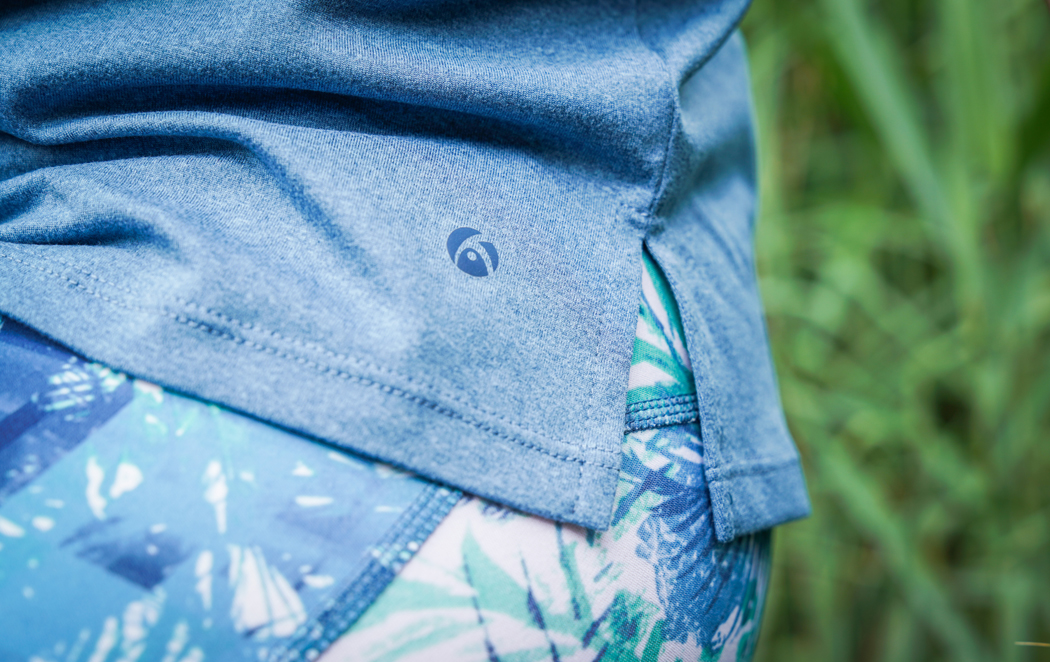 8. Make things easy for yourself!

Pack your gym bag the night before and take it straight to work in the morning. That way you won't have to go home after work – and end up lying on the sofa instead of hitting the gym.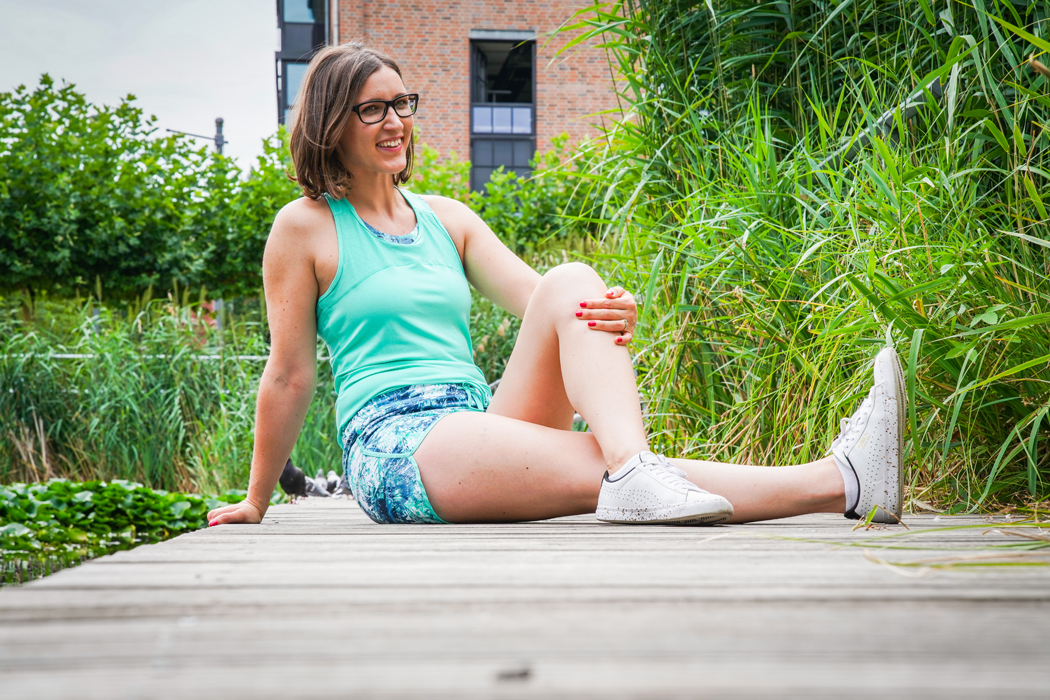 9. Listen to good music!

Good music doesn't just make exercise more fun: it also improves our performance. I think we've all experienced that before! :-)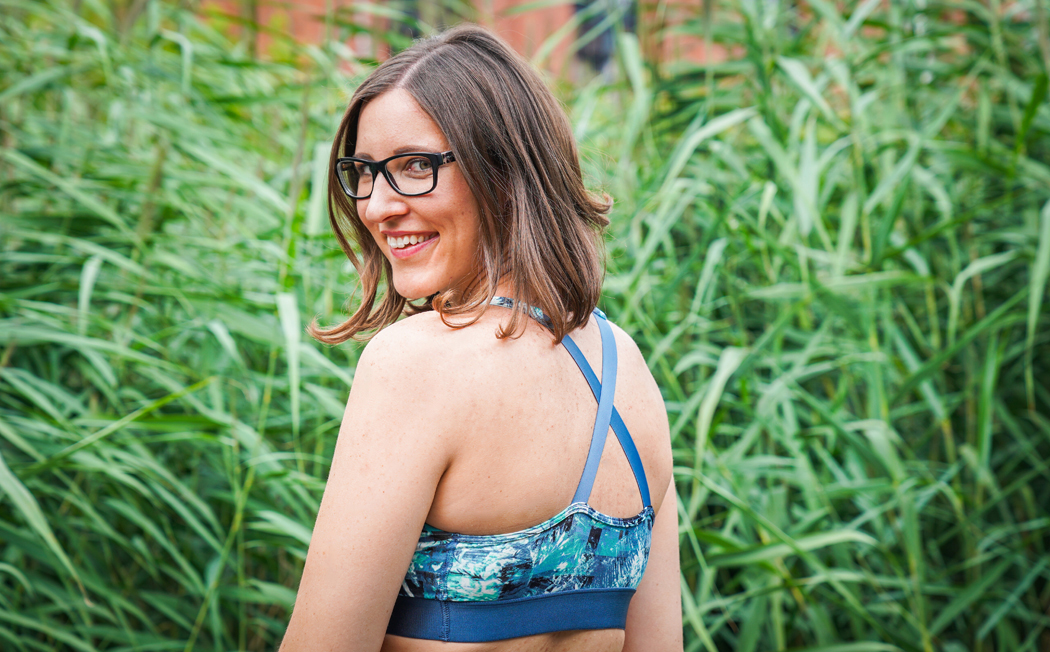 Photos: © Lisa Steinkopf / Steinkopf Media
10. Think about how great you'll feel after!

If you're still having a hard time getting out and exercising – look forward to the refreshing shower right after and all of the long-term benefits! Keep in mind that any gains or improvements will really build up your confidence: since I started regularly strength training, my body has changed considerably and I feel great every time after I've trained. I'm so glad I stuck with it. I have tremendous energy and feel stronger than ever – and that keeps me going.
The faster, stronger, and more flexible you get, the more motivated you'll feel! :-)
What keeps you exercising? What tips do you have? Let me know!
This post was creation in cooperation with Tchibo.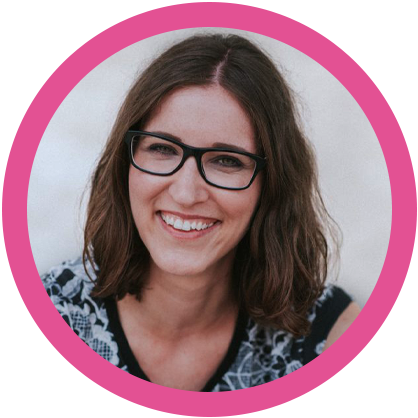 Ich bin Hannah Frey, Gesundheitswissenschaftlerin, Bloggerin und Kochbuch- und Ernährungsratgeber-Autorin. Ich helfe dir dabei, dich auch im stressigen Alltag mit wenig Aufwand gesund zu ernähren. Ich möchte dich zu einem gesunden Leben motivieren und inspirieren. Deshalb findest du hier jede Menge schnell zubereitete, einfache und alltagstaugliche Rezepte aus natürlichen Zutaten und ohne raffinierten Zucker – aber mit 100 % Geschmack!
https://www.projekt-gesund-leben.de/wp-content/uploads/2018/08/Tchibo-Sportmode-aus-Ocean-Plastic01.jpg
680
1050
Hannah Frey
https://www.projekt-gesund-leben.de/wp-content/uploads/2019/08/The-Healthy-Living-ProjectUnterschrift-Logo.png
Hannah Frey
2018-08-14 21:50:31
2019-07-02 10:48:02
10 Workout Motivators – with Sustainable Athletic Wear from Tchibo