PROMOTION During my trip to California two months ago, I visited the Sunsweet plum growers' cooperative as well as a plum farm in Yuba City, which was super exciting for me! On site, I had the opportunity to watch the production and patented pitting processes up close. Here, the pits are gently pushed out before the skin of the fruit is immediately re-sealed. This prevents the fruits from drying out, which makes them plumper, juicier, and more flavorful – and also gives them that familiar "donut" shape.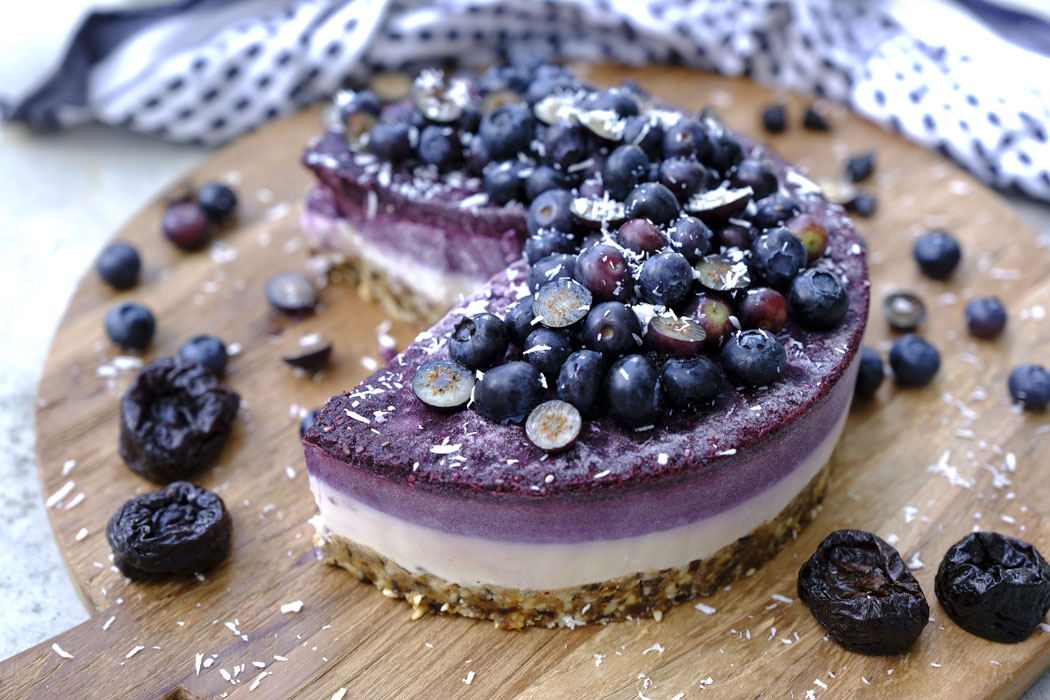 I like to eat the dried plums (or "prunes") by themselves as a snack if I feel like something sweet, but they also work great as a sweetener in baking goods. Usually I soak the dried plums overnight, drain the water, then purée them into a dried plum purée, which can be used as a sugar substitute when baking. Dried plums are naturally sweet enough on their own that don't require any additional sugar. But they're not sickly sweet: they're less sweet than dates, for example, and contain about 30% less sugar. Anyone who's been reading this blog for a while knows that I've been collaborating with Amaz!n Prunes for several years and also use Californian dried plums in my Sugar-Free Baking Workshops, whose official partner is Amaz!n Prunes. The recipe below was also developed as part of this cooperation.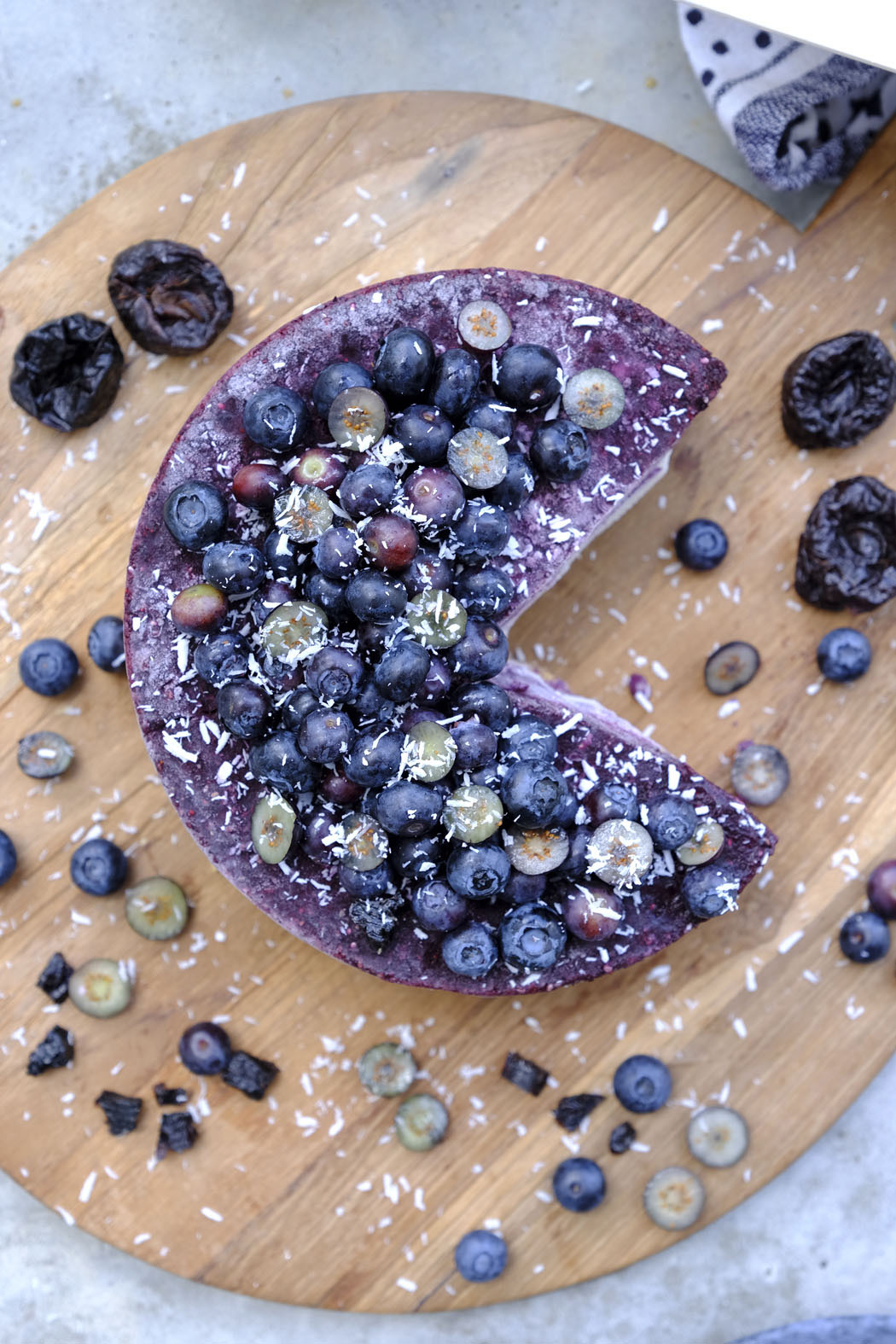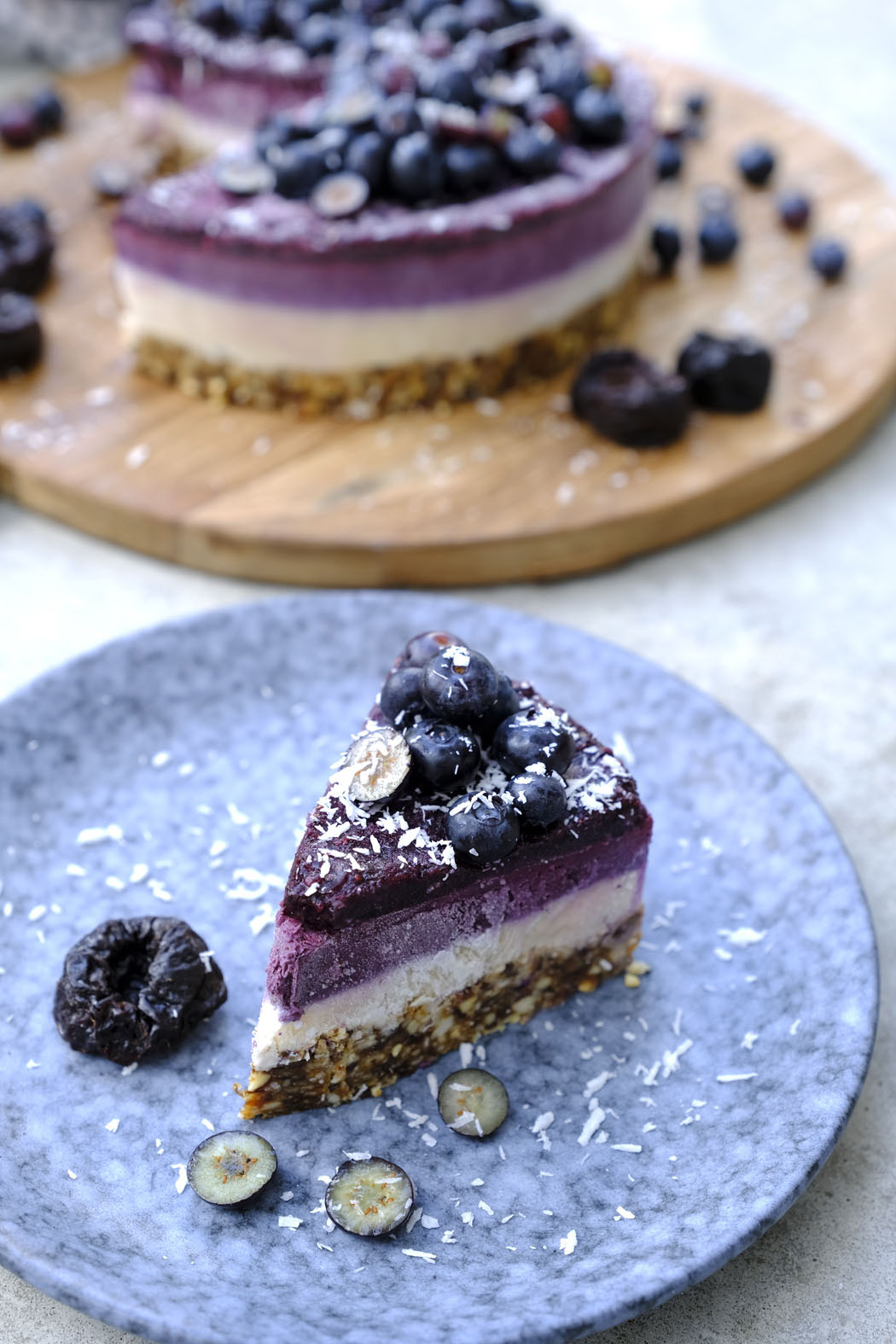 After my Raw No-Bake Strawberry Cheesecake got such rave reviews from all of you, and since my family and I are such big fans of it, I decided to play around with the recipe a bit. The result is this Raw Blueberry Coconut Cheesecake sweetened entirely with Amaz!n Prunes! ;-)
Both cheesecake recipes feature a classic raw fruit-and-nut "crust," which is essentially no different from the mixture used to make Energy Balls. The Blueberry Cheesecake has a total of four layers: a dried-plum-and-cashew crush at the bottom, a coconut layer, a blueberry layer, and then a layer of blueberry chia jam. The cake is topped with fresh blueberries, shredded coconut, and chopped dried plums.
Like the Strawberry Cheesecake, the Blueberry Cheesecake is free from added sugar and entirely fruit-sweetened: the California dried plums, blueberries, and coconut milk and flakes are all plenty sweet!
For both cheesecakes, I used a small springform pan with an 18 cm diameter* – in my experience, this size is ideal for raw vegan cakes, since these types of cakes are really quite filling. A small slice, or 1/8 of the cake, is more than enough for me. So unless you're making the cake for more than 5–8 people, you really won't need a bigger pan. Another advantage is that this small springform pan fits inside almost every freezer – and that's where the cake has to be cooled (and stored, if necessary).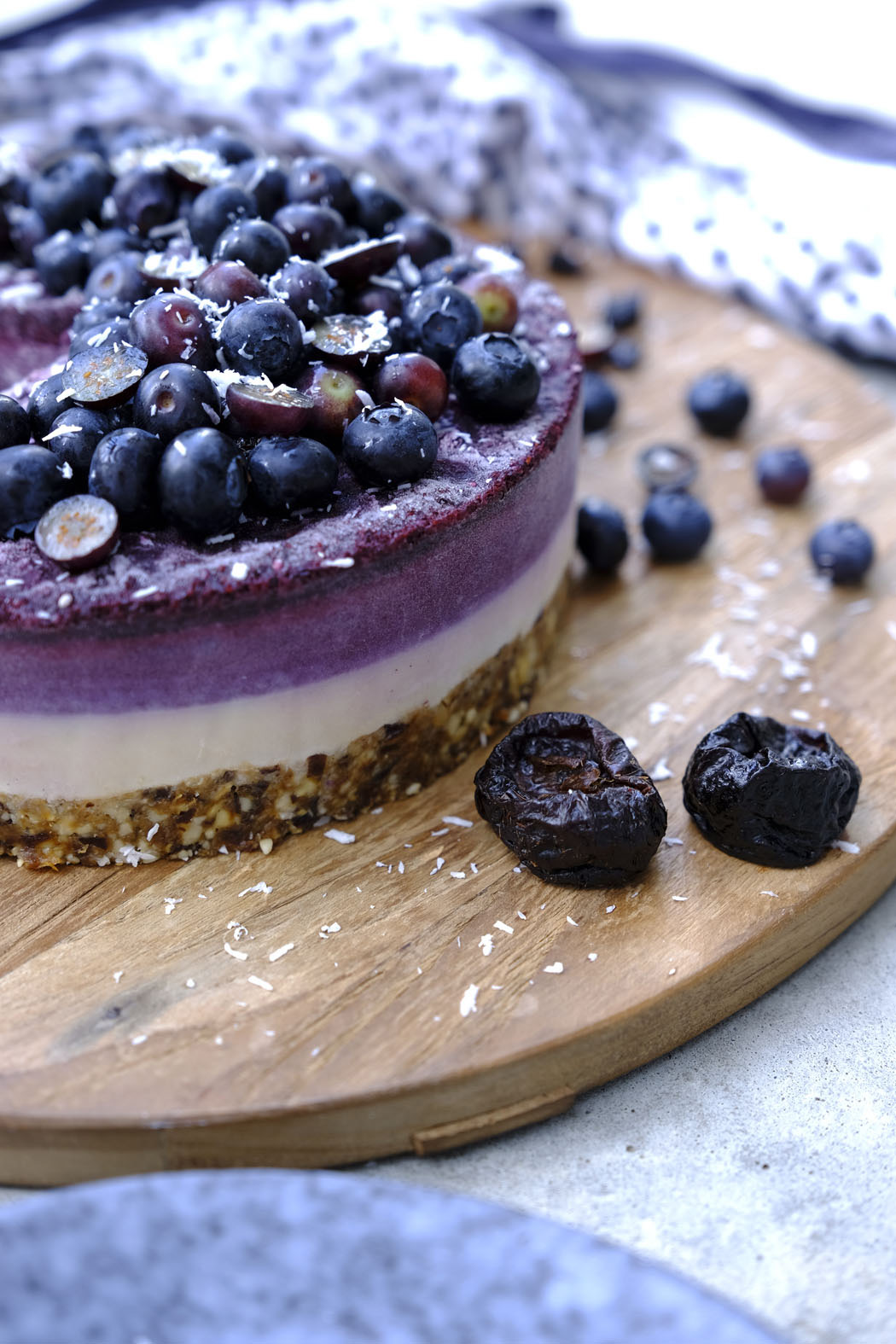 Please note: because it has four layers – and each subsequent layer must be frozen for several hours at a time – this cake is a little more time-consuming than my other recipes. I made it on a Sunday, when things weren't so rushed. Please read the directions thoroughly before you start making the cake (you can also easily print my recipes out).
ZUTATEN:
For the blueberry layer:
150 g Blaubeeren frozen
4 Trockenpflaumen soaked
ANLEITUNG:
Prep for the coconut layer: in a bowl, soak 100 g of cashews in water for at least 3 hours. Drain cashews using a sieve and rinse thoroughly.
Make the base (crust): add remaining cashews (200 g), 200 g dried plums, 30 g shredded coconut, and 2 tbsp coconut oil to a high-speed blender* and processes into a paste. Press mixture into a springform pan lined with baking paper and let sit in the fridge for one hour to solidify.
Make the coconut layer: blend soaked cashews with coconut milk, ground vanilla, and coconut oil in a high-speed blender until creamy. Using a spoon or dough scraper, spread half of this mixture over crust, smooth it out, and place cake in freezer for at least 3 hours. (Put the other half of the coconut mixture aside – it will be used to make the blueberry layer in Step 5!)
In the meantime, soak 4 dried plums (for the blueberry layer) and defrost a total of 350 g blueberries (for the blueberry layer as well as the blueberry chia jam).
Make the blueberry layer: blend the second half of the coconut mixture with the soaked dried plums and 150 g blueberries. Pour over the frozen coconut layer and let sit in the freezer for at least 3 hours.
Make the chia jam layer: blend or purée 200 g blueberries with 1 tbsp chia seeds. Pour over frozen blueberry layer and let sit in the freezer again for at least 3 hours.
Defrost cake for about 1 hour before serving. Garnish with fresh blueberries, shredded coconut, and a chopped dried plum, then slice. Store leftover cake in freezer. Allow to defrost approx. 1 hour before serving.
| | |
| --- | --- |
| | |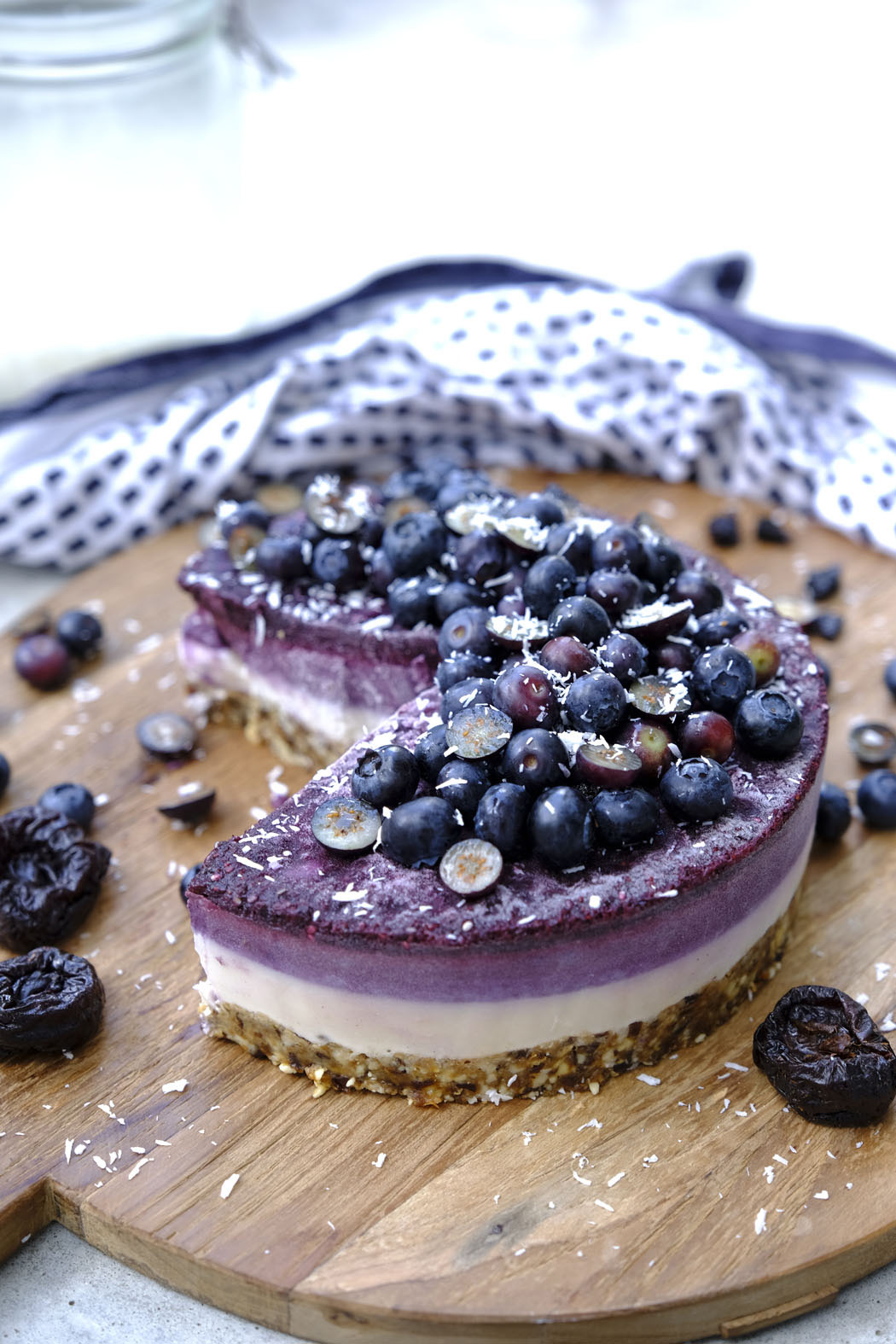 Enjoy and have fun! :-)
This post was created in collaboration with Amaz!n Prunes – Californian dried plums.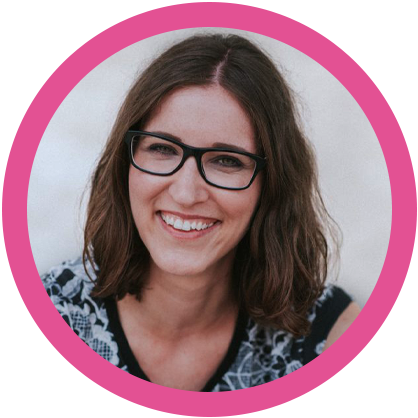 Ich bin Hannah Frey, Gesundheitswissenschaftlerin, Bloggerin und Kochbuch- und Ernährungsratgeber-Autorin. Ich helfe dir dabei, dich auch im stressigen Alltag mit wenig Aufwand gesund zu ernähren. Ich möchte dich zu einem gesunden Leben motivieren und inspirieren. Deshalb findest du hier jede Menge schnell zubereitete, einfache und alltagstaugliche Rezepte aus natürlichen Zutaten und ohne raffinierten Zucker – aber mit 100 % Geschmack!
https://www.projekt-gesund-leben.de/wp-content/uploads/2019/08/Blaubeer-Kokos-Torte-mit-kalifornischen-Trockenpflaumen01.jpg
700
1050
Hannah Frey
https://www.projekt-gesund-leben.de/wp-content/uploads/2019/08/The-Healthy-Living-ProjectUnterschrift-Logo.png
Hannah Frey
2018-07-06 06:37:46
2019-10-08 14:13:33
Recipe: Raw Blueberry Coconut Cheesecake with California Dried Plums