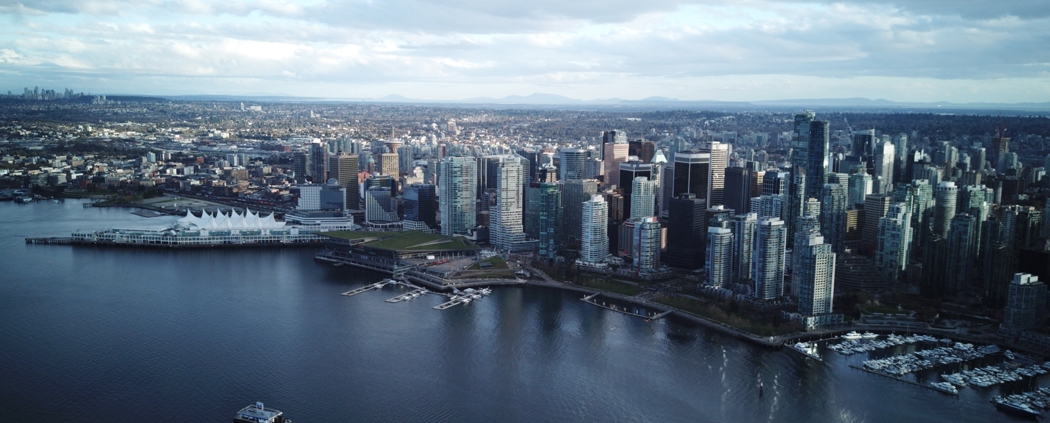 Hello my dears! After spending three unforgettable weeks in Canada and the USA with my husband, I'm back on the blog. You have may followed our trip on Instagram (@projekt_gesund_leben), and since many of you have been asking questions, I decided to share some tips and experiences with all of you today.
Before I go into the details of the first half of our adventure (Vancouver and Seattle), I'll give you an overview of the whole trip:
Our route: Vancouver, Seattle, California (road trip from San Francisco to Los Angeles)

Day 1-11: Vancouver
Day 11-13: Seattle
Day 13-15: Half Moon Bay
Day 15-16: Santa Cruz
Day 16-19: Pismo Beach
Day 19-22: Los Angeles
We started out flying Lufthansa from Hamburg to Frankfurt, then continued from Frankfurt to Vancouver. The view over Canada is absolutely breathtaking (we were especially lucky on our flight back to Germany, from Seattle to Frankfurt):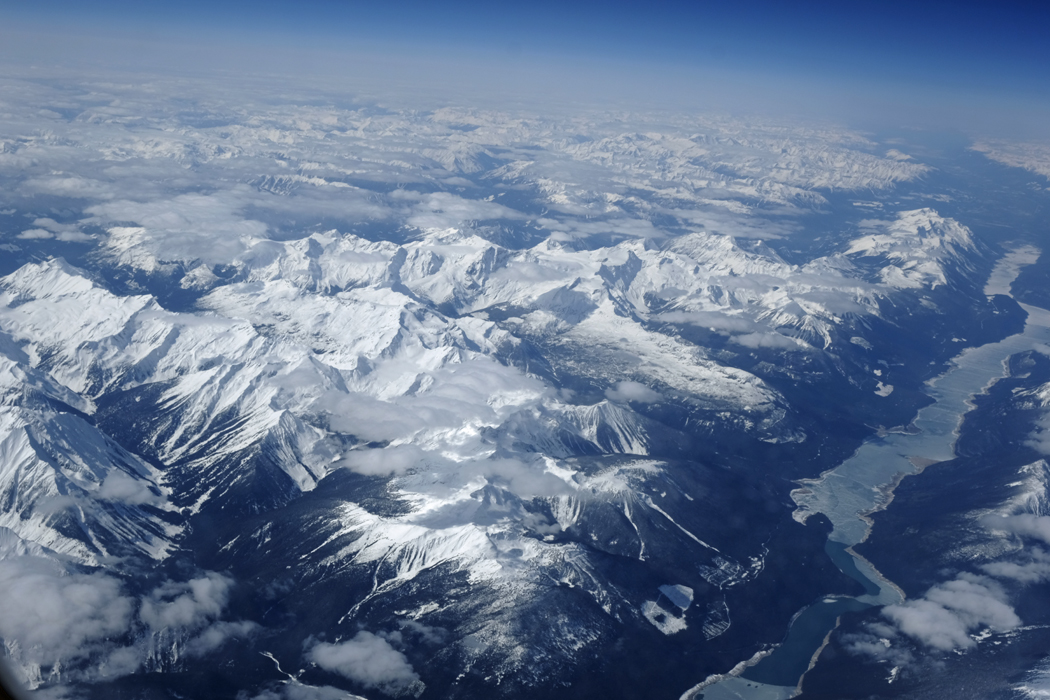 We did the outbound flight on my husband's birthday – and thanks to the substantial time difference, he got to be birthday kid for an extra nine hours! I think he planned it that way on purpose! ;-)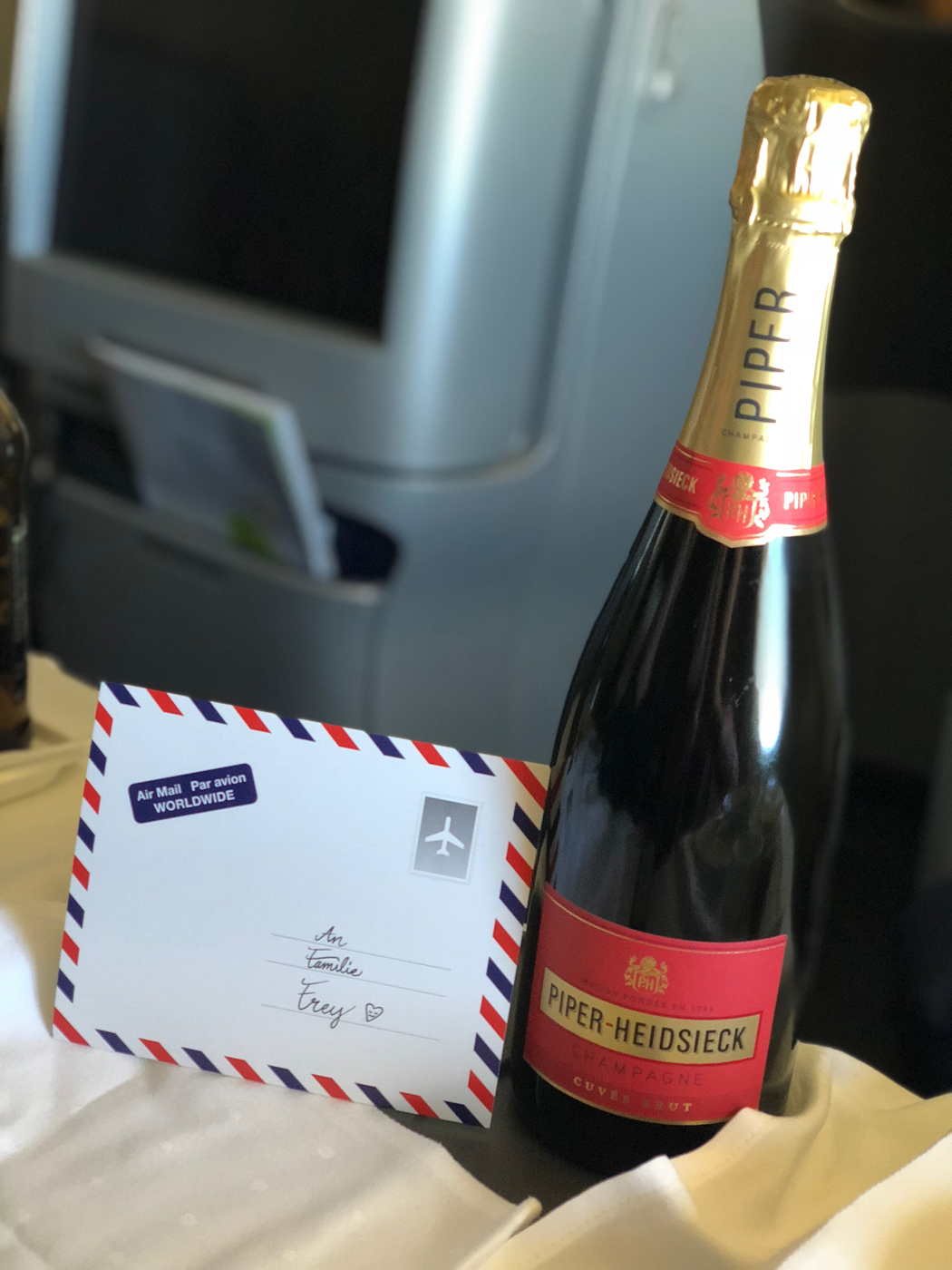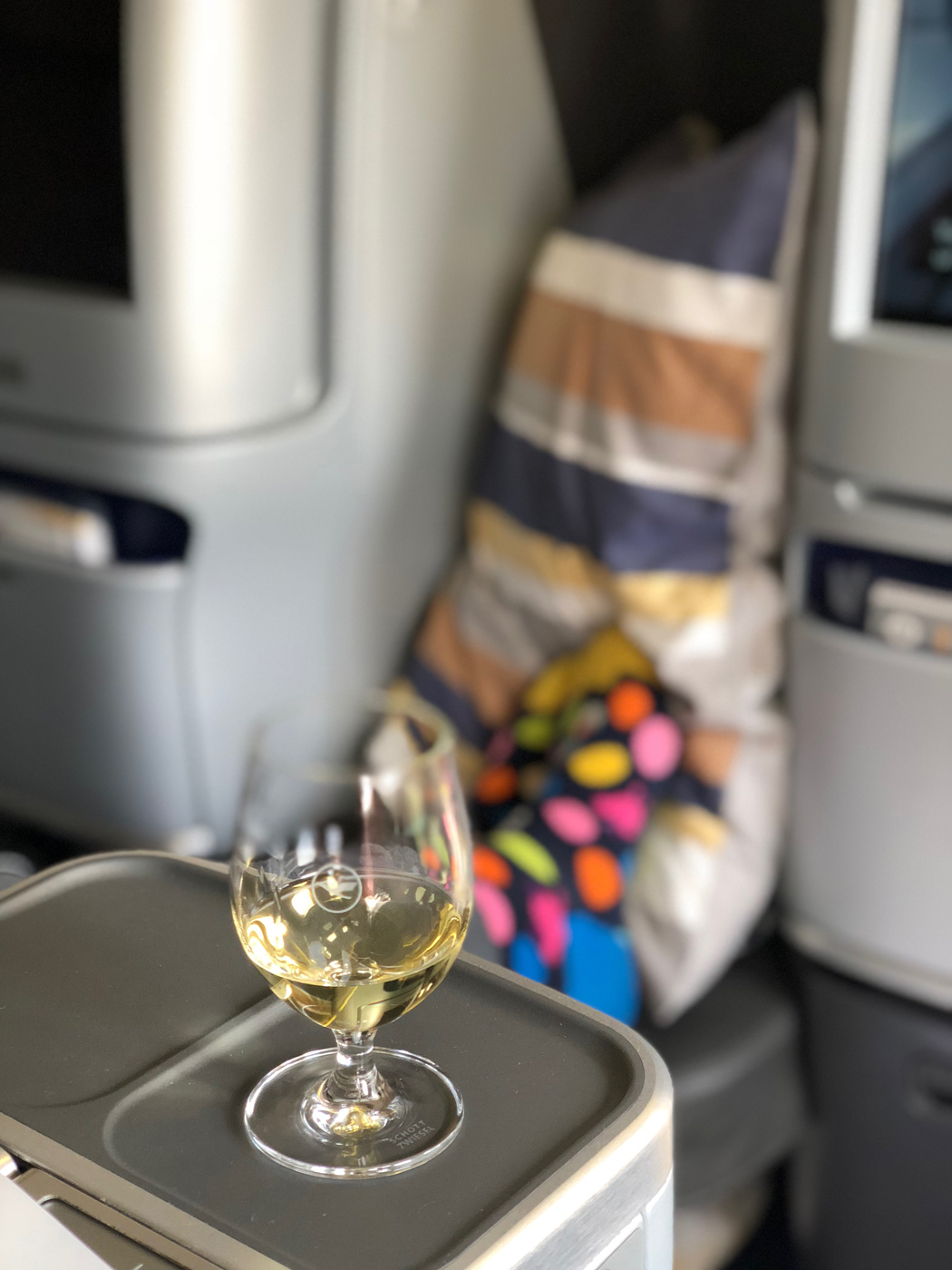 Vancouver
I'll admit that Vancouver, or even Canada, was never on my "must-visit" list. Originally, we were only planning on traveling to California. The only reason we ended up in Vancouver was due to the flights available to the West Coast from Germany. My husband had to do a lot to convince me to stay in Vancouver for ten days. He kept saying: "I bet you're gonna love it so much that you're not going to want to go anywhere else!"
And he was right: Vancouver is an incredibly beautiful and multifaceted city that we would absolutely love to visit again – just at a different time of the year! Unfortunately, our stay in Vancouver was clouded a bit by the bad weather: it rained almost continuously, and although it was April, spring had yet to arrive in the city. Just another two or three weeks and we would have had much better weather and gotten to see all the flowers bloom, too! We knew about this when planning our trip, but given the logistics, it wouldn't have been possible for us to postpone our vacation time.
Still, I could see myself living in Vancouver – and this is always a great measure of how much I like a city! ;-)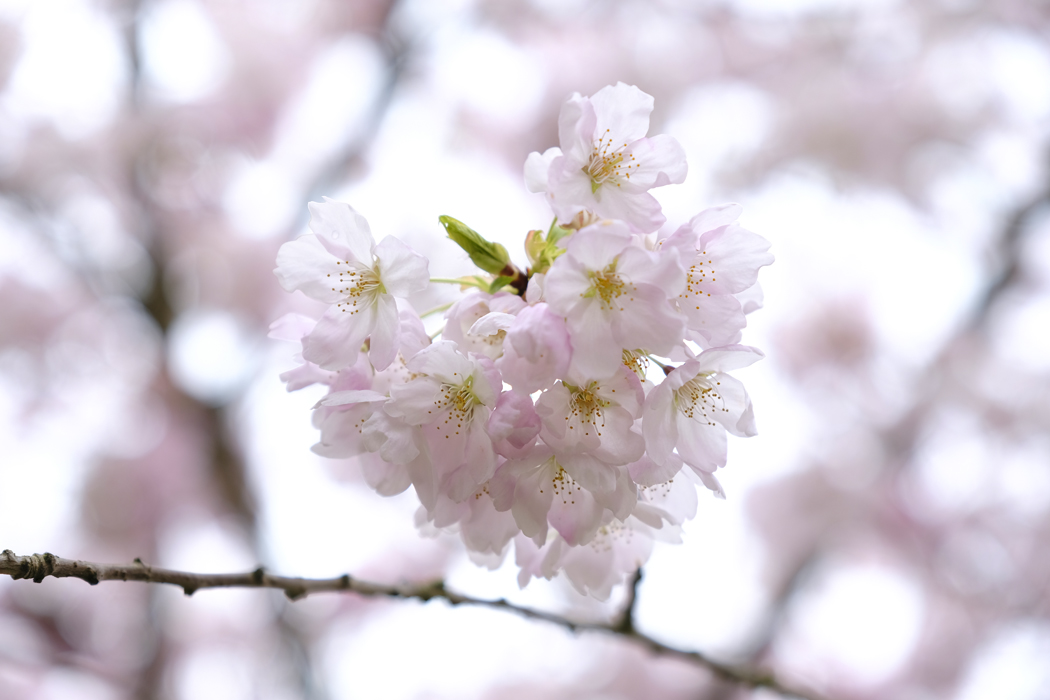 Vancouver also felt like a (pleasantly sized) big city to me, at least as big as Hamburg – but in fact, it only has 600,000 inhabitants, so about a third of the population of Hamburg (1.8 million). I'd never have thought the difference would be so big!
We stayed in a hotel downtown to get a jumping-off point for our activities:  
Fairmont Hotel Vancouver
900 W Georgia St.
Vancouver, BC V6C 2W6
Downtown Vancouver was surprising quiet at night – quite different from downtown San Francisco, where we stayed on our last trip to California.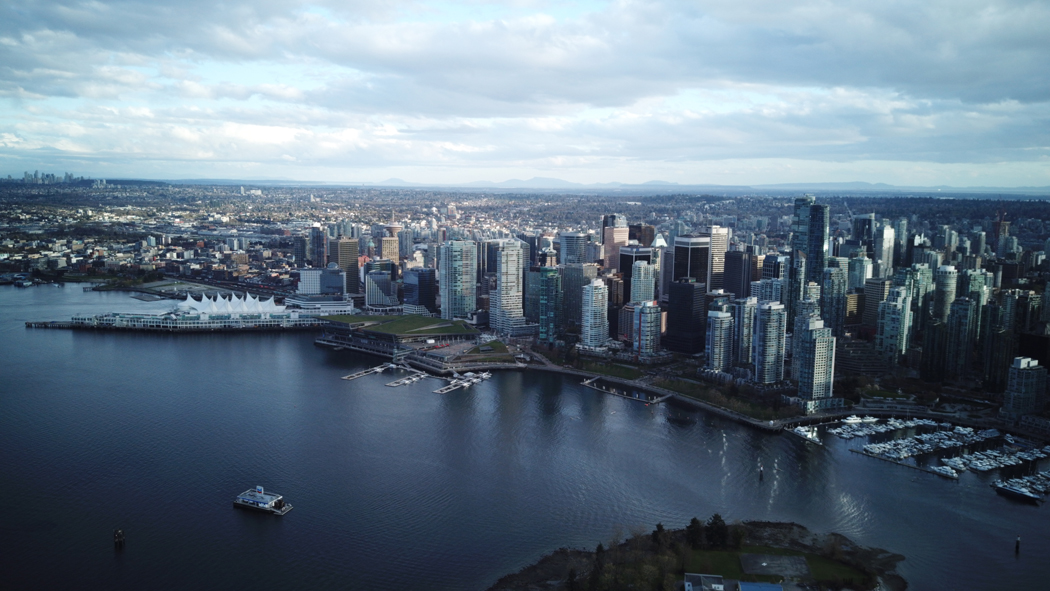 The photos in this post were all taken with three different devices: the iPhone X,* the DJI Mavic Pro Platinum* drone (e.g. the photo above), and the new Fujifilm X-H1* (e.g. the three photos below). My husband and I used the trip to extensively test out my new camera and his new drone, which was a lot of fun! :-)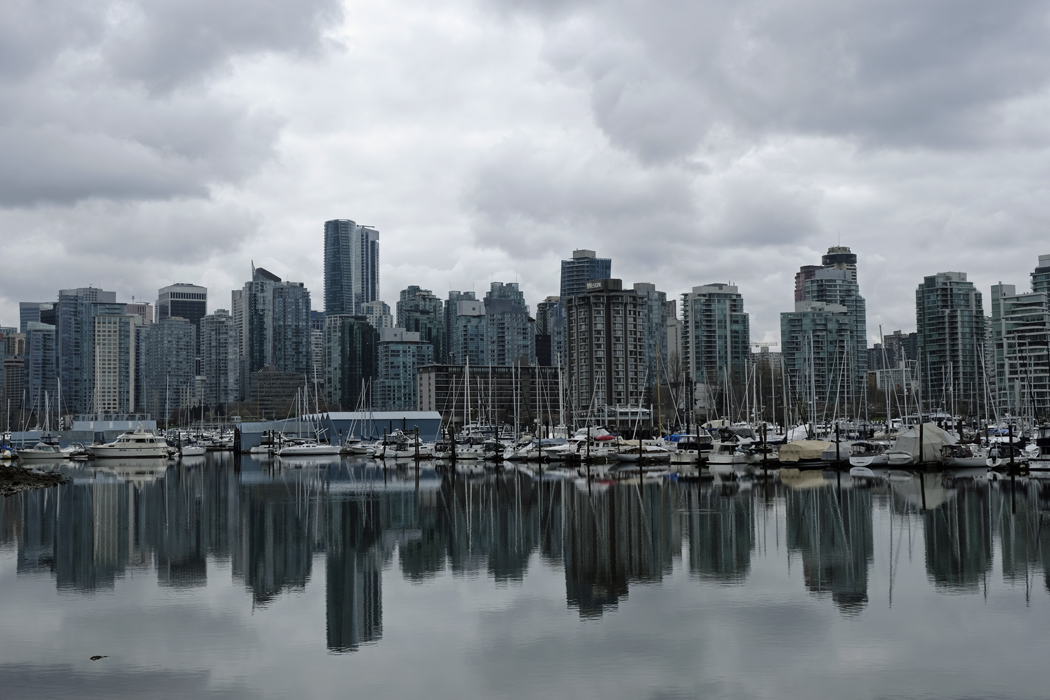 In the first few days, we explored the city on foot – fortunately we'd brought scarves and warm coats, since we would have been pretty unhappy otherwise! :-)
My husband really wanted to take a little tour on a seaplane, so we did. But since it was pouring rain, I wasn't so thrilled about hovering above the city in that tiny plane ;-)
But even in the rain, the view over Vancouver and the surrounding area was breathtaking – I would definitely do the tour again in good weather (we bought the ticket online the night before, and according to the weather forecast it wasn't supposed to rain).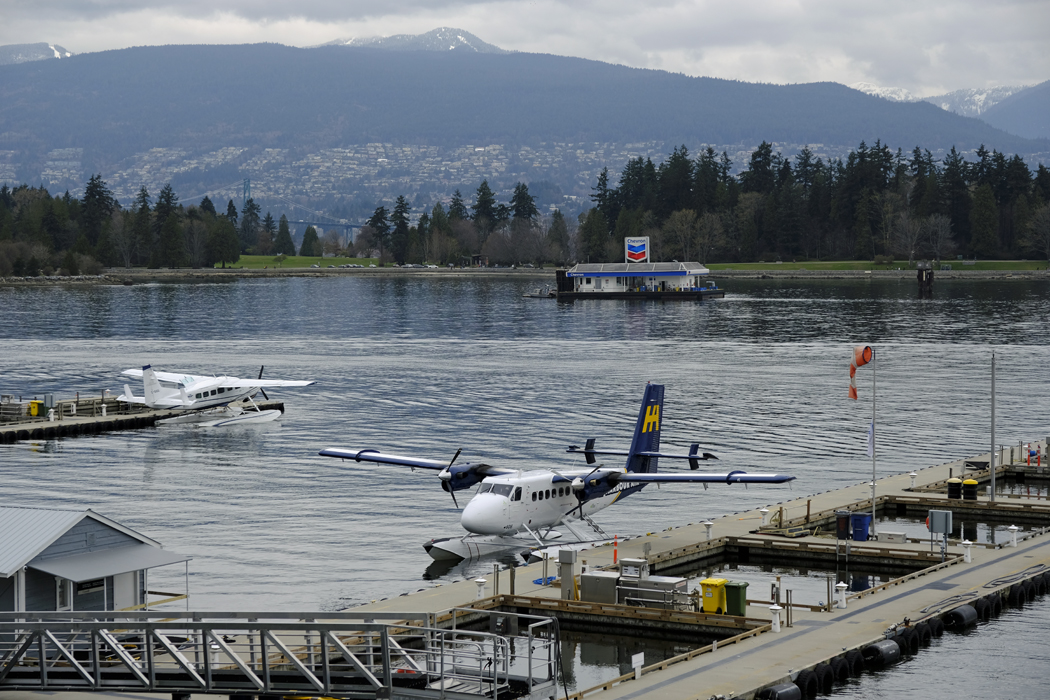 One of our favorite parts of the city was North Vancouver. We spent the few hours of sunshine we had sitting by the water looking over the city skyline, having a picnic and just taking it easy. The sunshine was wonderful after all that rain (which we'd also been experiencing beforehand in Hamburg as well)!
A little highlight for me, apart from all the sights and tourist attractions, were the small public gardens we discovered in North Vancouver and downtown: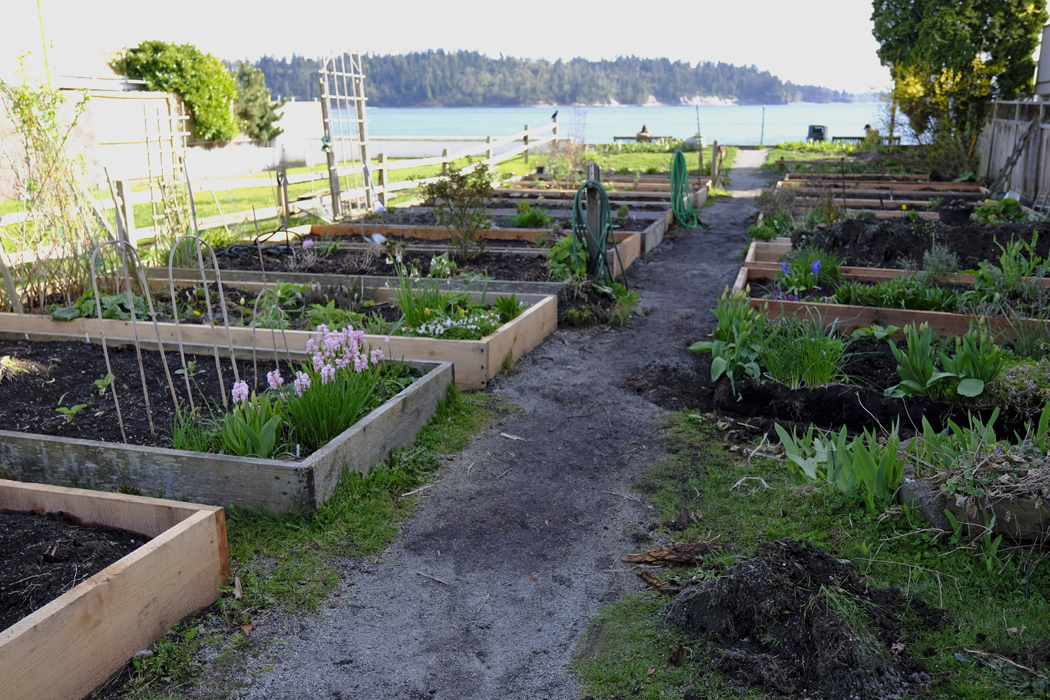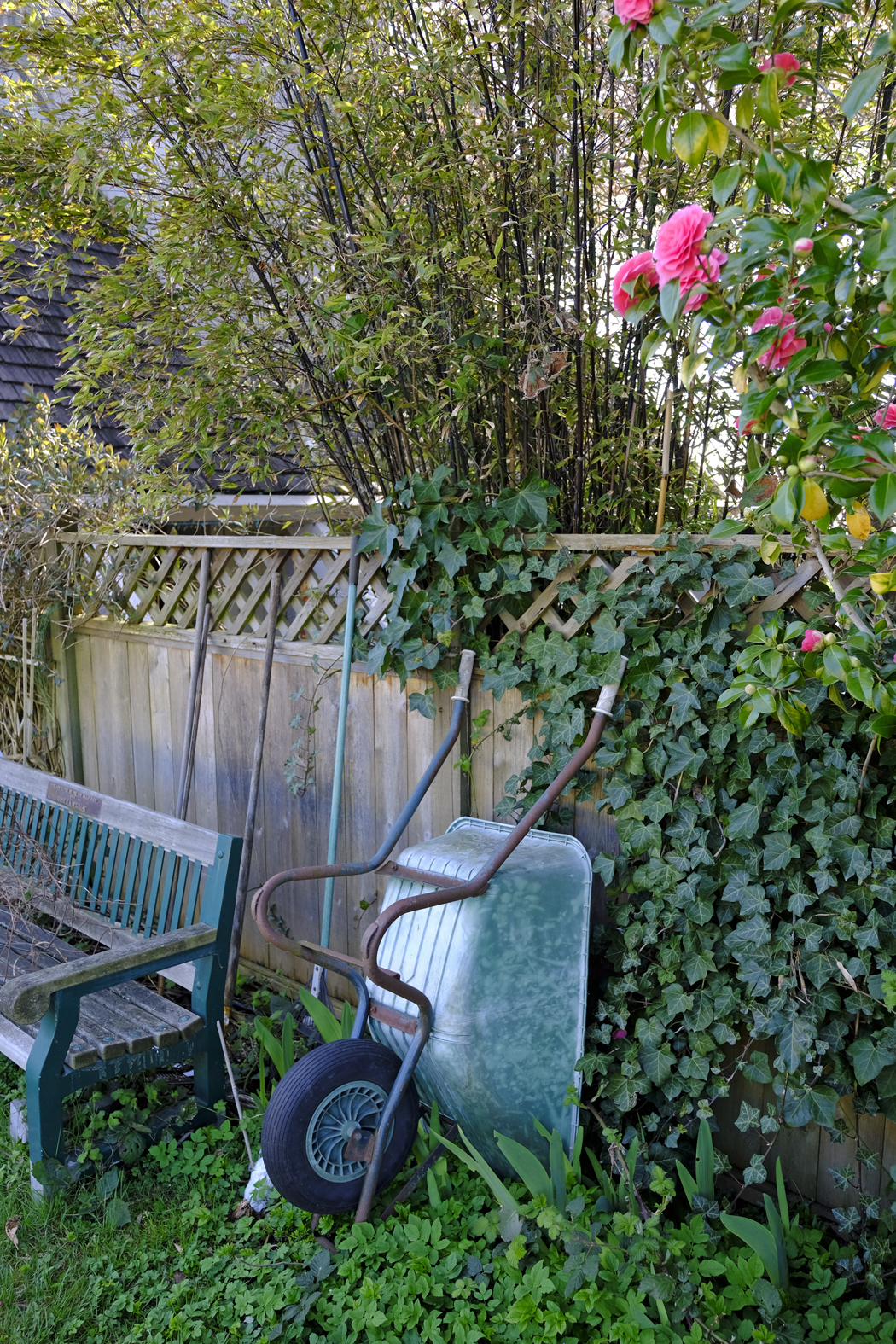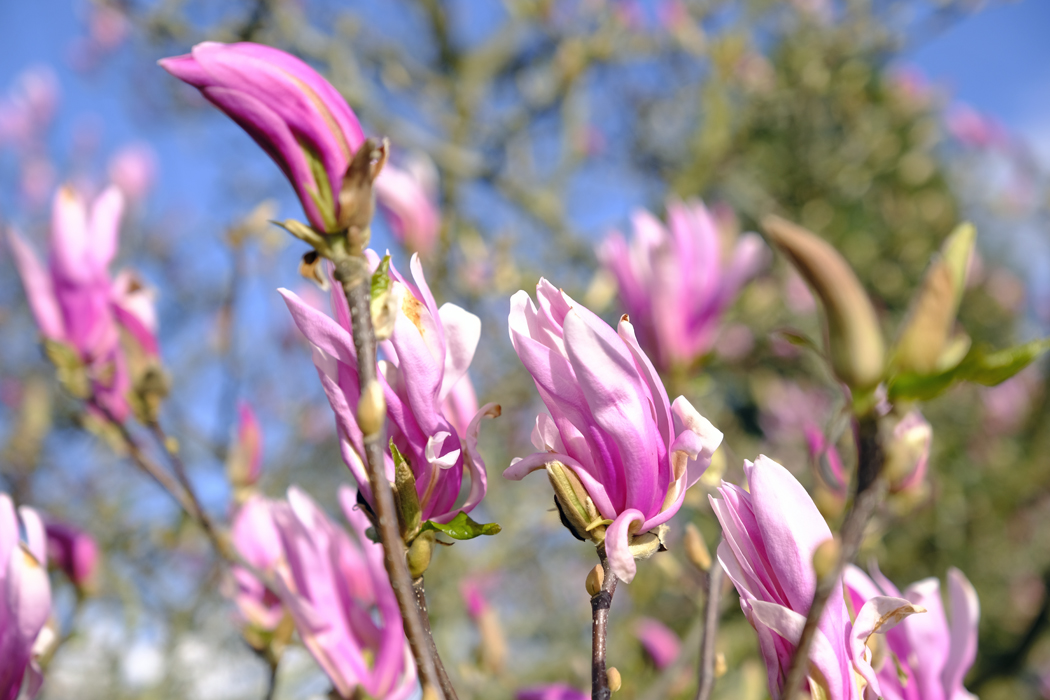 The gardens are incredibly beautiful! I was amazed at how much the urban and community gardening movement has taken off there.
Sea-to-Sky Highway from Vancouver to Whistler

As is the case in the USA, you have to rent a car if you want to get beyond the big cities in Canada. After spending four or five car-free days exploring Vancouver, we finally booked a car to explore the area around the city.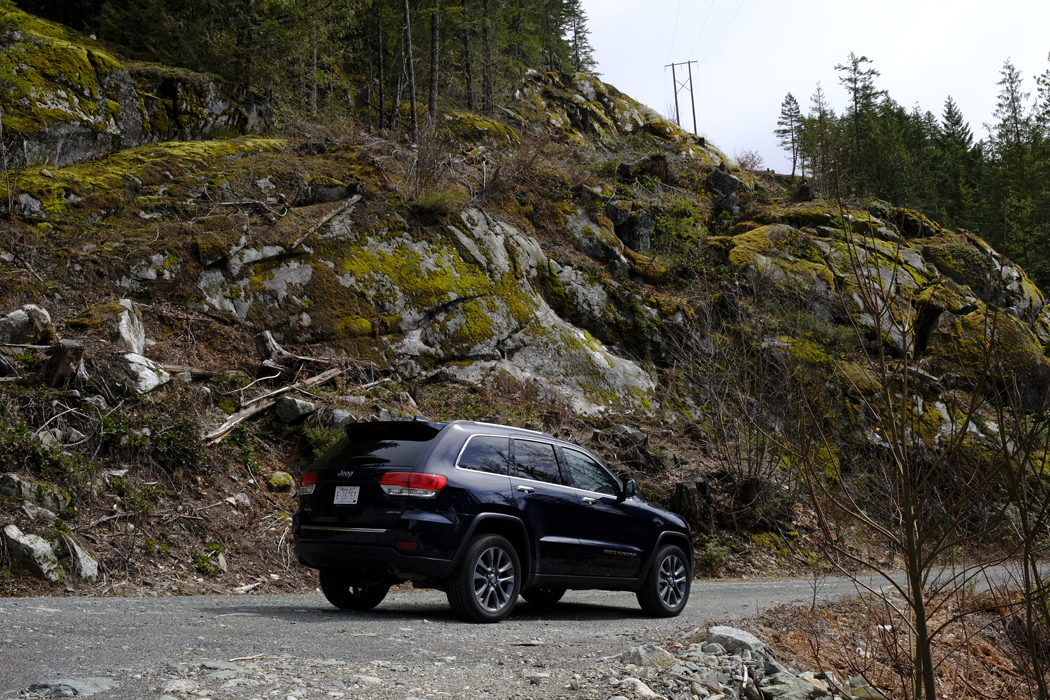 Our first outing took us from Vancouver to Whistler (a very famous ski resort about 115 km northwest of Vancouver). Whistler is located on British Columbia Highway 99, which is also known as the Sea-to-Sky highway because it links up the Pacific Coast with the mountains. The surroundings are absolutely beautiful! It immediately reminded us of California's Route 1, just gave us that wonderful road-trip feeling.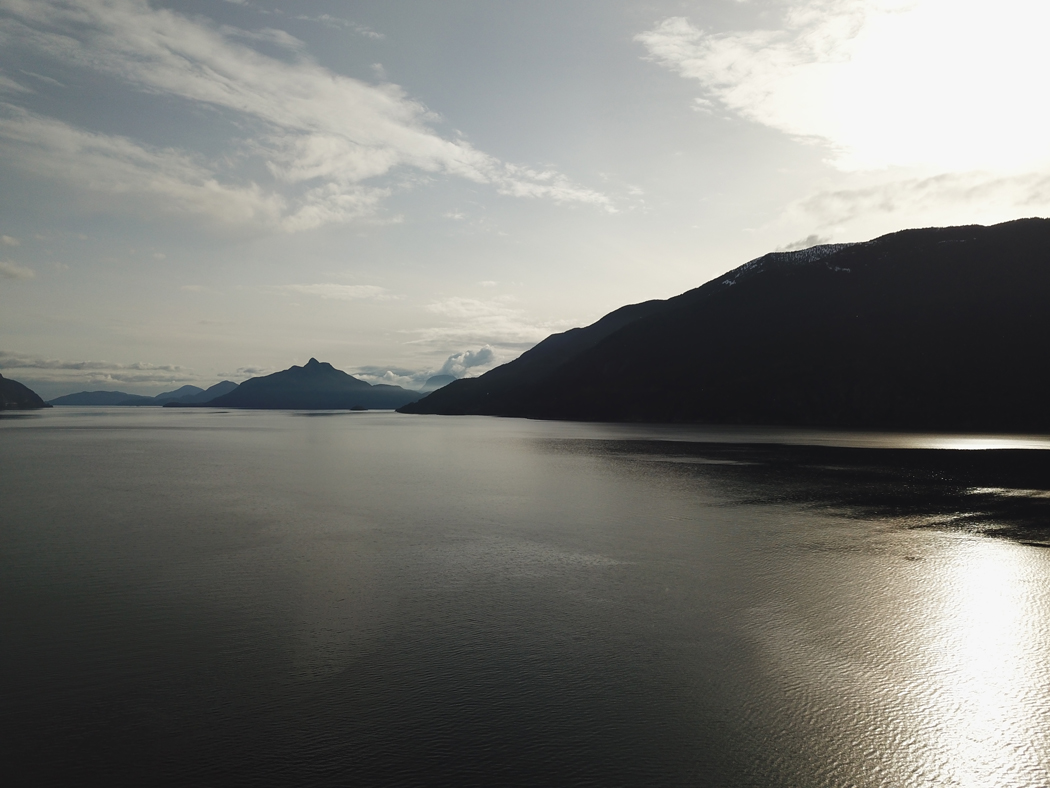 Even though we only made a short stop in Whistler, it took almost an entire day to get there and back: we couldn't help pulling over, stepping out of the car, and getting up close with all of the natural wonders!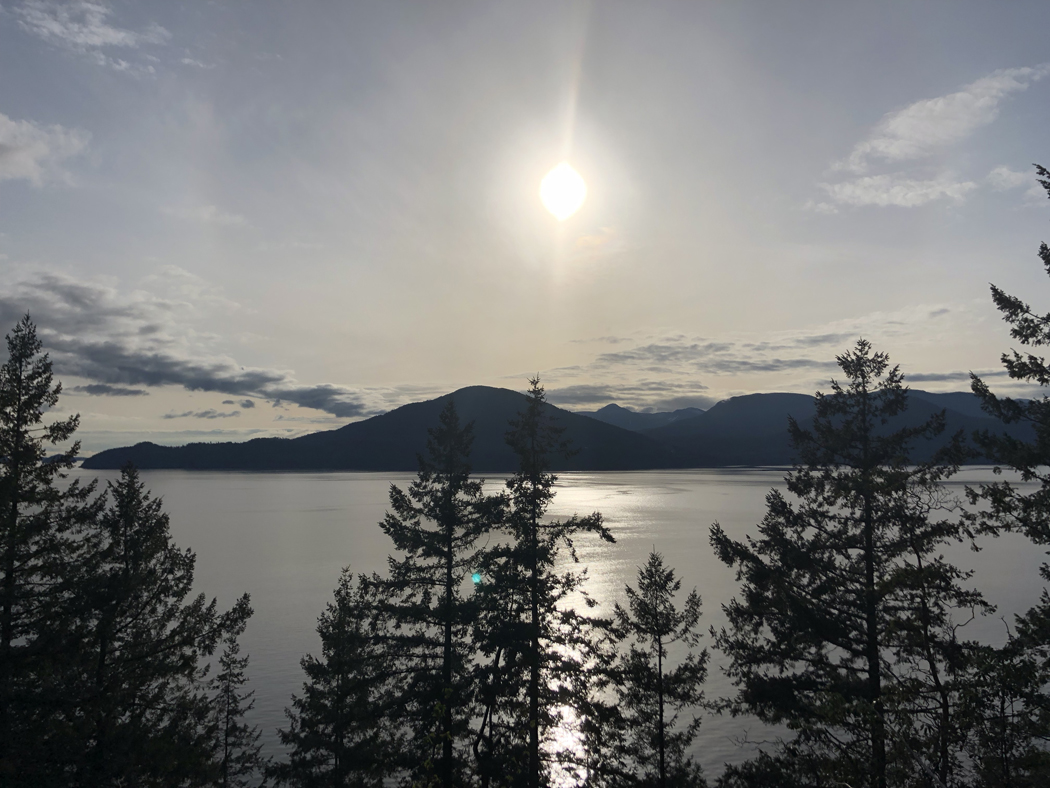 Capilano Suspension Bridge

An absolute must in Vancouver is a visit to the Capilano Suspension Bridge – a simple 140-meter-long rope bridge in North Vancouver located in an 11-hectare park. The bridge is easy to reach from downtown via the Lions Gate Bridge – it took us no more than 20 minutes by car.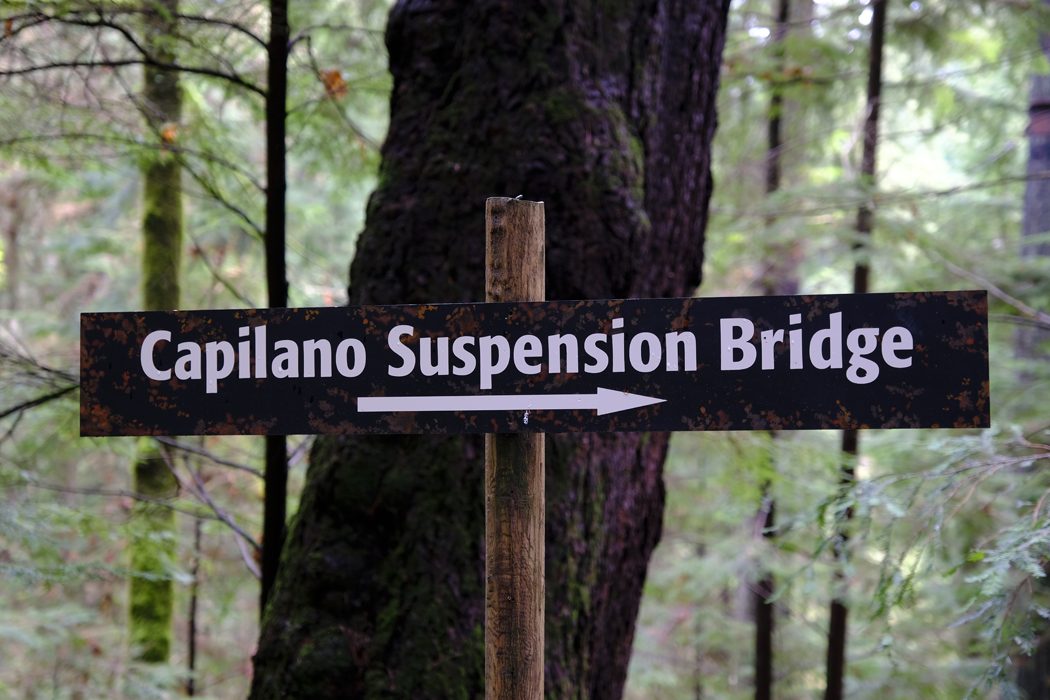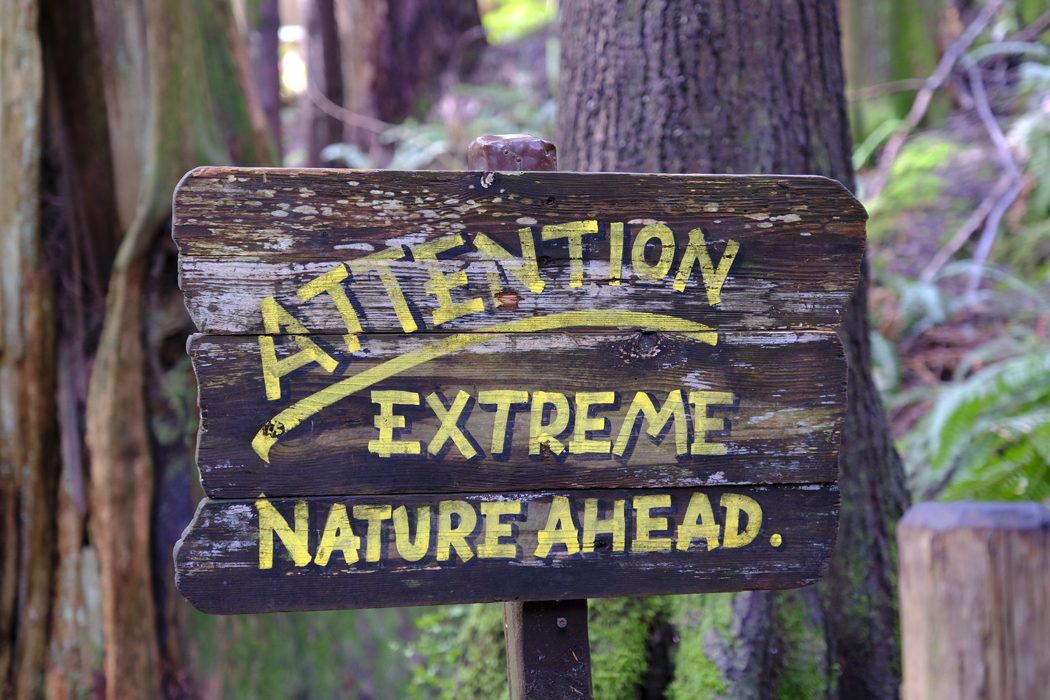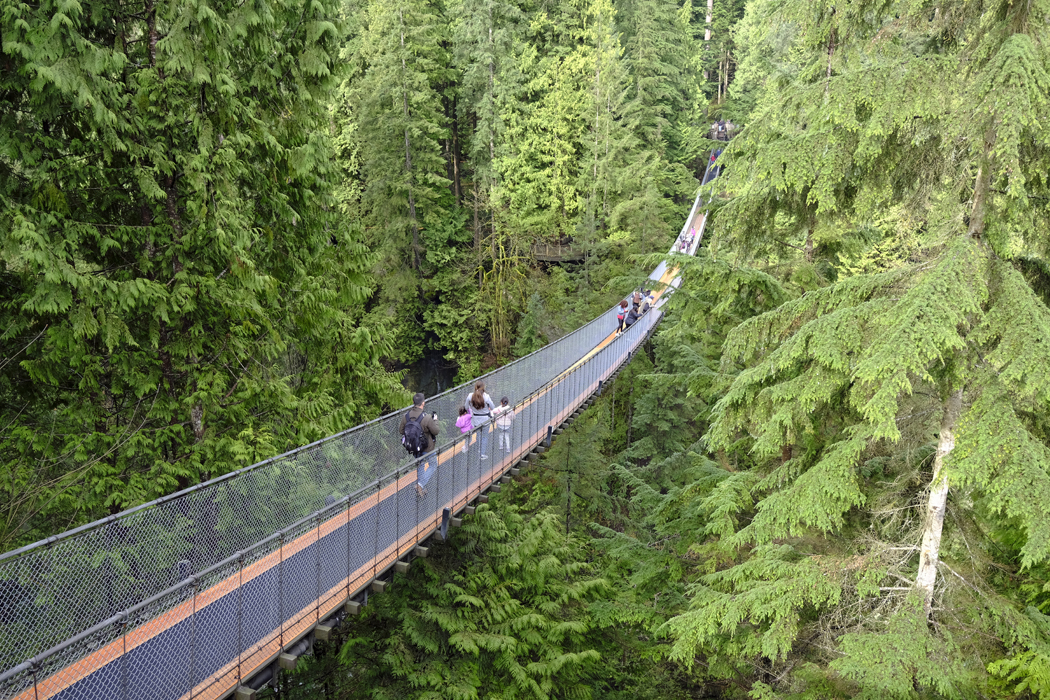 Next to the Suspension Bridge is the Capilano Cliffwalk, which is made from steel, wood, and glass and leads right over the treetops.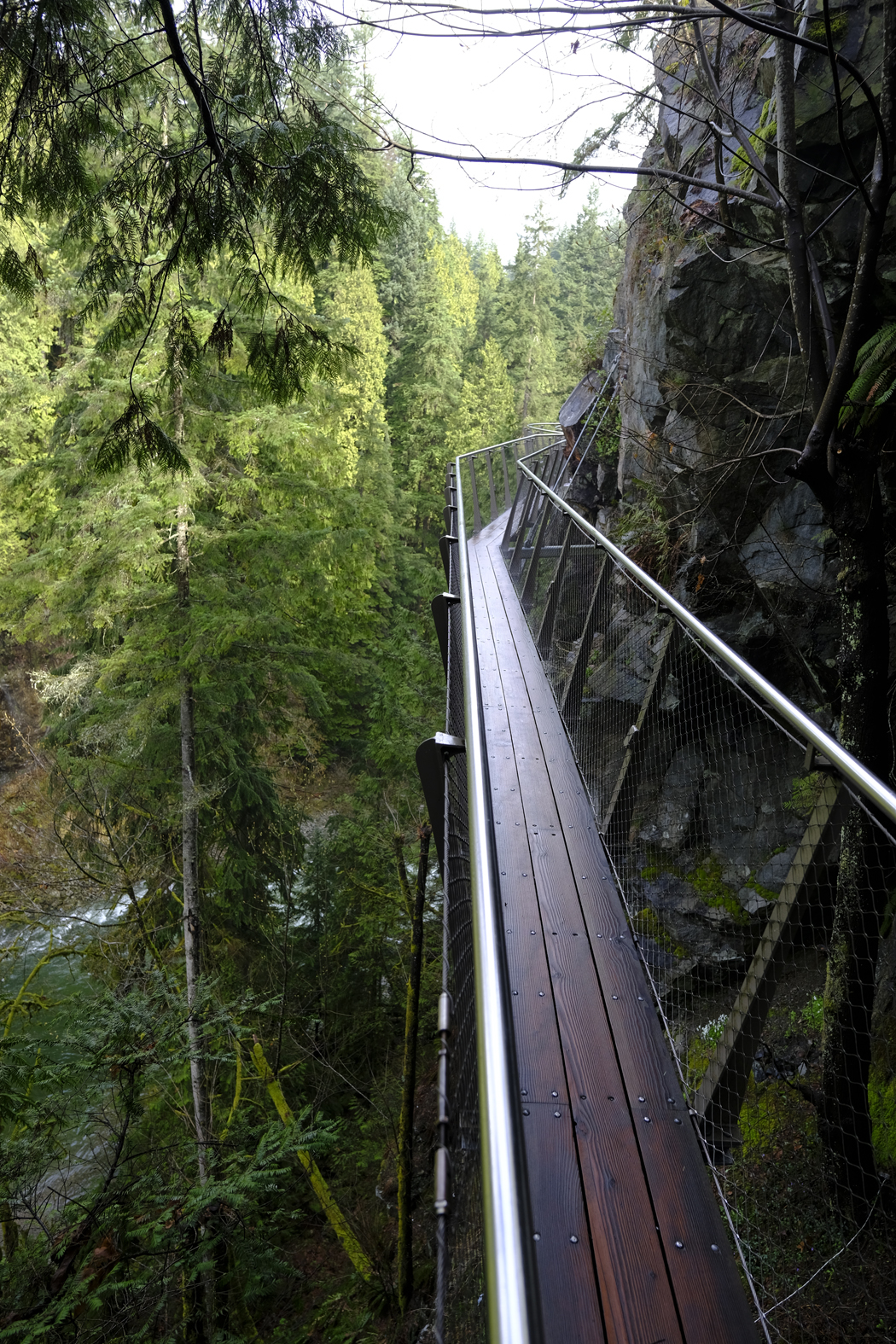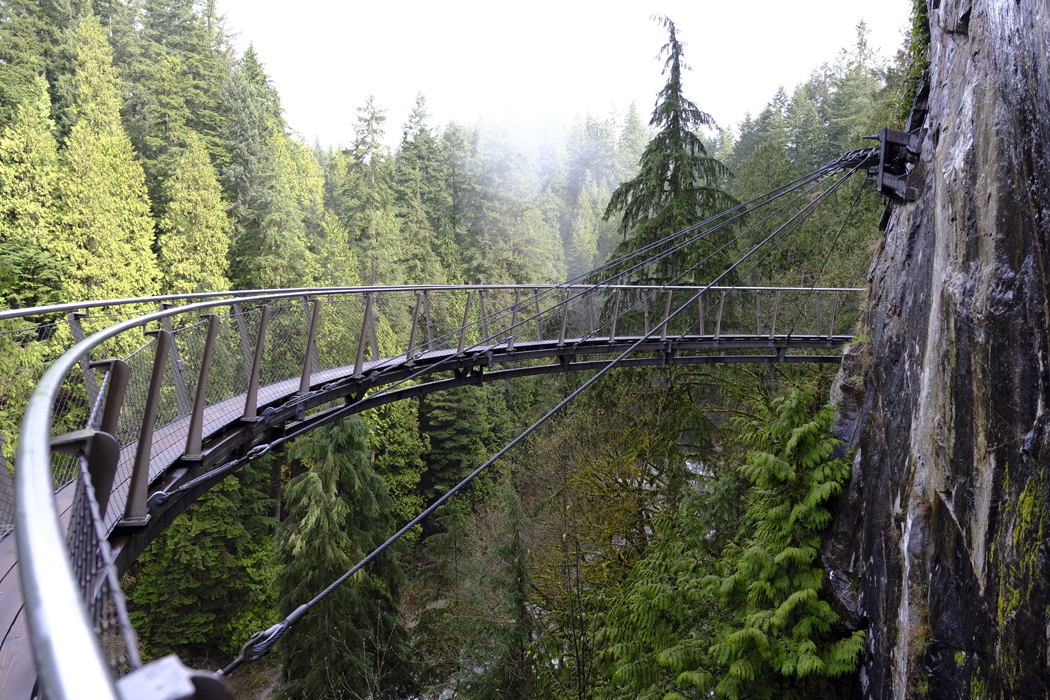 Vancouver Island
Unfortunately, not everything was as close to the city center as the Capilano Suspension Bridge. When planning the trip, we didn't consider how great the distances in Canada really are – and that we'd have to travel 1 hour and 40 minutes by ferry to reach Vancouver Island (after the 20 minutes it took to get to the ferry terminal). We had booked our hotel in Vancouver Downtown for the whole 10 days – it would have been smarter to spend a few days on Vancouver Island, which we'll definitely do next time.
So we had to get up in time to make the 7:00 a.m. ferry – the first of the day – from Horseshoe Bay, just north of Vancouver, to the small city of Nanaimo on Vancouver Island, then wait around for the last ferry back to the mainland at 11:00 p.m.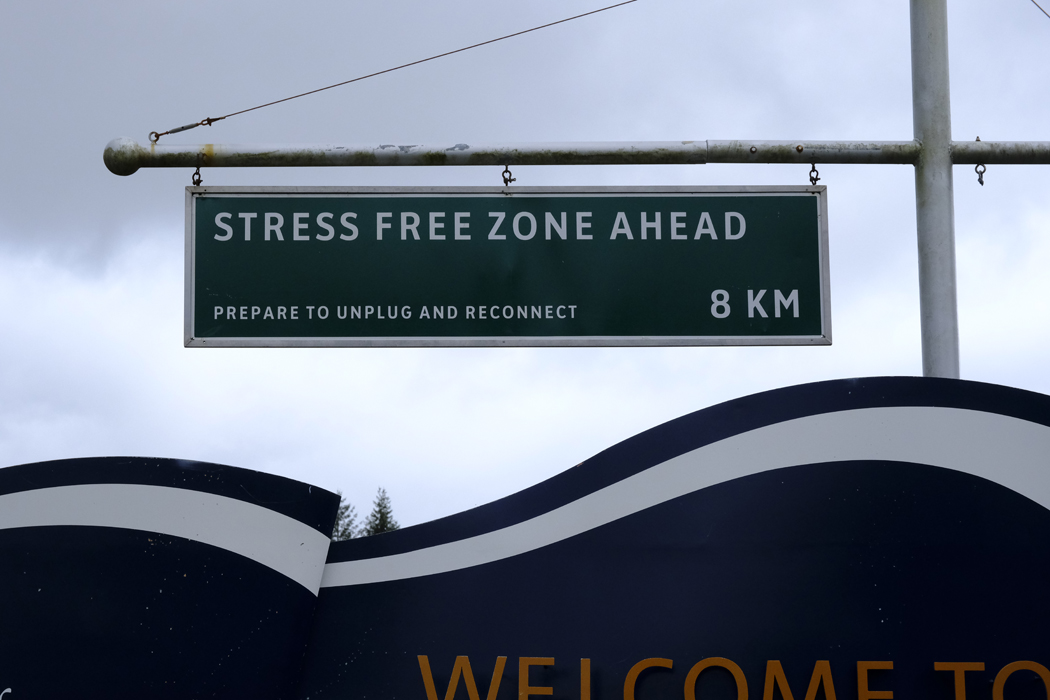 Once we were on Vancouver Island, we had to drive another three hours to get to the Pacific Rim National Park Reserve on the island's western coast.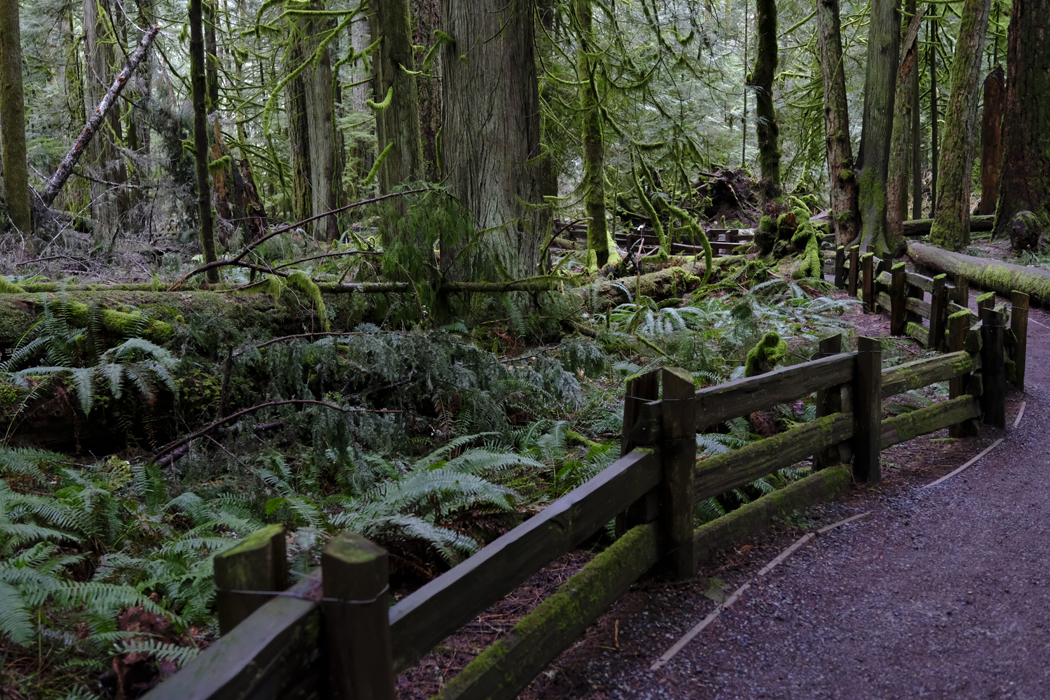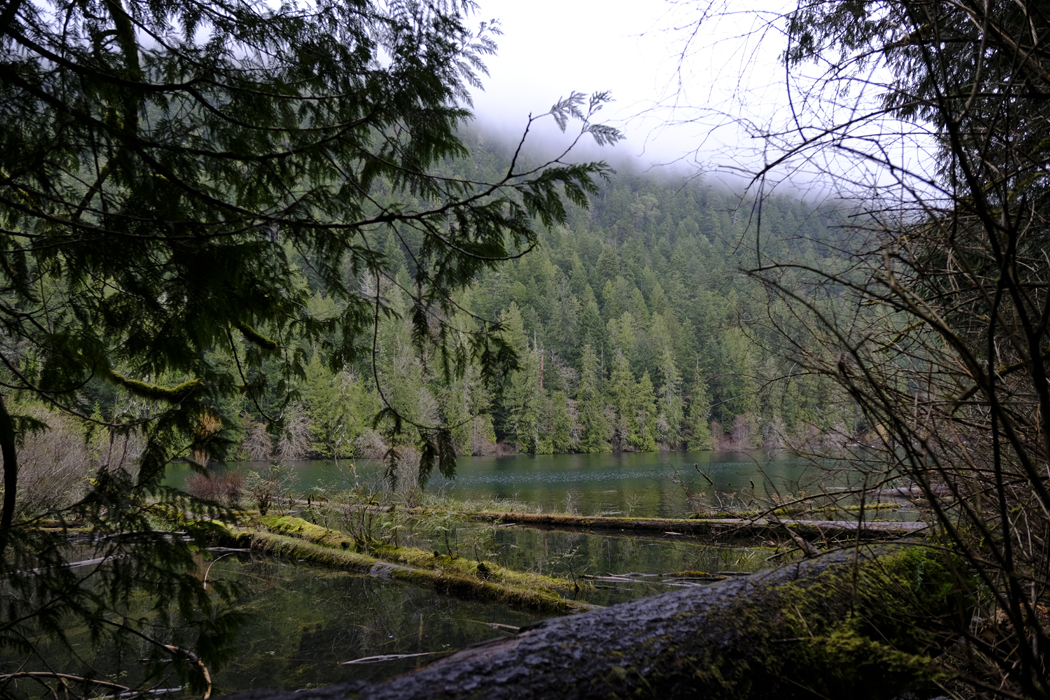 All in all, the excursion took roughly 18 hours, with nine or ten of those hours spent in transit (in the car or on the ferry) – we learned our lesson for next time! ;-) On top of that, it rained almost continuously on Vancouver Island, but we had roughly two or three rainless hours at exactly the right moment!
https://www.instagram.com/p/BhVg7rzA9ZC/?taken-by=projekt_gesund_leben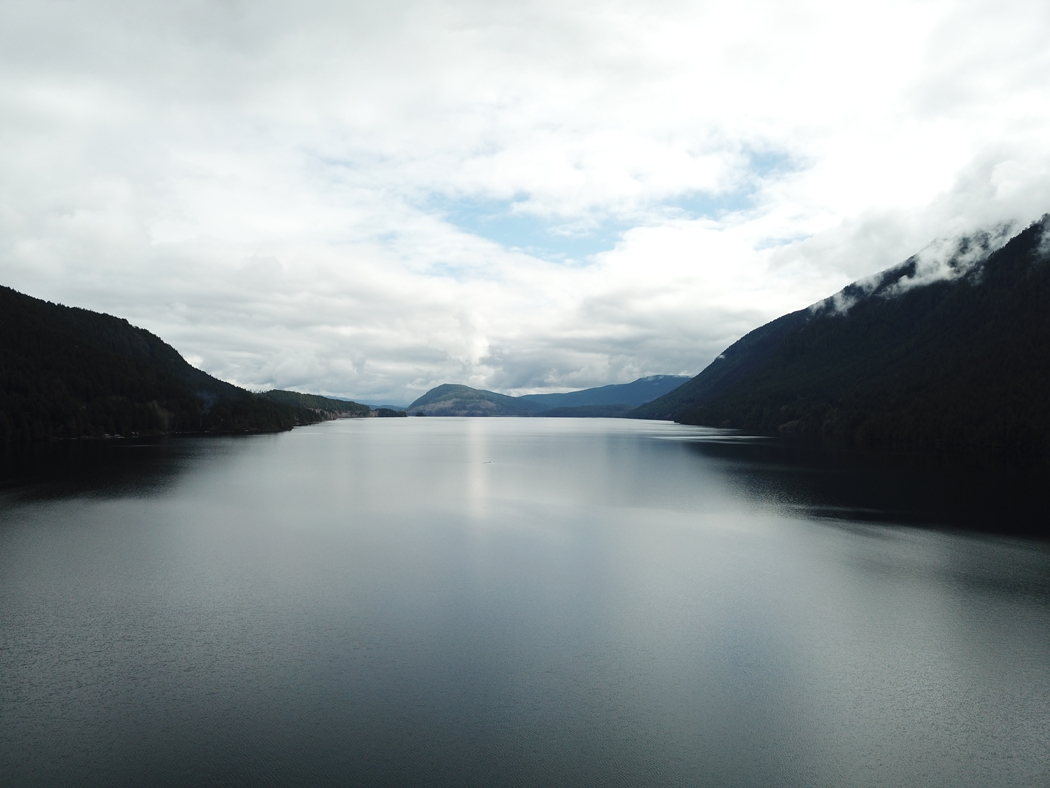 PRO TIP Booking ferry tickets: we paid 100 CAD (approx. €70) for the two of us (incl. car) directly at the ferry terminal. Reserving tickets in advance would have bumped that price up a bit, but it totally would have been worth it, since it would have saved us some anxiety. We didn't make it onto the second-to-last ferry of the day on the way home, so we had to wait around another 2.5 hours and ended up as the second-to-last car on the very last ferry of the day instead. Don't make our mistake: plan and book in advance!
Clean Eating in Vancouver
I was super excited about all the supermarkets in Vancouver! In addition to Whole Foods, there are so many organic food stores – Fresh St. Market is one of them – and plenty of restaurants and cafés where you can eat really well.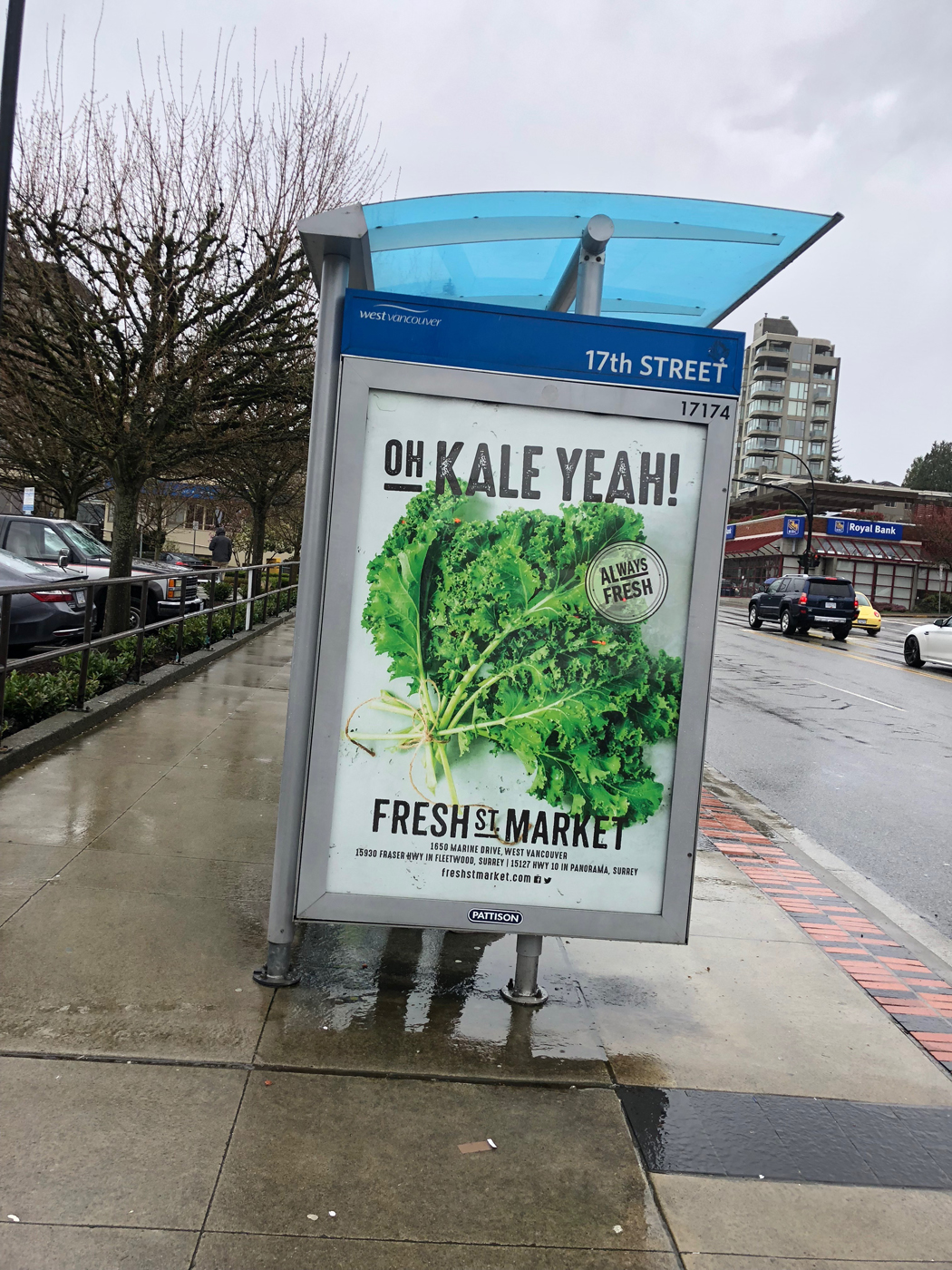 When we're on vacation, we love buying simple foods at the supermarket and having a nice relaxed meal in our hotel room, in the park, or by the shore – and we did this in Vancouver as well. After long days exploring the city, I was too tired to go out for dinner anyway (we were also jetlagged in that first week as well – the nine-hour time difference is no joke! Fortunately, I didn't have any issues on the trip back to Germany …).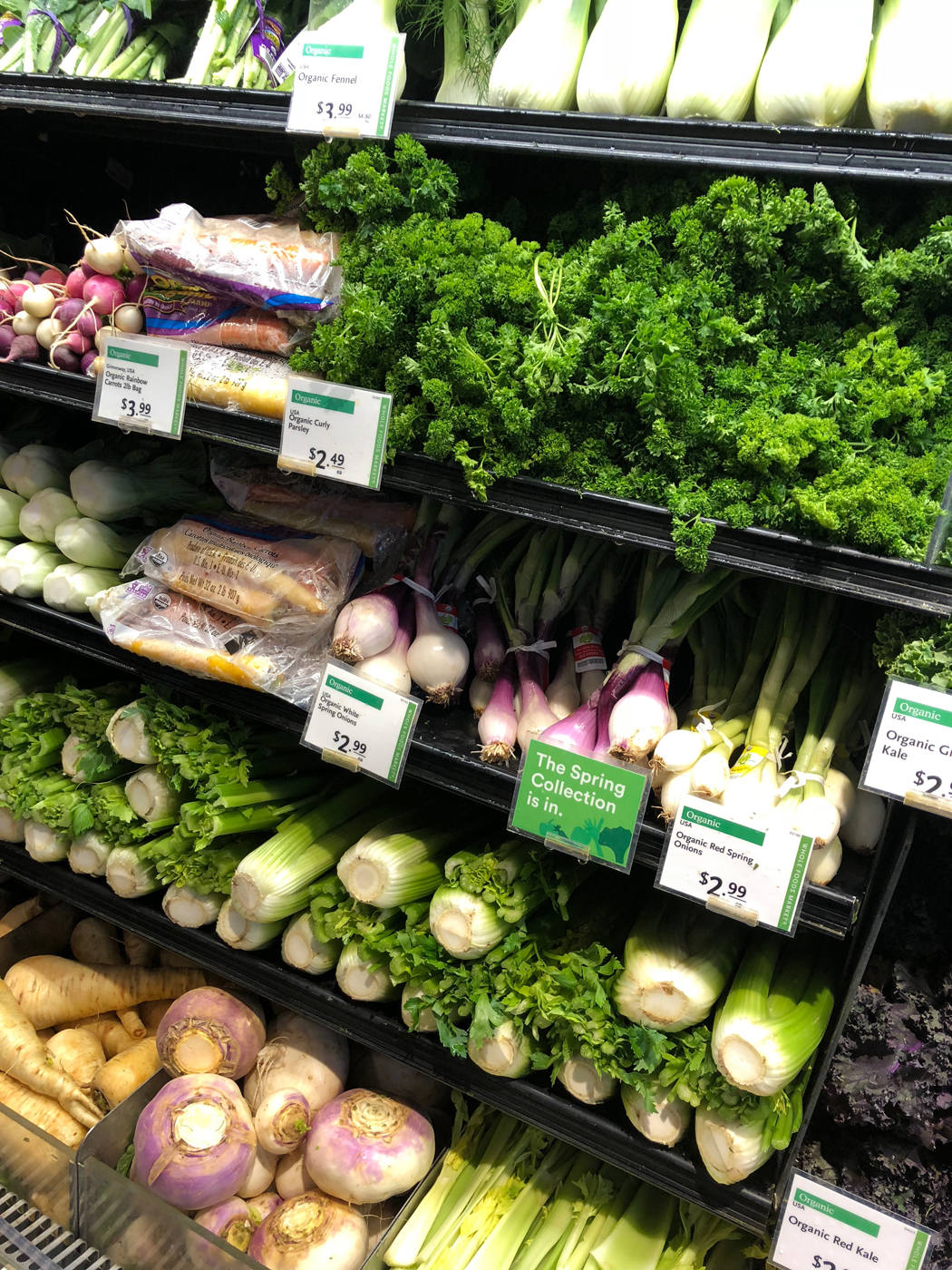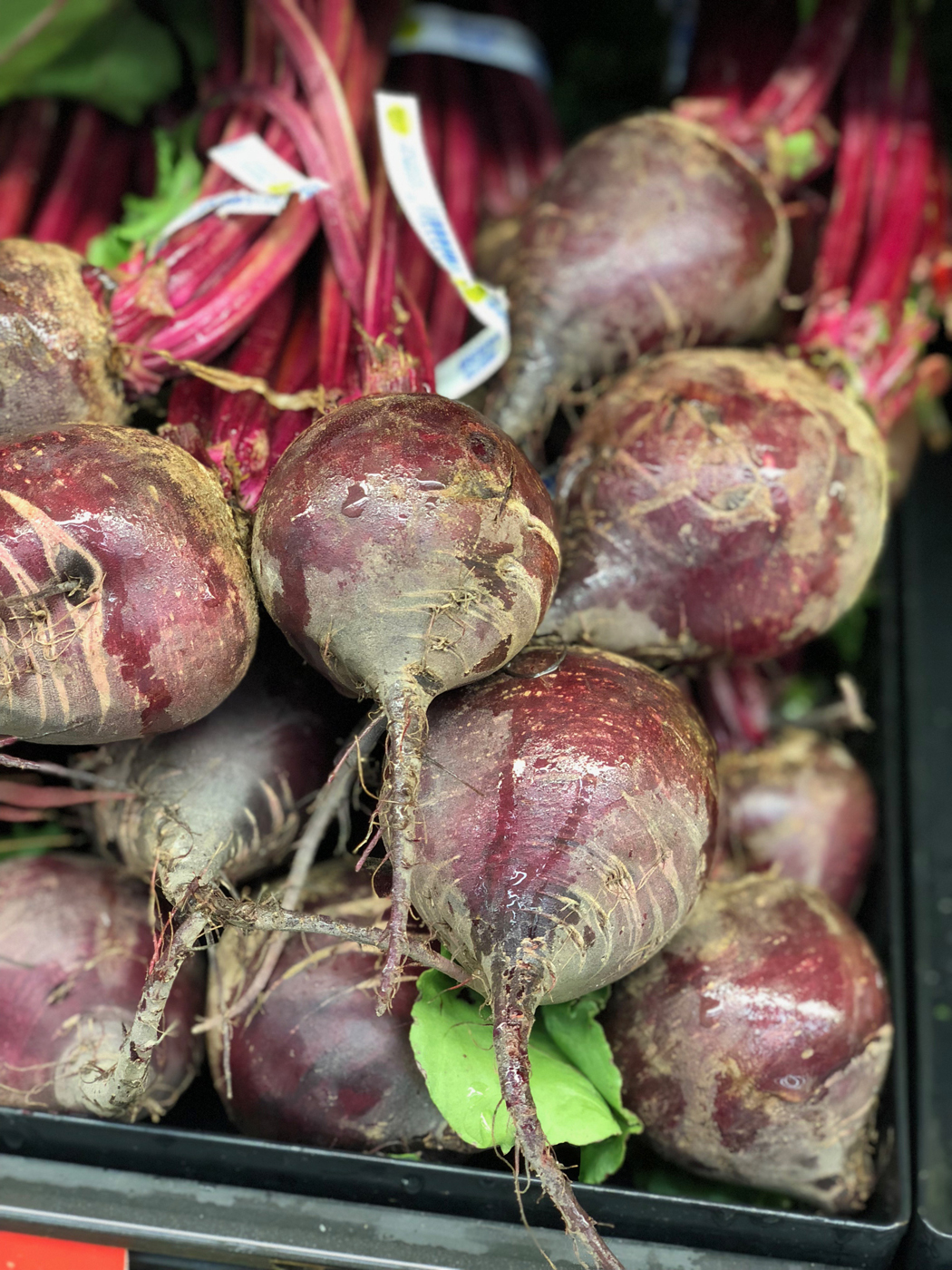 But when it came time for breakfast, we were all about eating out! One of our first breakfast stops was North Vancouver's Buddha-Full, a raw vegan café that was recommended to me via Instagram. It was totally worth going up there: the Açaí Bowls and Glow Juice were heavenly!
Buddha-Full
106 West 1st St.
North Vancouver, BC V7M 1A9
There were several other cafés in the area that called out to me – but I was too full to eat another bite! ;-)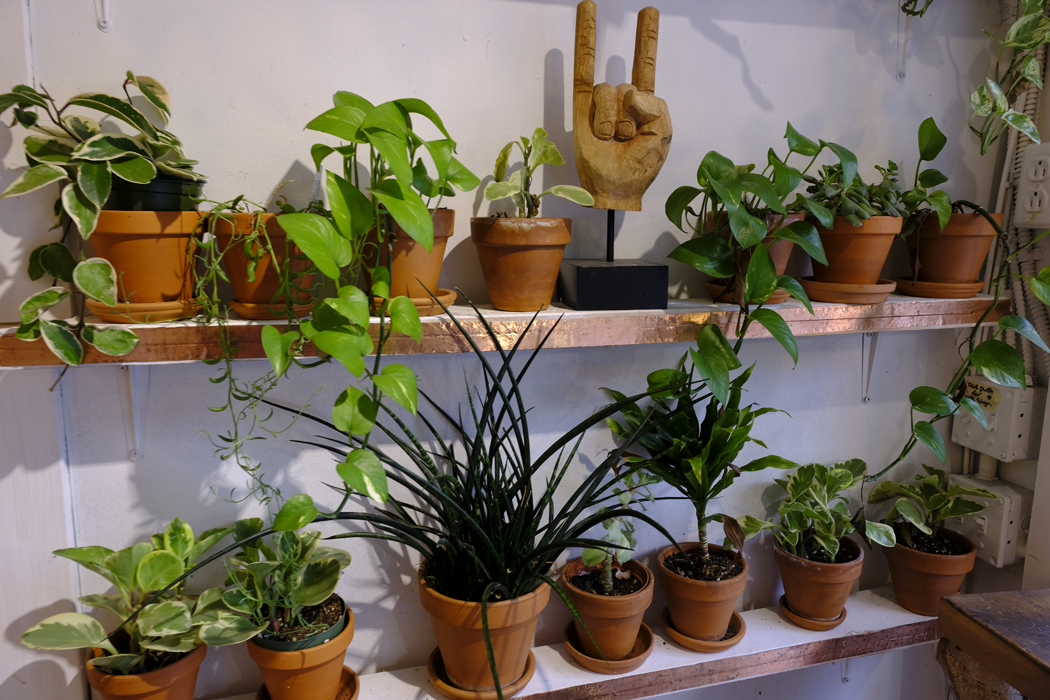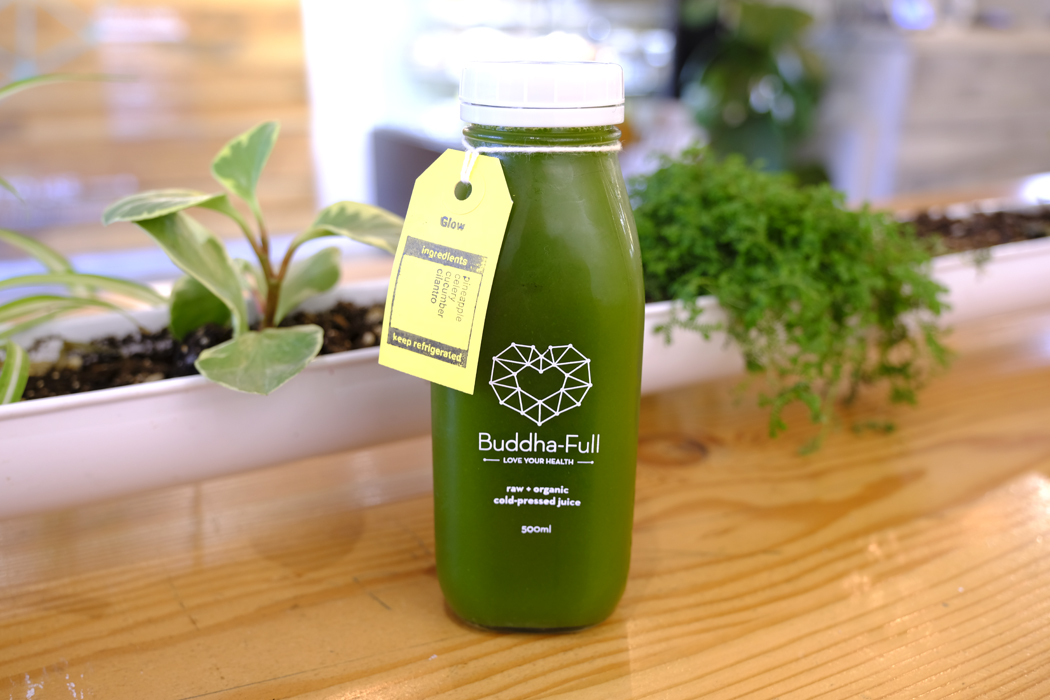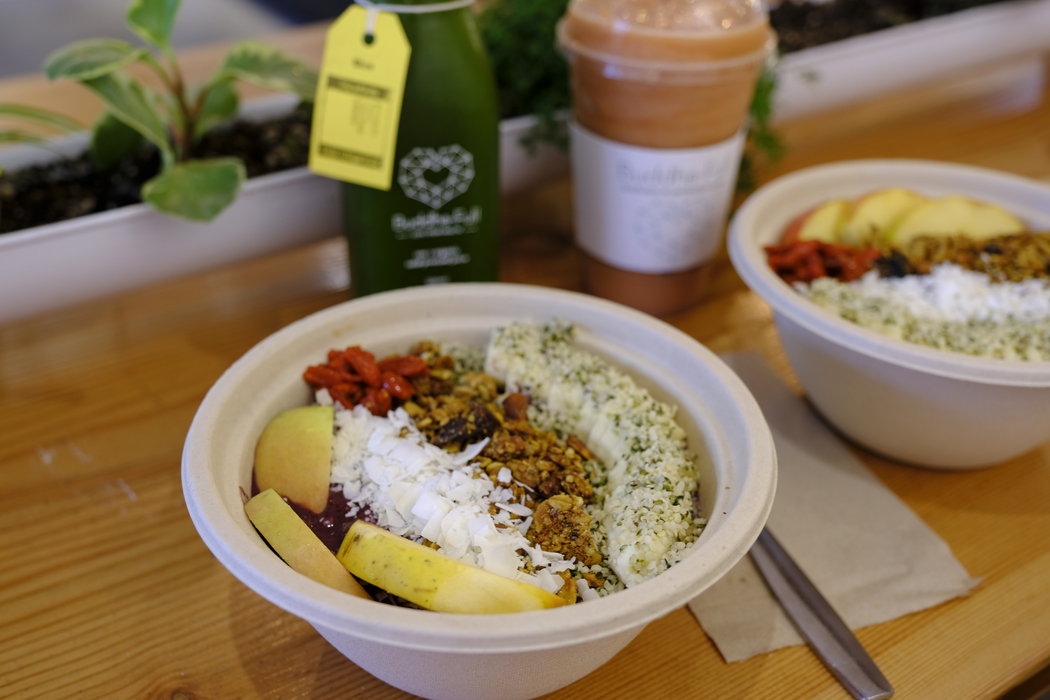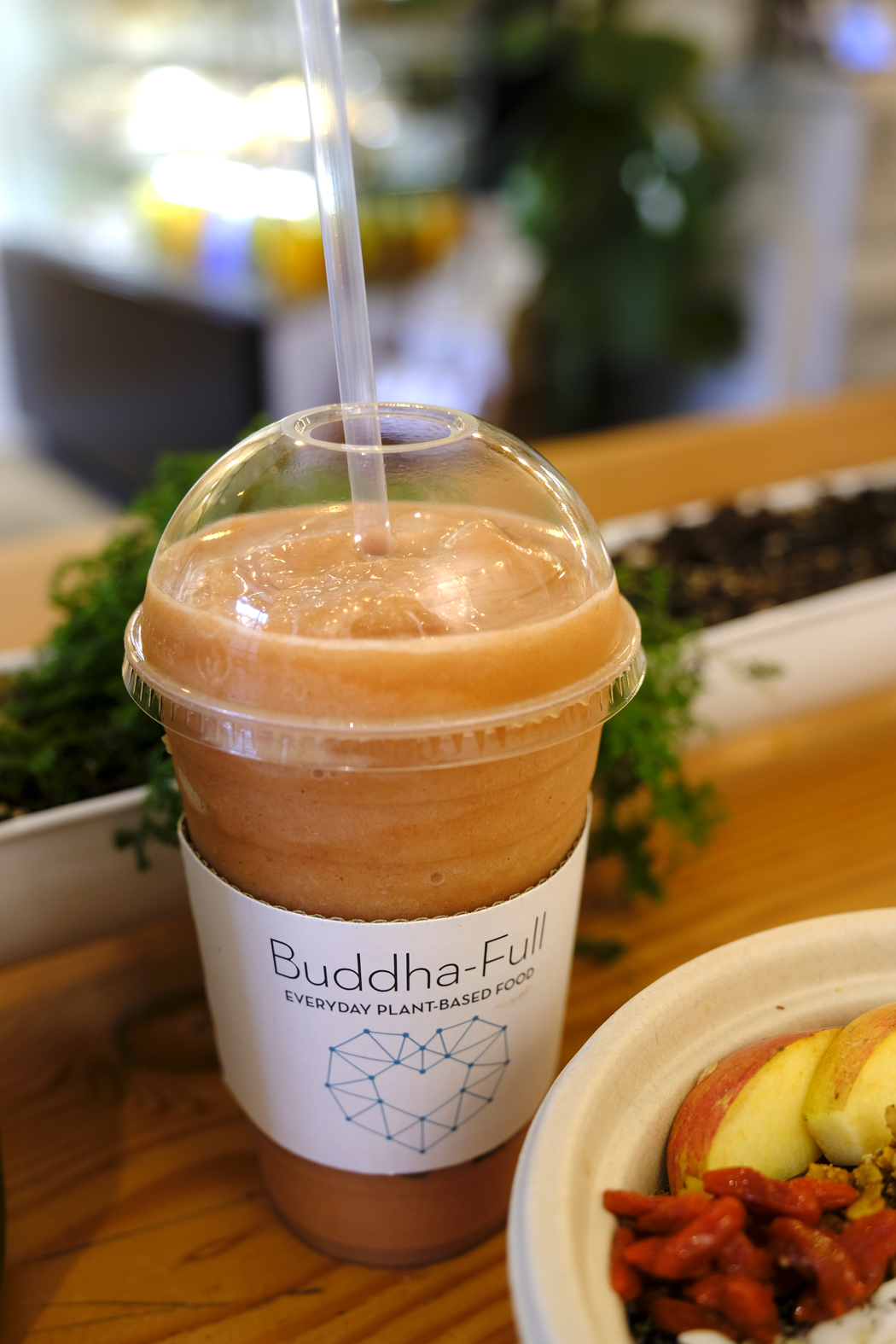 Things were a bit heartier at Le Petit Belge in Vancouver Downtown, where we ended up completely by chance – we'd actually wanted to go to another café, Medina Café (also recommended to me via Instagram), but the line there was so long that we would have had to wait outside in the rain, so we decided to go somewhere else. After turning to TripAdvisor for recommendations, we ended up at Le Petit Belge, a little café with sweet and savory waffles.
I went for these glorious, sumptuous waffles with poached eggs, asparagus, and hollandaise sauce along with a fruit salad …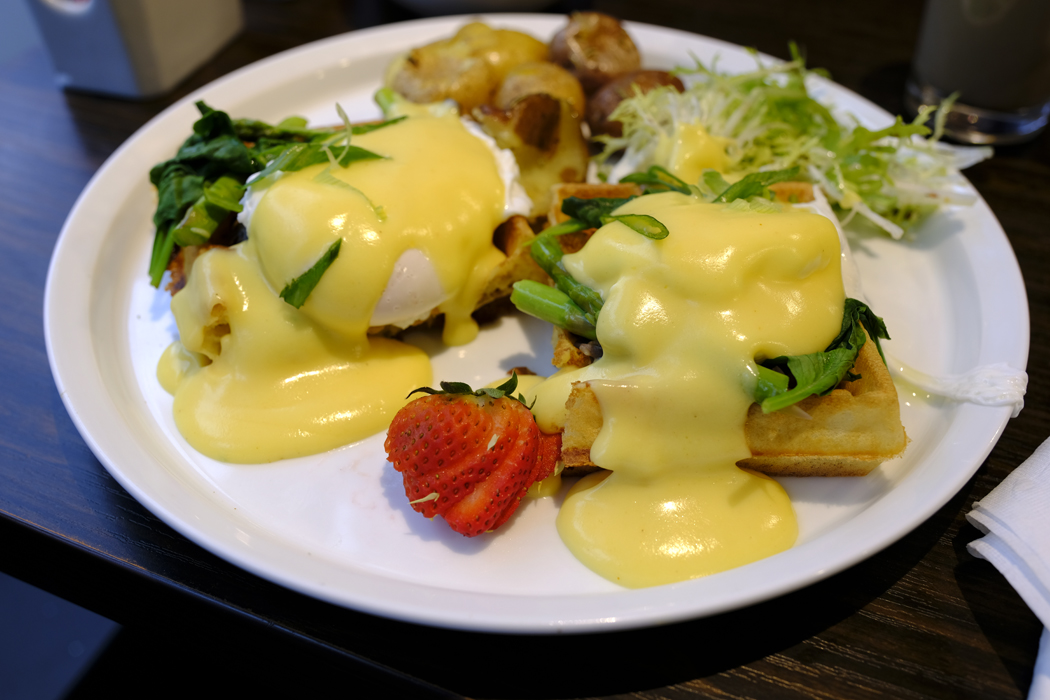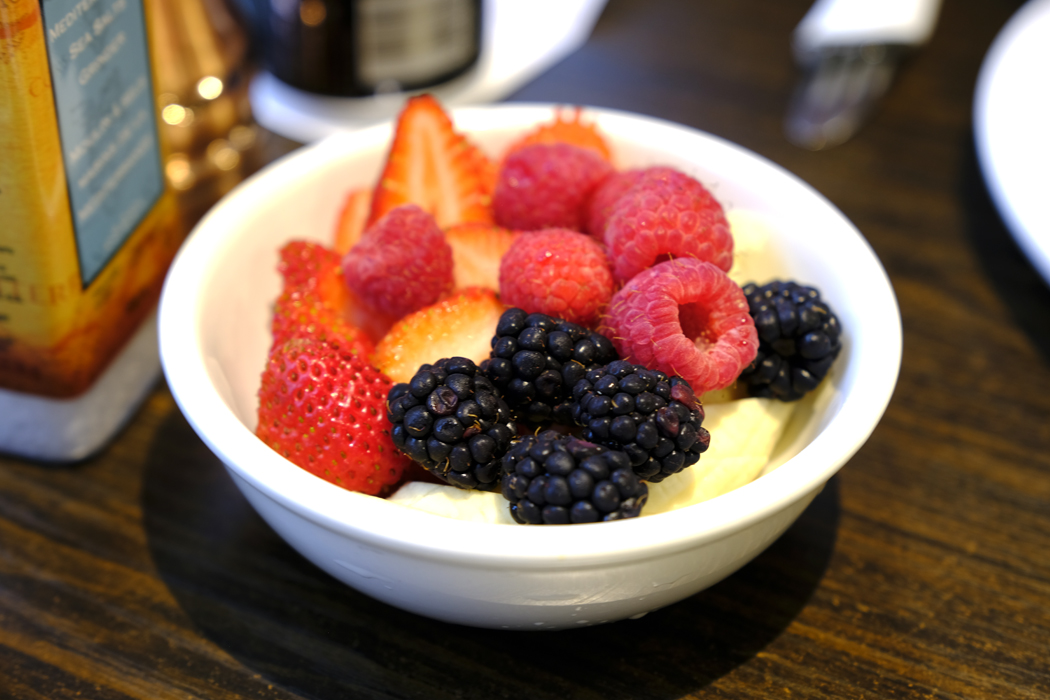 … while my husband got these rather blah-looking waffles with camembert, honey, and walnuts. Since I couldn't bear to be subjected to his food envy, we ended up sharing everything – and ultimately, we ended up liking both! ;-)
Le Petit Belge
340 Robson St.
Vancouver, BC V6B 2B2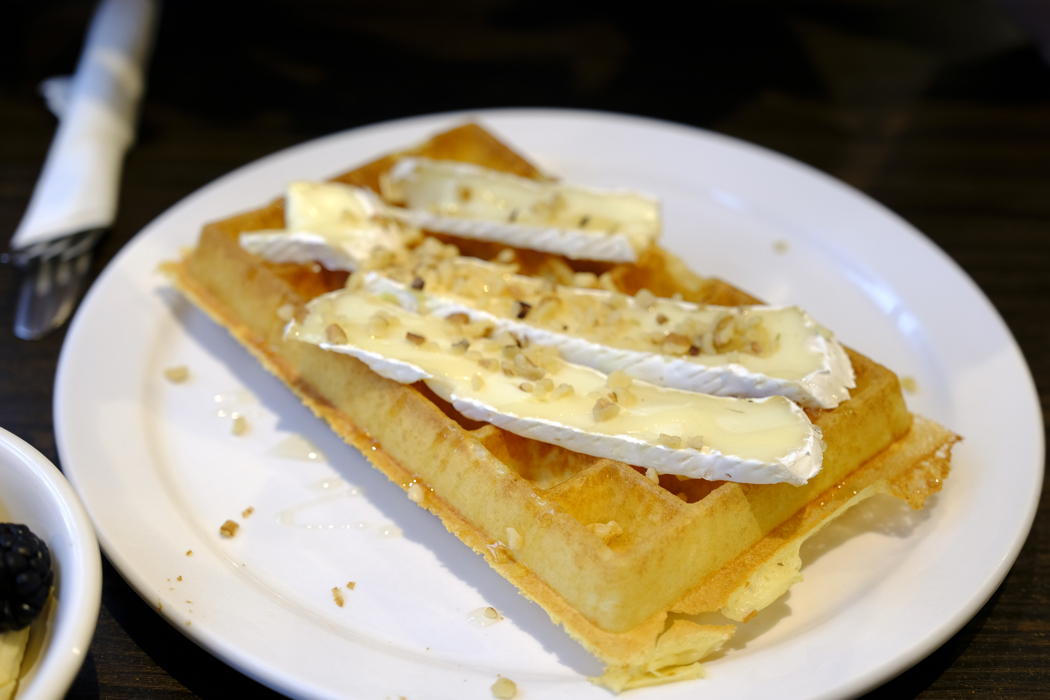 The next day we made it to Medina Café, which is also right in the middle of downtown and counts as one of Vancouver's top breakfast spots. We'd noticed that it was always full whenever we passed by, and when we finally got to go, there was only room for us at the bar – we would have had to wait ages to get a table. My yogurt with granola and fruit was great, but it wouldn't have been worth waiting hours for.
Medina Café
780 Richards St.
Vancouver, BC V6B 3A4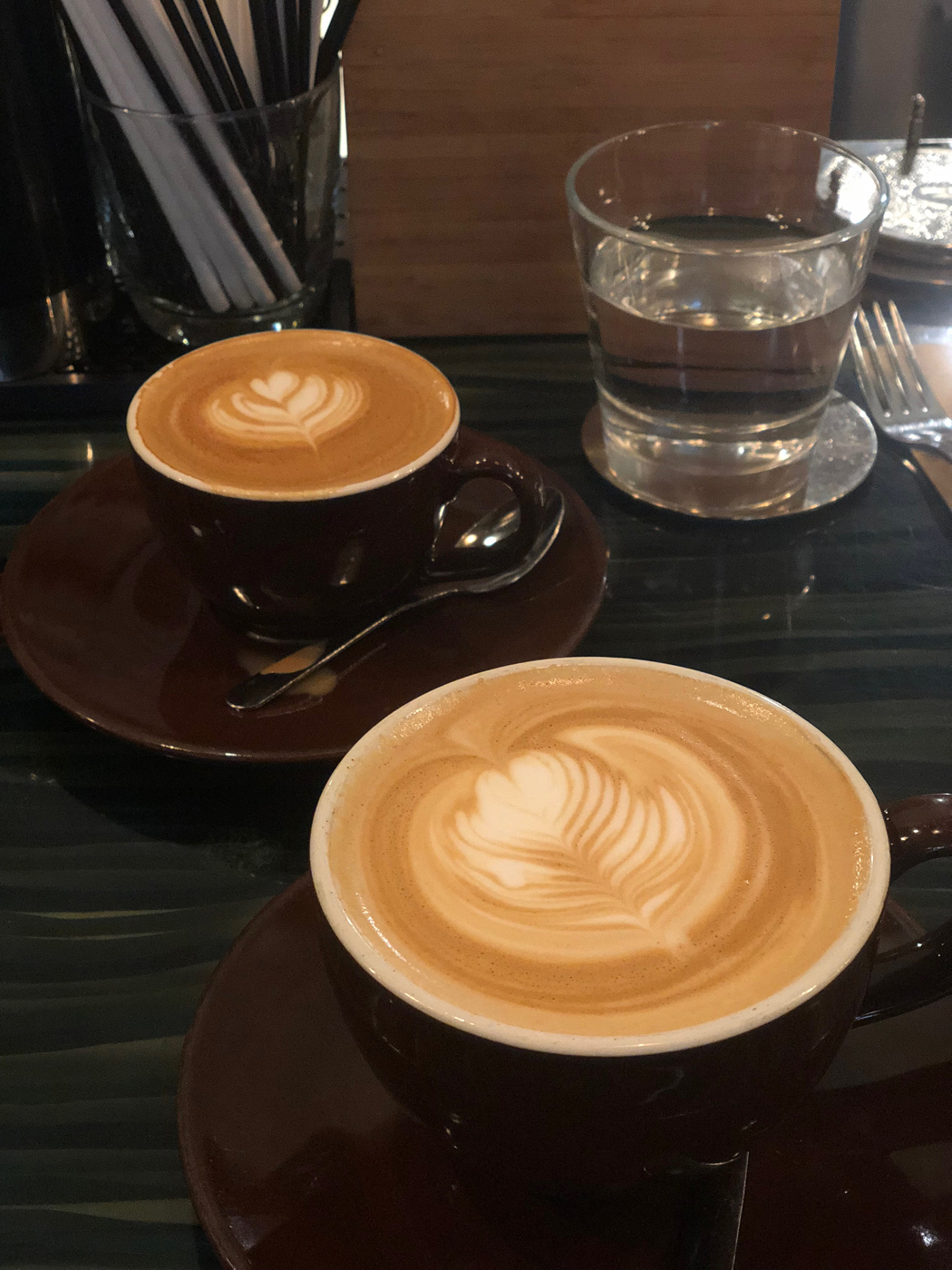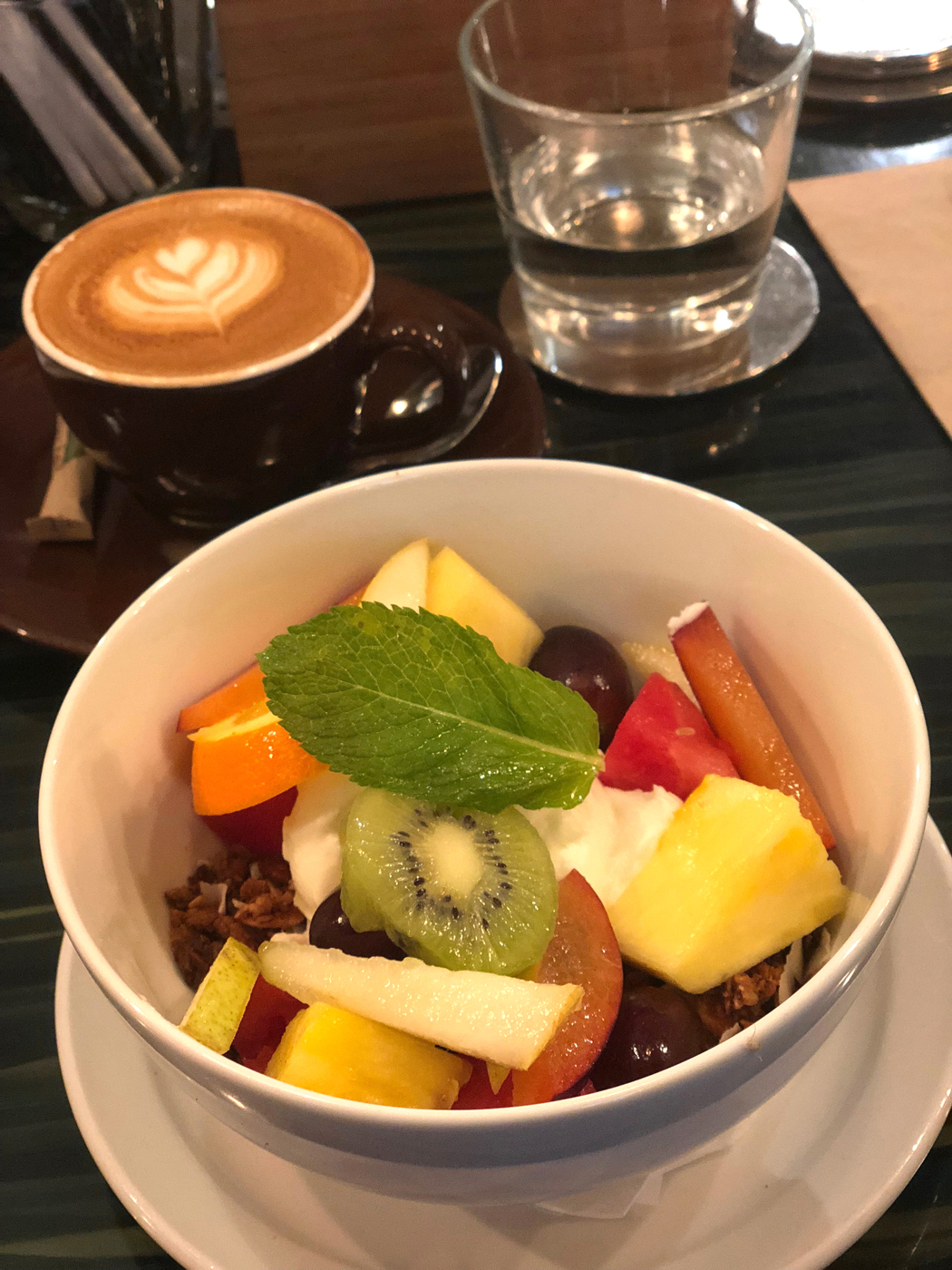 Breakfast at Nelson the Seagull in Gastown was another tip I got from Instagram – I got a delicious avocado toast topped with poached eggs:
Nelson the Seagull
315 Carrall St.
Vancouver, BC V6A 0A7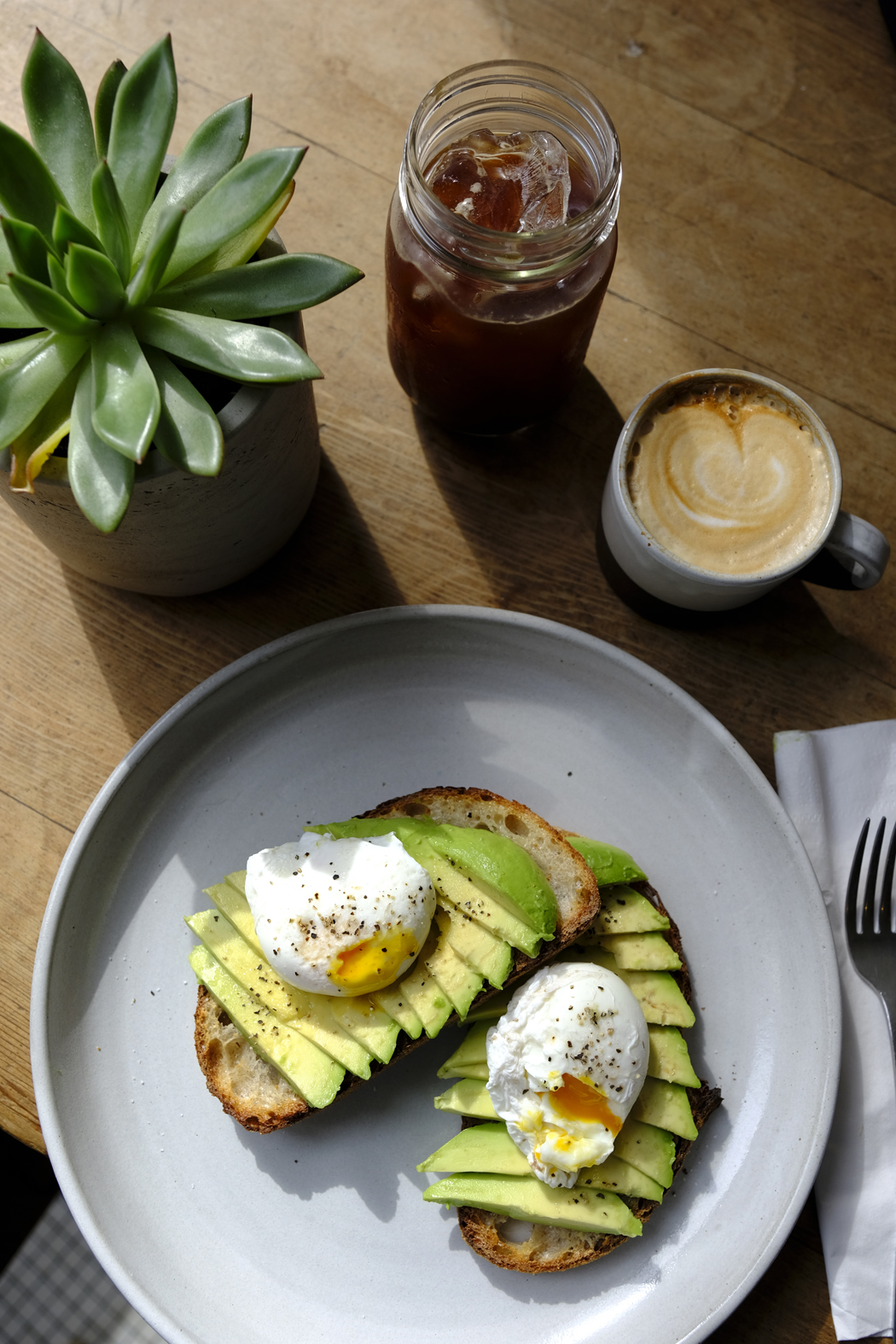 On the way back downtown from Nelson the Seagull, we came across the bakery purebread, where we went for breakfast the next day. It was amazing – I totally recommend it!
purebread
159 W Hastings St.
Vancouver, BC V6B 1H5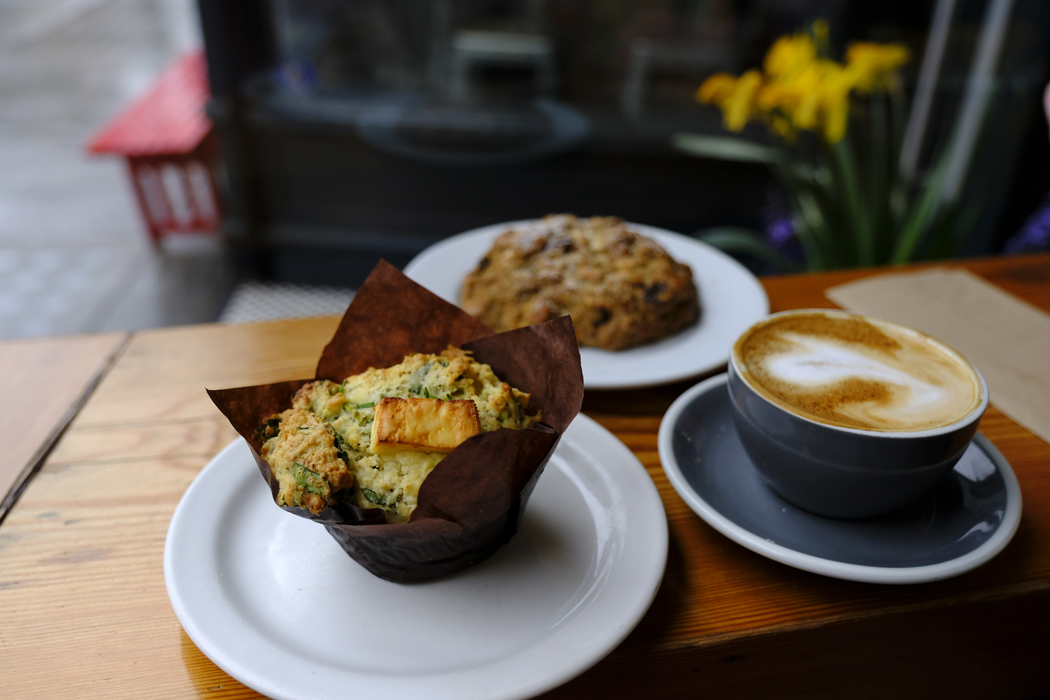 We then discovered one of the three branches of local gluten-free chain SMAK, which serves – it its own words – "healthy fast food." One morning, when we were particularly short on time, it turned out to be an ideal option: after fortifying ourselves with açaí bowls and green smoothies, we were ready to go!
SMAK Healthy Fast Food
1139 W Pender St.
Vancouver, BC V6E 2P4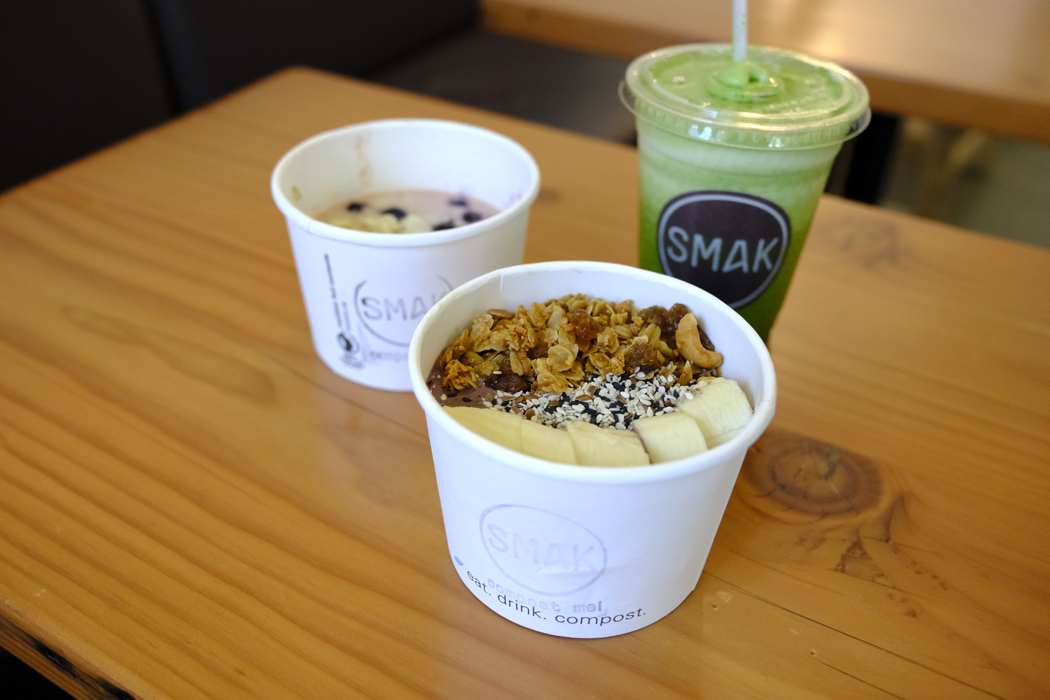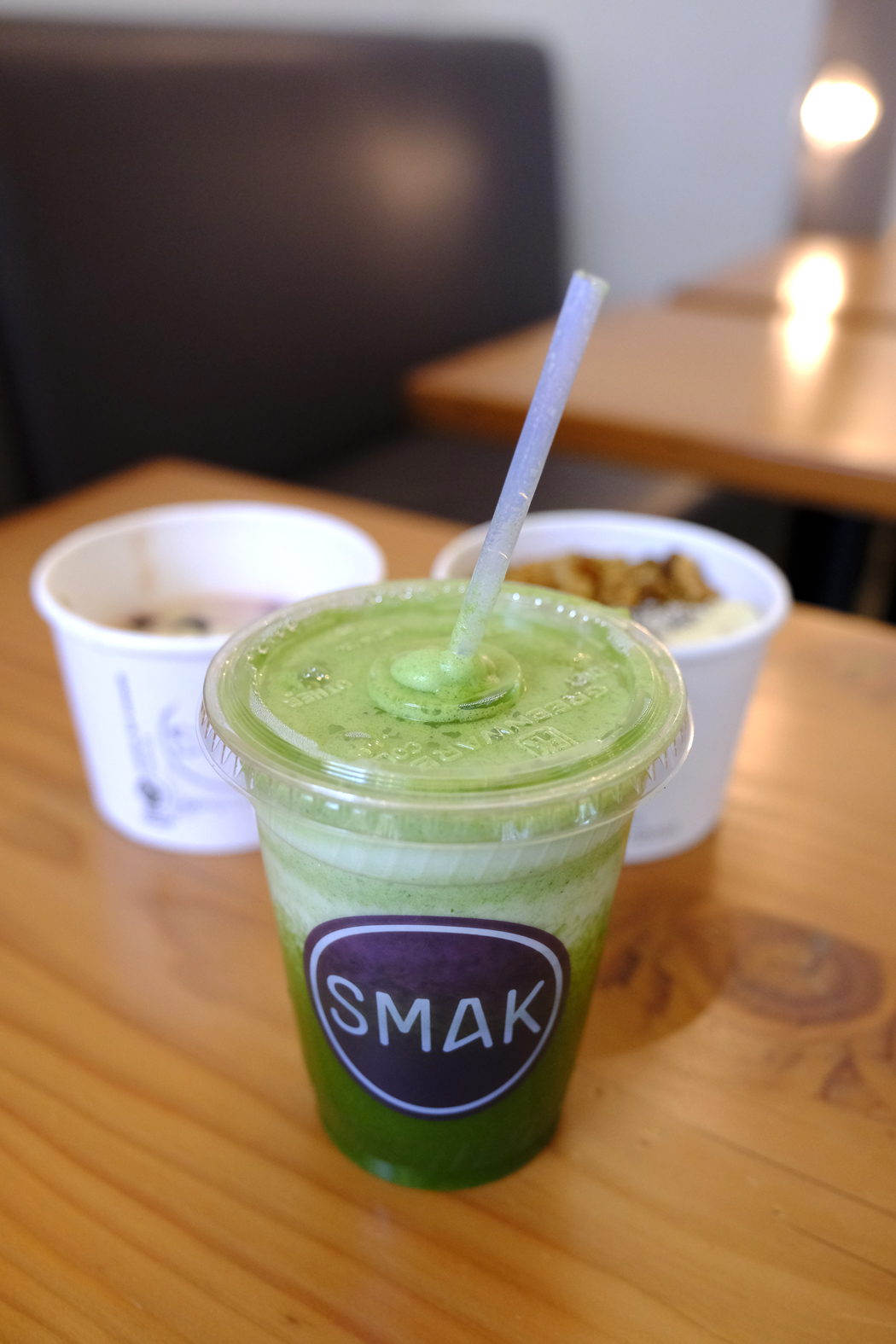 Seattle
We'd already been to Seattle on our honeymoon: we hadn't planned on going there, but the cheapest option to fly back to Germany from Hawaii was through Seattle. It was meant to be: after only two nights in the city, we fell in love right away and knew we'd had to come back eventually!
From Vancouver it only takes about 2.5 hours by car to reach Seattle, not including making it through immigration, which took us another hour, since entering the USA from Canada takes much longer than the other way around.
As we did last time, we spent the night right in the middle of downtown …
Loews Hotel 1000
1000 1st Ave.
Seattle, WA 98104, USA
… and had this wonderful view: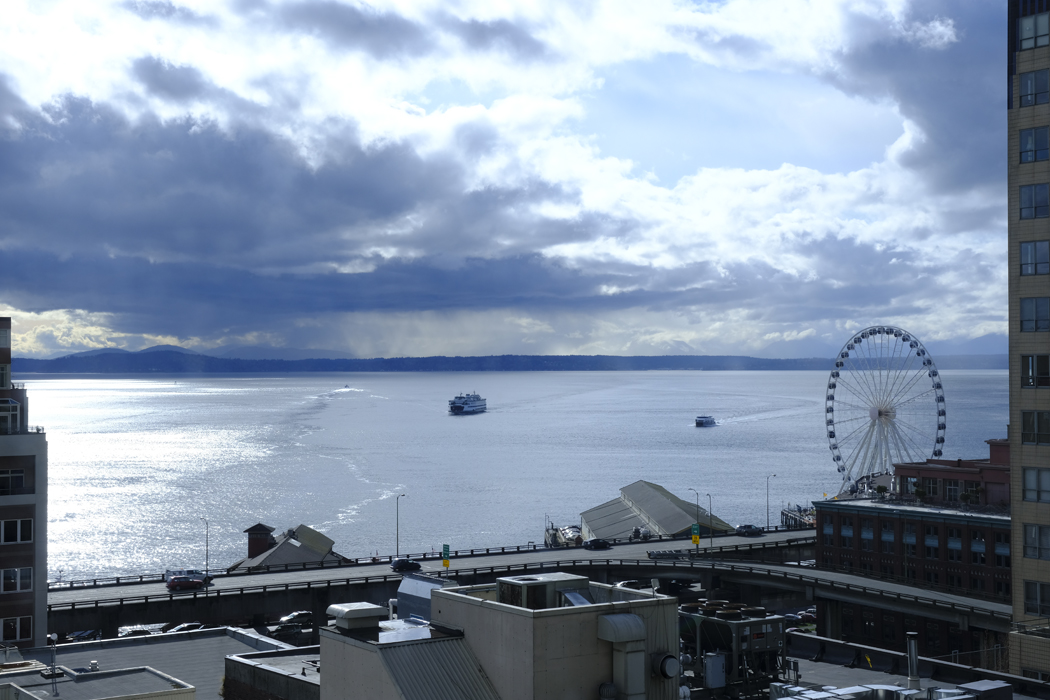 We didn't get to Seattle until the afternoon, but we'd already reserved a table at Salty's for the evening, where we also had dinner on our honeymoon – our Airbnb "host parents" Don and Sue (whom we would have gladly stayed with again this time, had they not moved!) gave us the tip. Salty's has excellent food and offers a beautiful view of the city!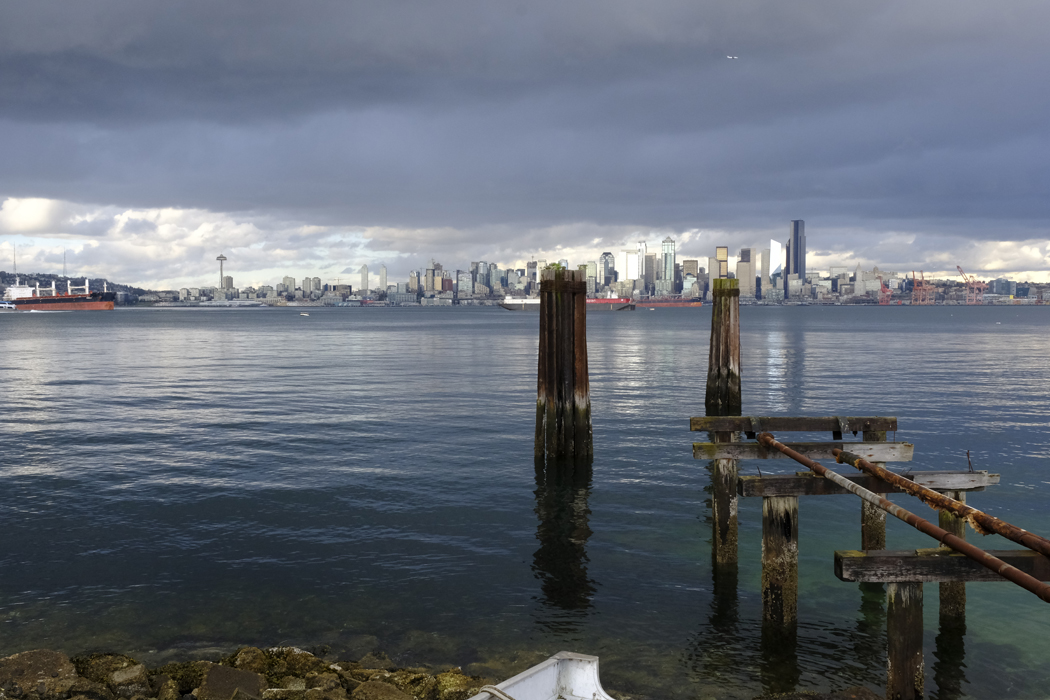 We drove to the restaurant an hour-and-a-half or so early, and used the extra time before our reservation to enjoy the breathtaking view of the Seattle skyline. To get the Salty's from downtown, we drove past the harbor, which always reminds us of Hamburg – this time, the weather was crappy and we even saw shipping containers from Hamburg Süd, so we felt right at home!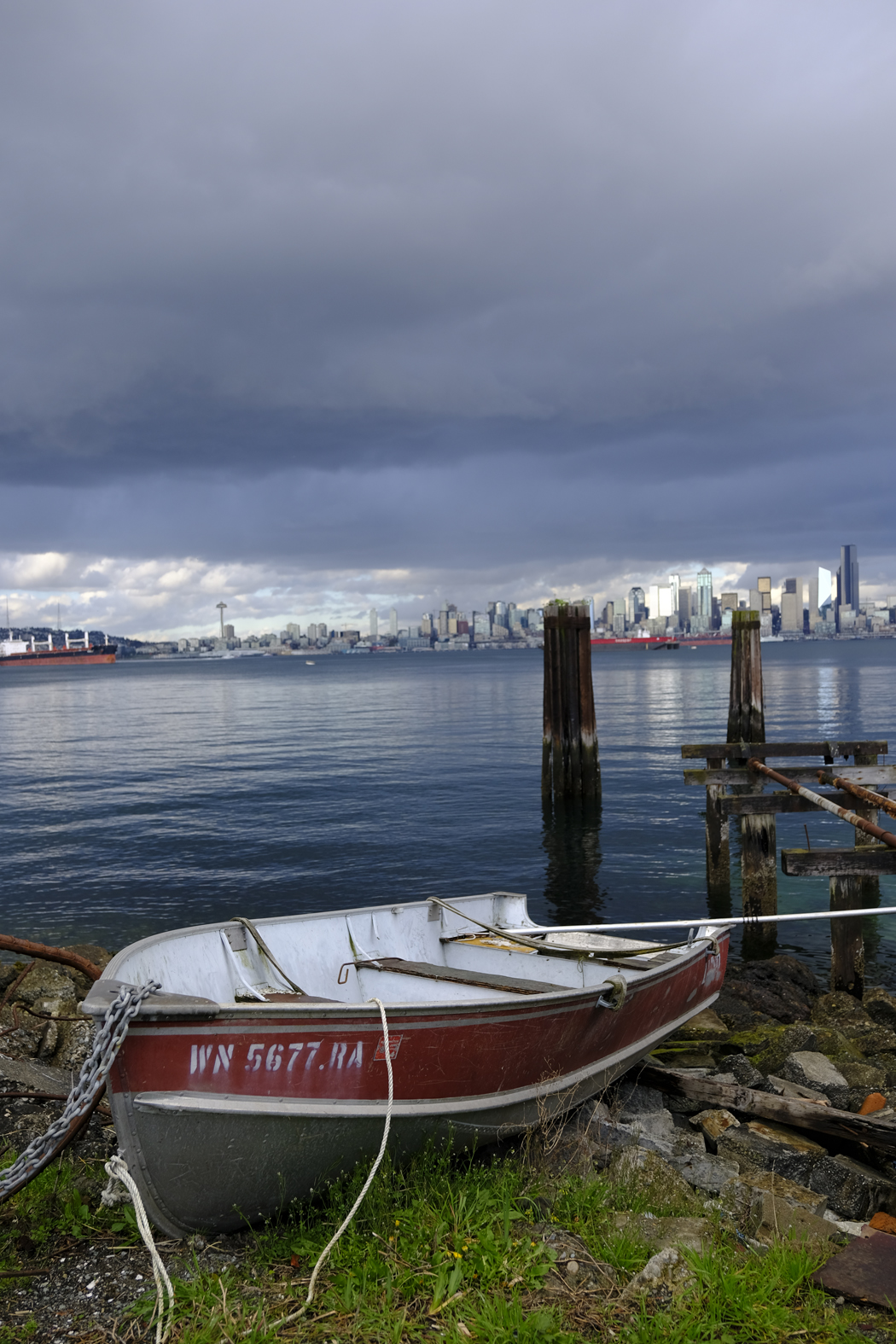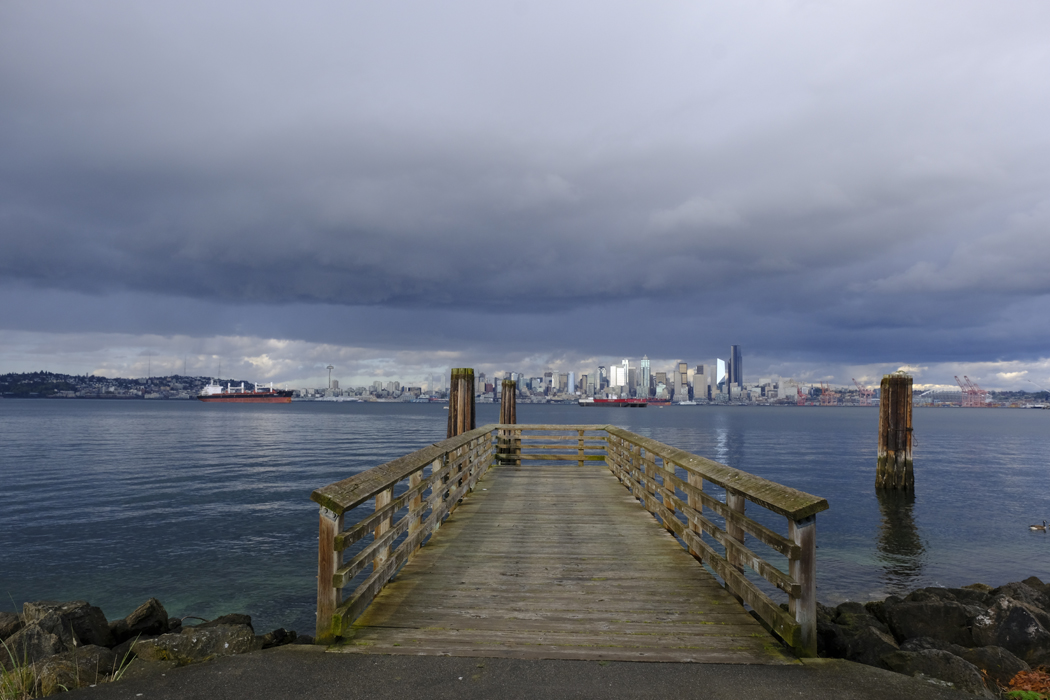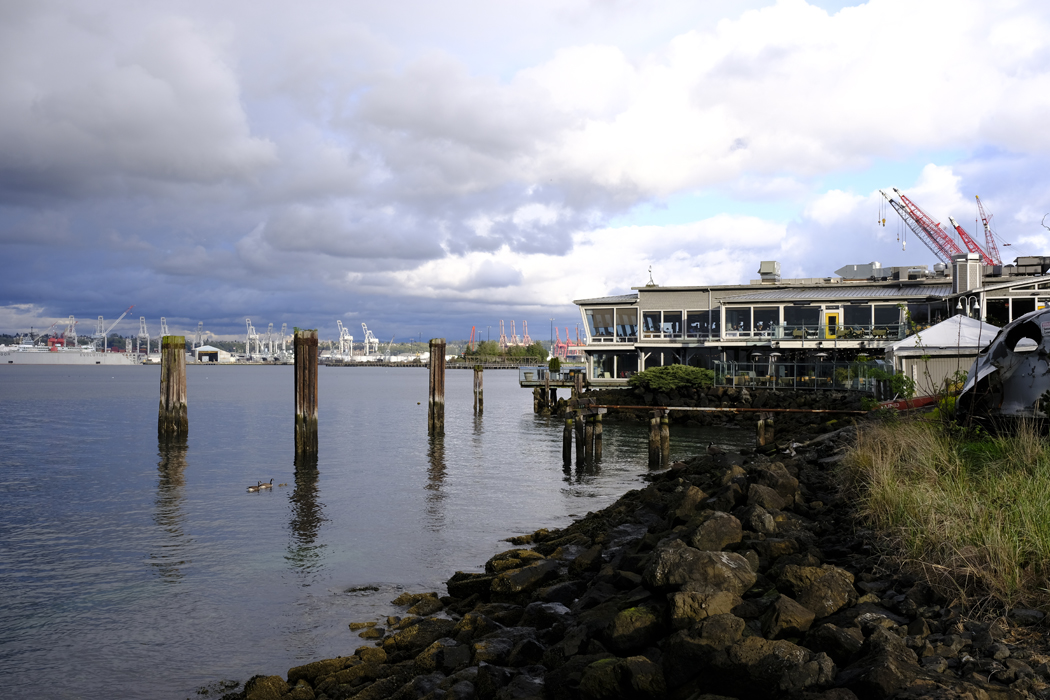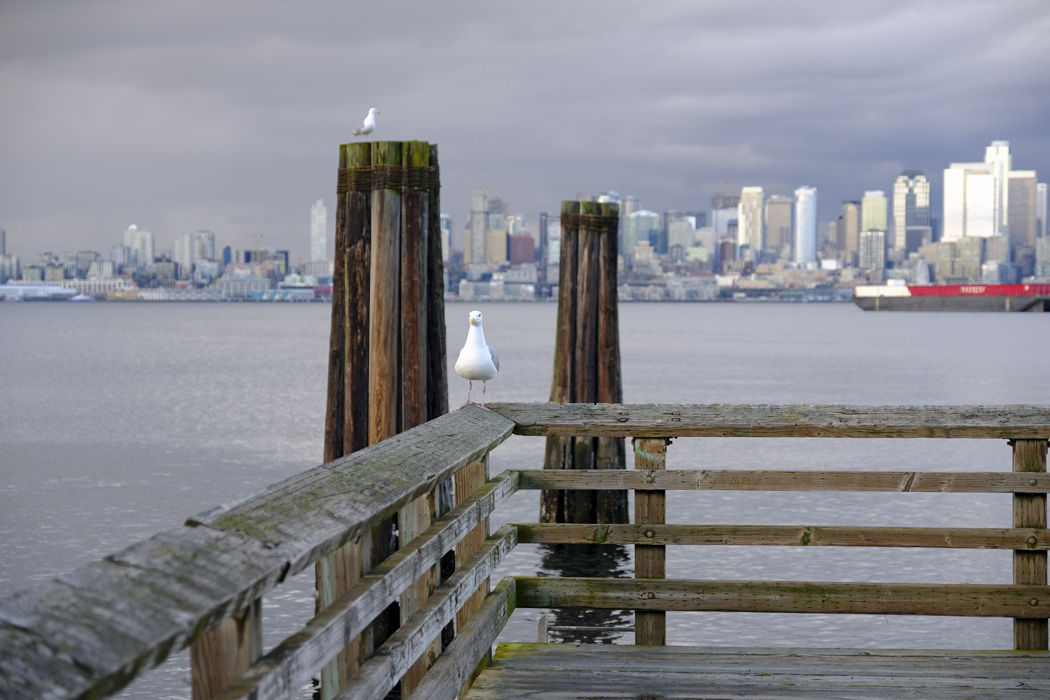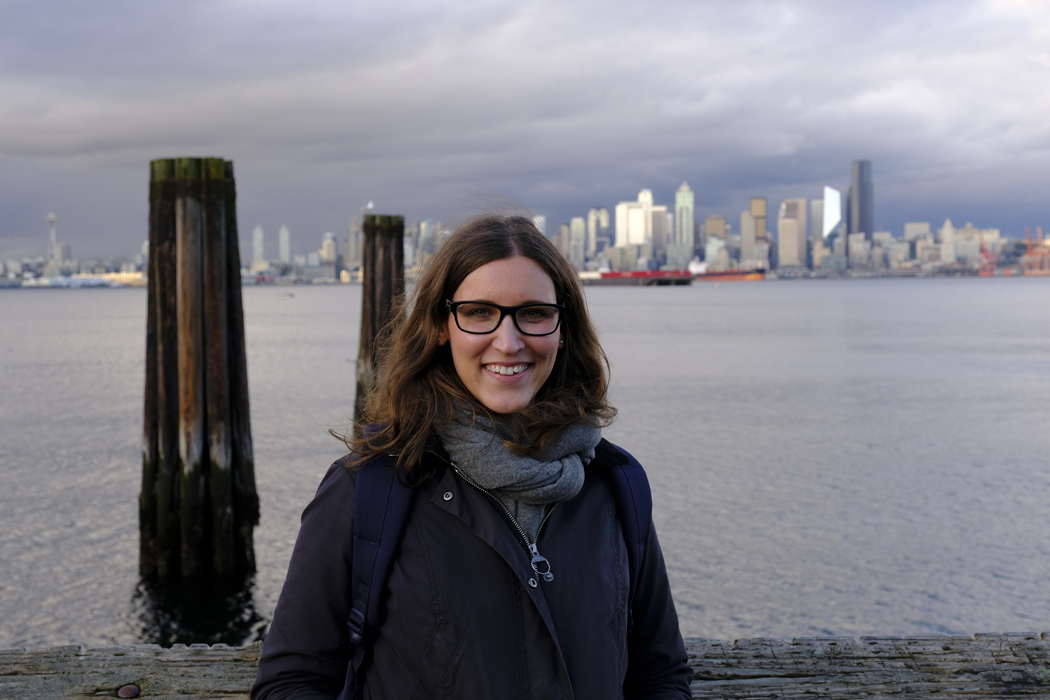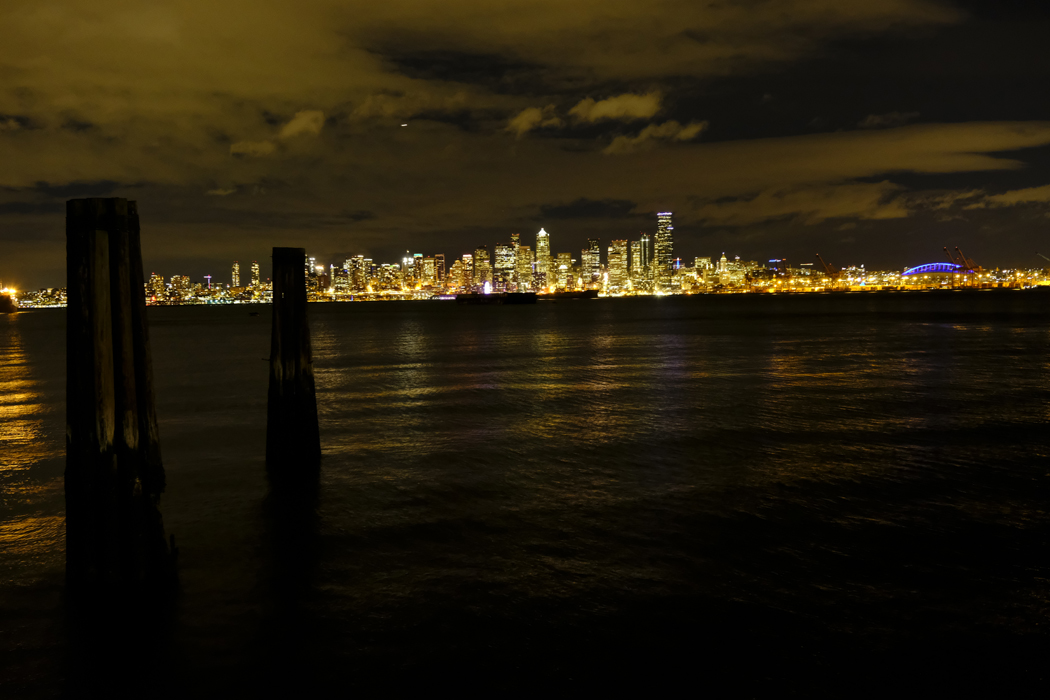 The next day it rained almost continuously, which is why we couldn't do much (yeah, I know, "there's no such thing as bad weather" … ;-). That's why we started the day at the Pike Place Starbucks.
Yes, you read that right: Starbucks. When we initially encountered that one Starbucks with its massive crowds back on our honeymoon, we had no idea what the big fuss was all about. Turns out it's the Original Starbucks, established in 1971. And the line to get in was endless – even though there's literally a Starbucks at every corner.
But since my husband collects those Starbucks City Mugs (don't ask …), he insisted that we go, and of course we ended up with a carry-on suitcase full of Starbucks mugs. All in all, visiting the Pike Place Starbucks isn't worth visiting unless you're dying to add a Pike Place Market mug to your collection. ;-)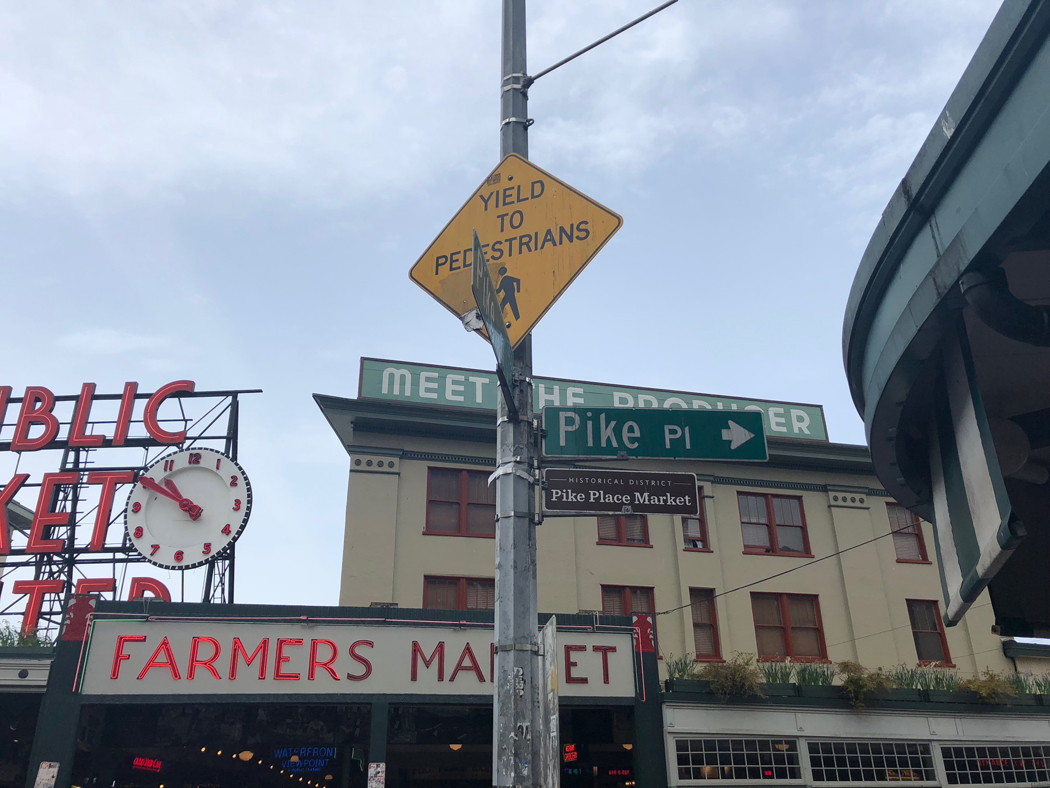 Then of course we visited the famous Pike Place Market itself, which fortunately is a covered market …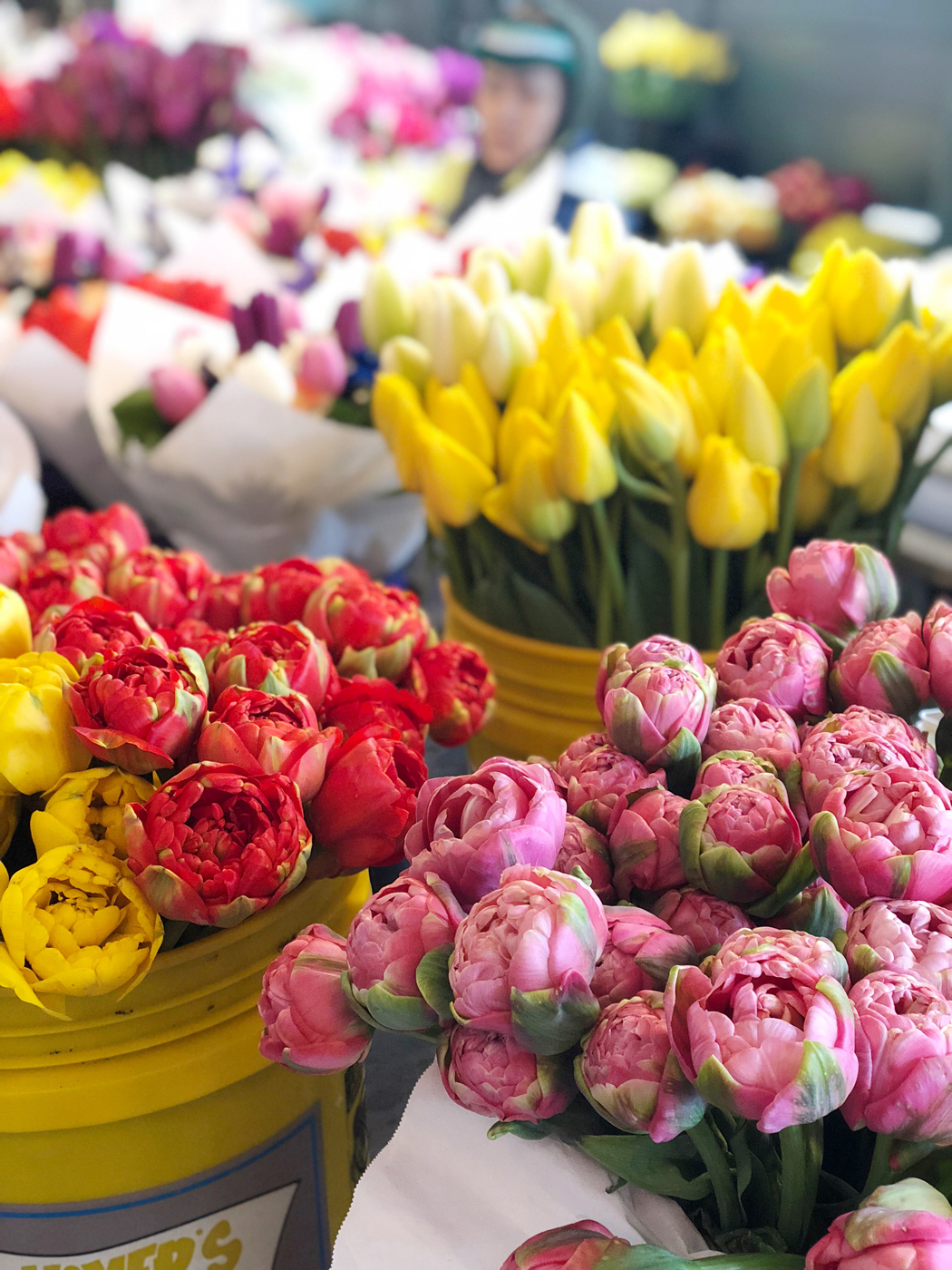 … then got a short break from all the rain …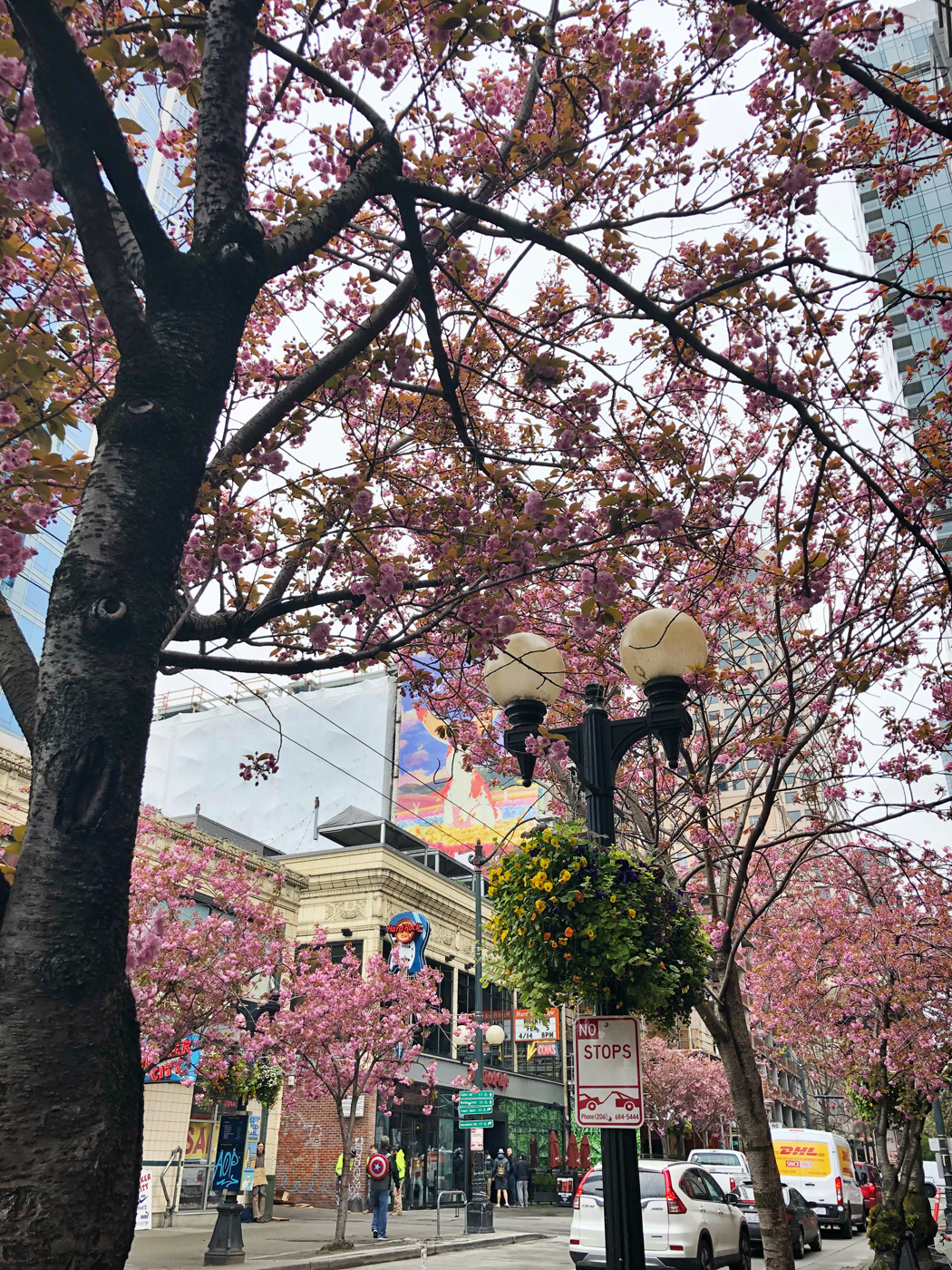 Given the unpredictable weather, we took some time to just relax – which did us a lot of good!
In the coming posts, I'll tell you more about our adventure: we drove from San Francisco to Los Angeles, visited Sunsweet (for the California dried plums!), learned more about California Almonds, visited tons of great cafés and restaurants, and developed lots of new recipe ideas!
All posts on our trip to the USA in 2016 …

… and our honeymoon in 2015: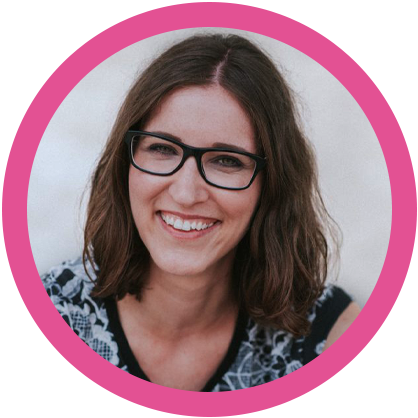 Ich bin Hannah Frey, Gesundheitswissenschaftlerin, Bloggerin und Kochbuch- und Ernährungsratgeber-Autorin. Ich helfe dir dabei, dich auch im stressigen Alltag mit wenig Aufwand gesund zu ernähren. Ich möchte dich zu einem gesunden Leben motivieren und inspirieren. Deshalb findest du hier jede Menge schnell zubereitete, einfache und alltagstaugliche Rezepte aus natürlichen Zutaten und ohne raffinierten Zucker – aber mit 100 % Geschmack!
https://www.projekt-gesund-leben.de/wp-content/uploads/2019/04/Vancouver01.jpg
591
1050
Hannah Frey
https://www.projekt-gesund-leben.de/wp-content/uploads/2019/08/The-Healthy-Living-ProjectUnterschrift-Logo.png
Hannah Frey
2018-05-05 08:30:19
2019-07-02 10:46:54
Live Well, Travel Well: Vancouver and Seattle