In yesterday's blog post – the first of the year! – I kicked off 2018 with the Coco Beauty Smoothie, which is made with various medicinal plants known as adaptogens. Today I have yet another smoothie recipe for you, which is also great for clear, beautiful skin – pure skin food, but this time in the form of a Green Smoothie.
I've been totally fascinated with the subject of skin food for several months now – I find it super interesting that foods can have such a positive effect on our skin! That's why I'll be holding a special workshop on this very topic as part of my Projekt: Gesund leben Retreat in Mallorca at the beginning of March 2018.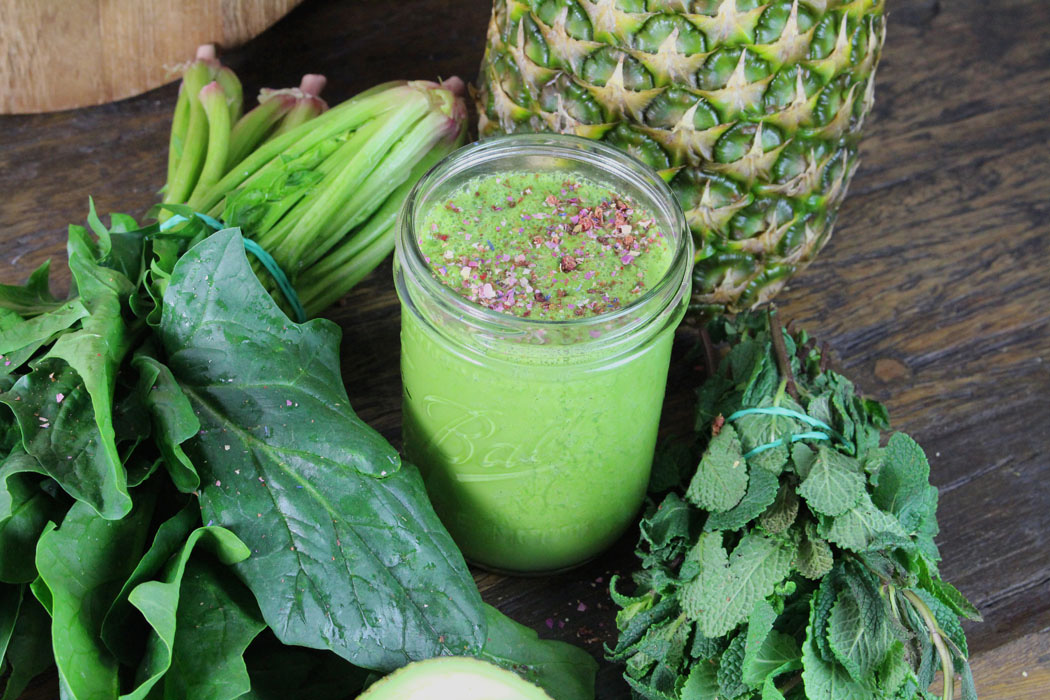 Green Smoothies
There's tons of info on my blog about Green Smoothies – check out these posts:
"Skin Food" – food for radiant skin
My Glowing Skin Smoothie contains spinach, pineapple, avocado, coconut oil, and matcha – all of which are especially good for getting and maintaining clear, beautiful skin.
Spinach provides the skin with vitamins A, C, and E, thus preventing dryness. Spinach also contains biotin, which is great for beautiful hair, skin, and nails. The high folic acid content prevents cell damage and slows down the skin's aging process.
In place of spinach you can also use kale, which is super healthy and also delicious. Another great option for healthy skin is the green succulent purslane, which has a wonderfully lemony flavor!
Pineapple is rich in vitamin C and also has anti-inflammatory properties. Vitamin C has an antioxidant effect and protects the body from aging processes. It's also key for building collagen, which is a component of skin, hair, and nails.
Avocados are rich in omega-3 fatty acids and full of vitamins A, B, C, and E, which contribute to cell regeneration and a beautiful complexion. Vitamin E also moisturizes the skin, keeping it soft and elastic. Biotin, a B vitamin, also strengthens hair and nails. Find out more about avocados here.
Coconut oil, whether consumed or applied directly to the skin, is well known for its health-giving properties. Coconut oil has anti-inflammatory properties that prevent skin aging. Find out more about coconuts in my book Coconut Cooking.
Due to the avocado and the coconut oil, the smoothie is quite rich – I actually prefer to have it as a meal rather than a snack.
Matcha, or green tea powder, is said to improve the appearance of skin from inside and outside. Green tea is rich in antioxidants and vitamins and also has a high chlorophyll content. The antioxidants protect the body from free radicals. (Find out more about Matcha here.) When I'm out and about, I find that these matcha "to-go" sticks from Kissa – which I also recommended to you in my Christmas gift guide – are super practical.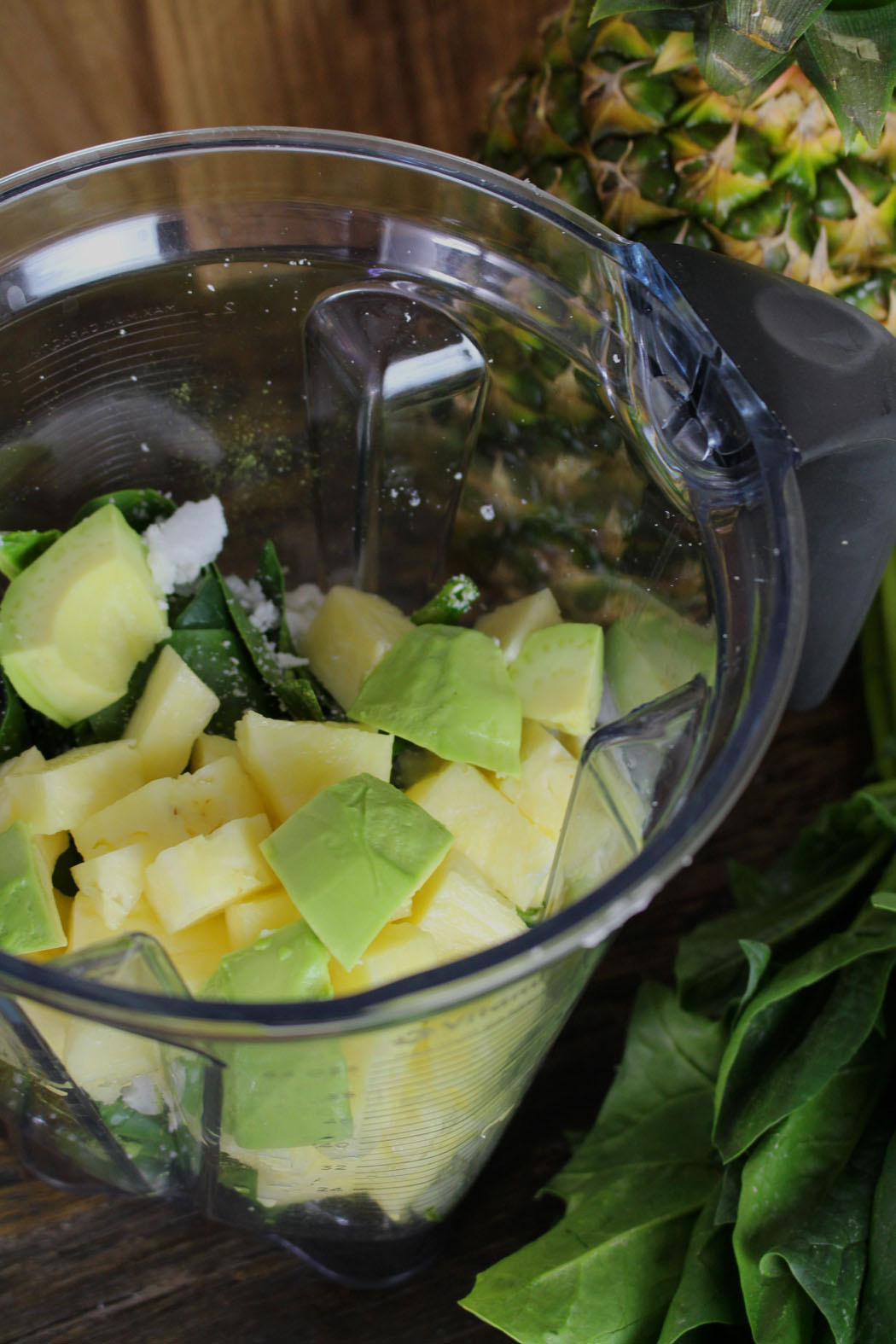 Here's the recipe:
ZUTATEN:
2

Handvoll

Blattspinat

1/4

Ananas

reif

1/2

Avocado

1

TL

Matcha*

1/4

TL

Kokosöl*
ANLEITUNG:
Den Blattspinat waschen und verlesen. Die Ananas schälen, das Fruchtfleisch vom Strunk abschneiden und grob würfeln. Die Avocado rundum längs einschneiden. Beide Avocadohälften gegeneinander drehen und so öffnen. Mit einem Löffel den Kern herausnehmen, dann das Fruchtfleisch herauslösen und in Würfel schneiden.

Mit Matcha, Kokosöl und 100-200 ml Wasser (je nach gewünschter Konsistenz) in den Hochleistungsmixer* geben und auf zwei Gläsern verteilen (ich verwende Ball Mason Jars*). Mit der Gewürzmischung "Alles Liebe" anrichten.
Greens when you need 'em
Here's another tip: I always keep a supply of deep-frozen purslane and kale in the freezer – that way I always have greens to toss into my Green Smoothies, even when the greens are out of season. Before freezing, blend the greens with a little liquid (e.g. coconut milk) and pour into ice cube trays.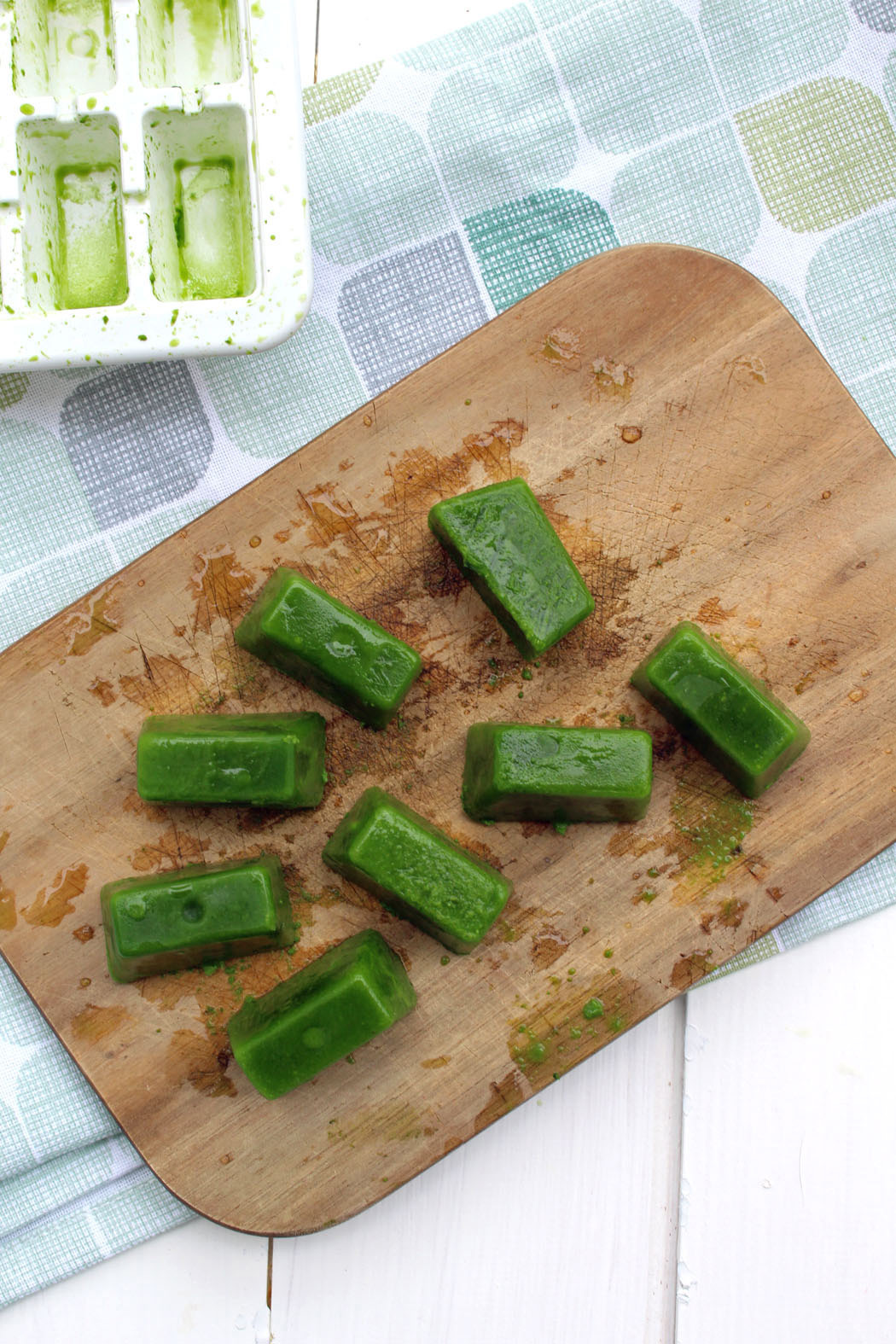 By the way, slightly larger ice cube molds,* which I ordered a few months ago, are also practical for this purpose (pictured here are a different, much smaller set). It's also possible to buy frozen kale (just make sure it's pure kale, no additives), but rarely frozen and pre-portioned. Frozen leaf spinach, however, is available pre-portioned. 
Have fun and enjoy! :-)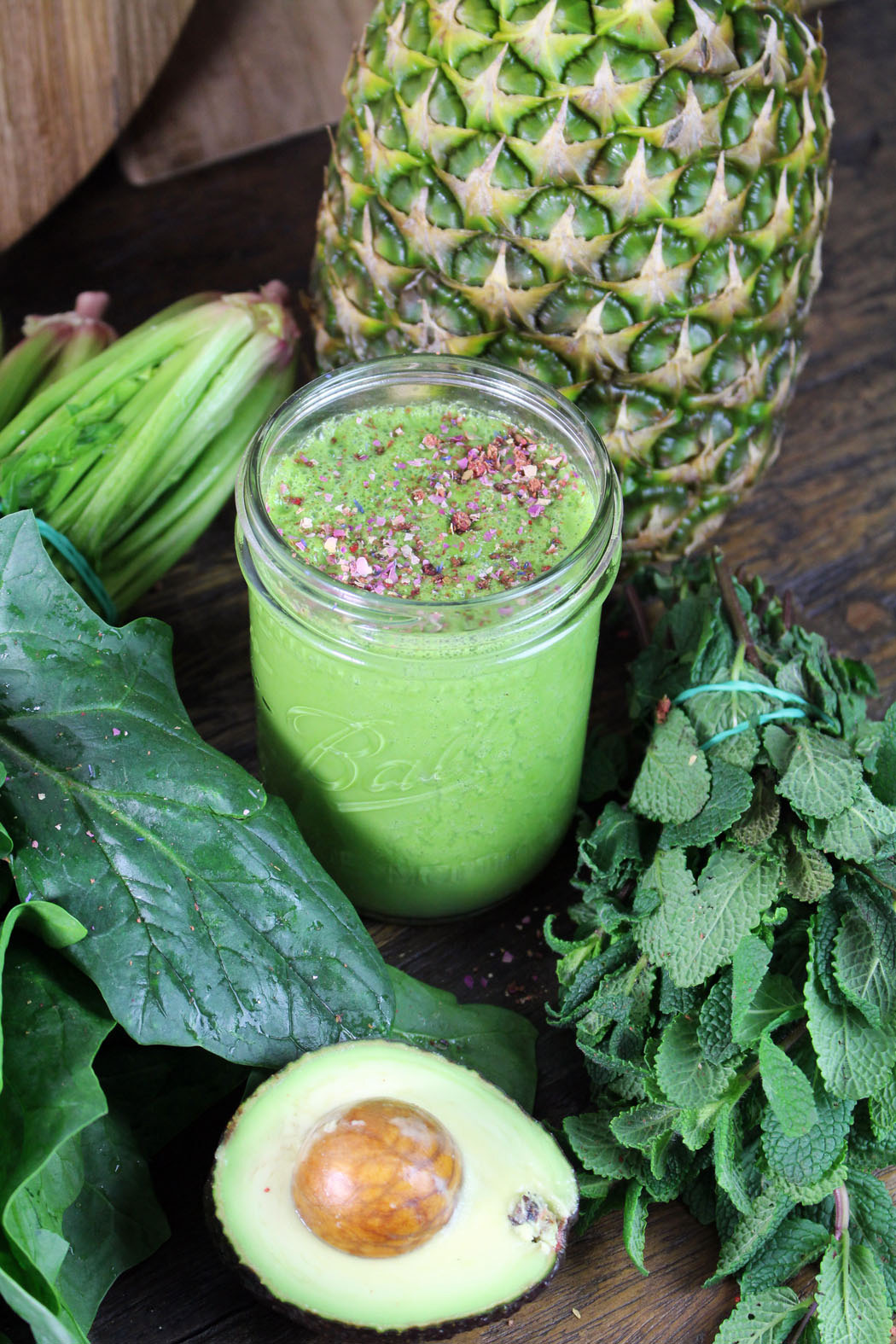 The Matcha from Kissa Tea and the Mason Jars from Lieblingsglas were provided to me free of charge with no pre-existing agreements.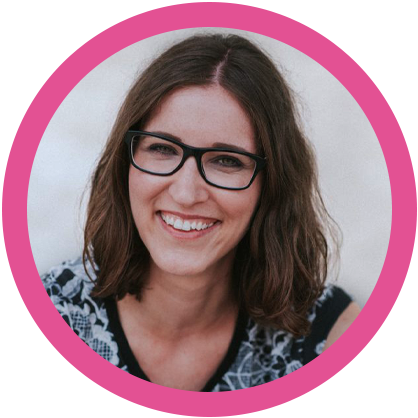 Ich bin Hannah Frey, Gesundheitswissenschaftlerin, Bloggerin und Kochbuch- und Ernährungsratgeber-Autorin. Ich helfe dir dabei, dich auch im stressigen Alltag mit wenig Aufwand gesund zu ernähren. Ich möchte dich zu einem gesunden Leben motivieren und inspirieren. Deshalb findest du hier jede Menge schnell zubereitete, einfache und alltagstaugliche Rezepte aus natürlichen Zutaten und ohne raffinierten Zucker – aber mit 100 % Geschmack!
https://www.projekt-gesund-leben.de/wp-content/uploads/2019/08/Glowing-Skin-Smoothie02.jpg
700
1050
Hannah Frey
https://www.projekt-gesund-leben.de/wp-content/uploads/2019/08/The-Healthy-Living-ProjectUnterschrift-Logo.png
Hannah Frey
2018-01-14 16:22:02
2019-10-08 15:19:27
Recipe: Glowing Skin Smoothie {Green Smoothie}