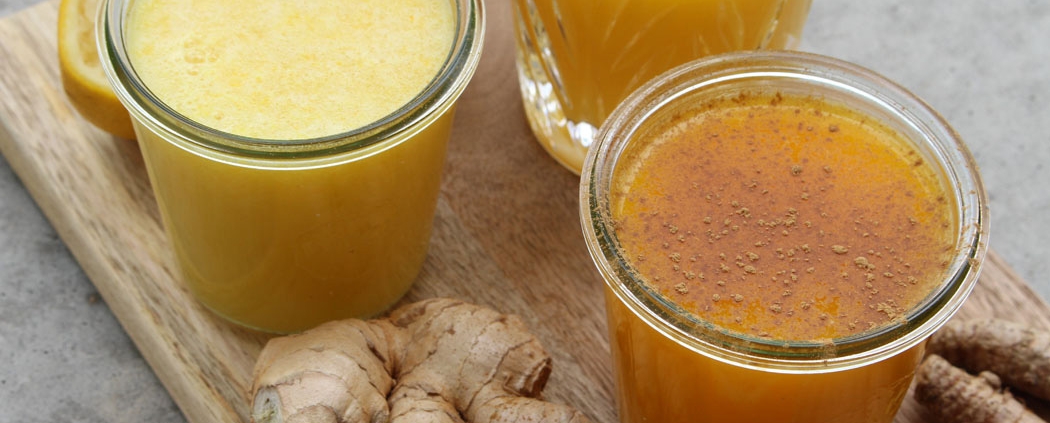 Back in summer, I introduced you all to Switchel, a wonderfully spicy warm-weather refreshment – but now, with things cooling down and our immune systems a bit more susceptible, it's a great time for immune-boosting Ginger & Turmeric Shots!
I had my first ginger shot a few years ago when I received a couriered package filled all kinds of delicacies from a raw food café. Without really thinking, I opened the small bottle of yellow liquid and just went for it – down the hatch! Mistake! The ginger shot – pure, undiluted ginger juice – was like drinking a fireball. I love ginger, and I love the idea of a fortifying ginger shot, but this was too much! What to do?
My Ginger & Turmeric Shots
To avoid setting my throat on fire again, I developed my own "soft" version. My Ginger Shots are diluted with apple juice and lemon, which sweeten things up and makes it all go down much easier.
And then there are Turmeric Shots (I LOVE fresh turmeric!). Here, I use orange or tangerine juice in addition to fresh-pressed turmeric. You can also add some Ceylon cinnamon,* if you'd like.  
There are no precise quantities for these recipes – that's because I think it's much more about your own preferences and what you have in stock.
Superfood Rhizomes
I don't have to go on and on about the health properties of ginger and turmeric, do I? Both rhizomes (they're actually from the same family!) have anti-inflammatory effects and fortify the immune system – perfect for the cold season!
Turmeric contains the yellow pigment curcumin as well as manganese, iron, vitamin B6, fiber, copper and potassium. Turmeric strengthens digestion, promotes liver functions, fortifies bones, beautifies skin, and fires up the immune system while contributing to a healthy nervous system. Read more about Superfood Turmeric (with recipes for Golden Milk and Turmeric Latte) in this article. If you're unable to juice turmeric at home, you may be able to find bottled turmeric juice* at the health food store (freshly squeezed is always better, though, since more nutrients are preserved in the fresh version). 
Be very careful when juicing turmeric – stains are very difficult (or even impossible) to remove! 
Ginger is said to stimulate fat burning and thus help with weight loss. It's also ideal for sore muscles, since it contains the active ingredient gingerol ("nature's aspirin"), which works in a way similar to aspirin's primary ingredient, acetylsalicylic acid. Bottled ginger juice* is also available in shops, but as is the case with turmeric, freshly squeezed is better!

Shots
are called shots, by the way, because they're highly concentrated and taken in small doses. I still use a lot of ginger or turmeric in my shots, but I never drink the juice completely pure. You can also make larger quantities of shots freeze them in small portions for later.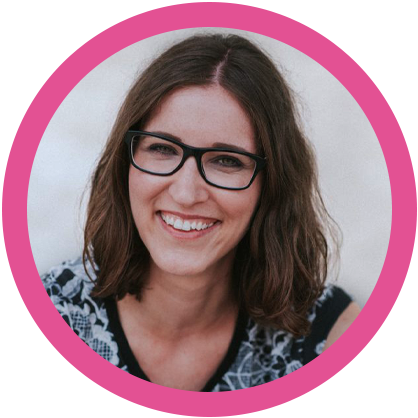 Ich bin Hannah Frey, Gesundheitswissenschaftlerin, Bloggerin und Kochbuch- und Ernährungsratgeber-Autorin. Ich helfe dir dabei, dich auch im stressigen Alltag mit wenig Aufwand gesund zu ernähren. Ich möchte dich zu einem gesunden Leben motivieren und inspirieren. Deshalb findest du hier jede Menge schnell zubereitete, einfache und alltagstaugliche Rezepte aus natürlichen Zutaten und ohne raffinierten Zucker – aber mit 100 % Geschmack!
https://www.projekt-gesund-leben.de/wp-content/uploads/2019/08/Ingwer-Kurkuma-Shot01.jpg
700
1050
Hannah Frey
https://www.projekt-gesund-leben.de/wp-content/uploads/2019/08/The-Healthy-Living-ProjectUnterschrift-Logo.png
Hannah Frey
2017-10-18 17:46:49
2019-07-28 13:17:38
GINGER & TURMERIC SHOTS – IMMUNE BOOSTER FOR AUTUMN AND BEYOND