PROMOTION Welcome to Part 2 of my Avocado Special Series! Today I'll tell you more about selecting and storing avocados. For a long time, it wasn't so easy for me to tell when a Hass avocado was ripe, and I wasn't sure what to look for when shopping. Keeping them fresh was also a mystery to me. Don't worry, I know better now! :-)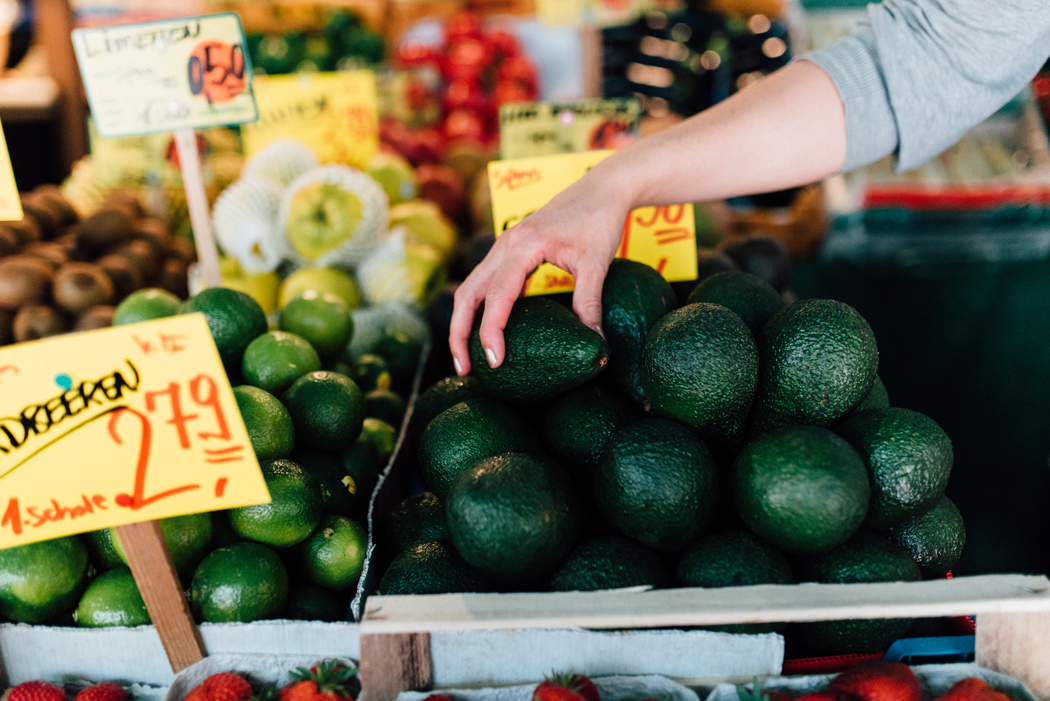 © Franzi Schädel
How can you tell whether a Hass avocado is ripe?

The Hass avocado is distinguished by its thick, pebbled skin. Summer avocados, which are in season from mid-June to the end of August, are harvested green, when the flesh is still hard. As the fruit ripens, the skin darkens and the flesh takes on a buttery-soft consistency. If your avocado is still hard and/or green, let it sit for a few days at room temperature.
Hass avocado ripeness guide: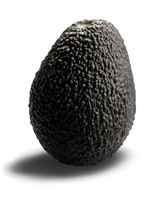 © Pro Hass
Green: Let the avocado ripen for 5–7 days.
Dark green: Let the avocado ripen for 2–5 days.
Black: The avocado is ripe – eat it within the next 1–2 days! Or to keep it fresh longer, stick it in the fridge for up to three days :-)
What else tells you that a Hass avocado is ripe?
Gently squeeze the area near the stem or "belly button" – if there's a bit of give, the avocado is ready to eat, even if the rest still feels a bit firm.
But touch isn't the only way to find out if an avocado is ripe: you can also find out by smelling or listening to them! Ripe avocados give off a mild avocado aroma, but unripe ones don't. You can also tell by holding an avocado to your ear and giving it a little shake. If you can hear the pit (seed) rattling inside, the avocado is good to go!
Unfortunately, I've had several disappointing experiences where I've bought super-soft avocados with dreams of eating them right away, only to realize when I opened them that they were overripe. If the flesh has some dark spots, simply cut them out; but if the whole thing is overtaken with brown spots, or the avocado has an oily or rancid vibe to it, it's better to throw it away and find another!
You can prevent this by taking a close look at the stem base, or "belly button" of the avocado. If you pop it out and the area underneath is brown or black, the fruit is already overripe; if it's light green, the avocado is still good. It goes without saying that if you find mold underneath, the avocado should be tossed.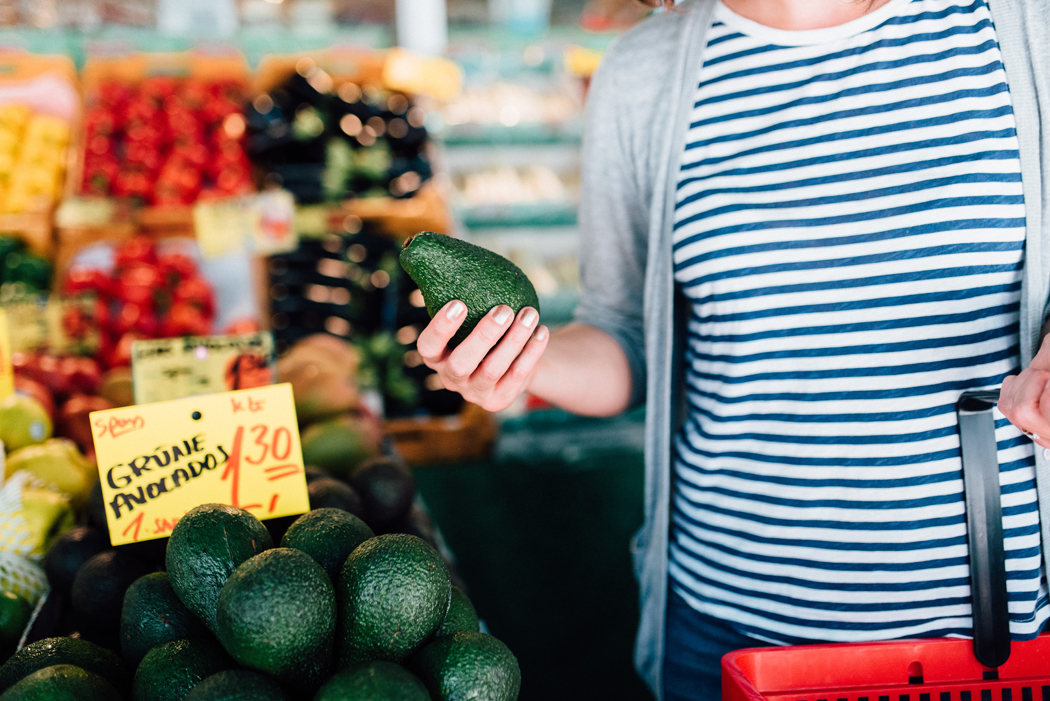 © Franzi Schädel
What if my avocado's not ripe yet?

Summer avocados are usually sold ready-to-eat. If you've nevertheless bought a hard, green, unripe avocado and want to speed up the ripening process, wrap it in a newspaper or paper bag. Alternative, you can store unripe avocados next to apples, which emit ethylene, a gas that helps avocado and other fruits ripen faster.
Unripe avocados should always be stored at room temperature, as the low temperatures inside the fridge would stall the ripening process. Conversely, if you want to extend the shelf life of your already ripe avocados, just store them in the fridge and consume within three days.
Storage tips: avocado pits (seeds), cling wrap, onions

If you've already cut open your avocado or made guacamole and want to save the leftovers, be sure to keep the flesh in contact with the pit – it contains enzymes that help keep things fresh! If you make guacamole in advance, for example, leave the pit in the bowl until you're ready to serve.
Another way to prevent opened avocados from turning brown is to wrap the avocado in cling wrap and store in the fridge, where they'll keep fresh for up to two days. 
In order to minimize air contact and prevent oxidation (and thus browning), avocados can also be kept in the refrigerator with a halved onion in an airtight container – the sulfur vapors keep things fresh. Keep in mind that the avocado will quickly absorb the onion's aroma, so the avocado can really only be used for savory dishes. Avocados stored using the "onion method" will stay fresh for several days.
A quick main that's also great for bringing to work or school!

The second recipe in the Avocado Special Series is an easy-to-make vegan main that's super nourishing – and also easy to take along in a lunch box.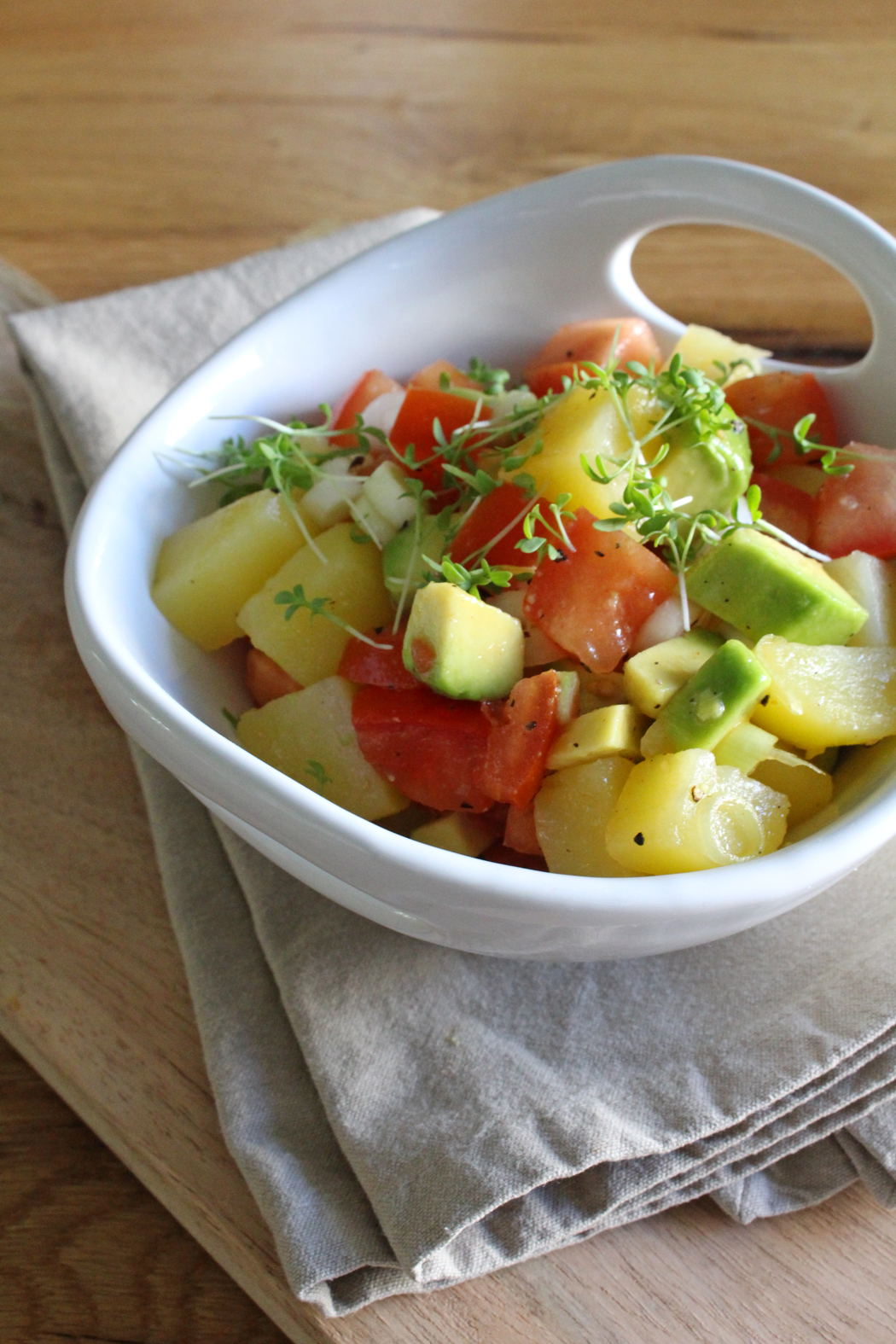 ZUTATEN:
300

g

potatoes

waxy (hard-cooking)

1/2

bunch

spring onions

2

tomatoes

1

Avocado

1

lemon

2

tbsp

avocado oil*

salt*

pepper*

watercress
ANLEITUNG:
Wash and peel potatoes and chop into chunky pieces. Boil in a pot for 10 minutes.

Meanwhile, wash spring onions, remove ends and cut the rest into rings. Wash tomatoes, remove stems, and cut flesh into pieces.

Slice the avocados lengthwise all around, then hold both sides and twist in opposite direction to pull apart. Remove the pit with a spoon or knife, score flesh into cubes, and remove with a spoon.

Make the dressing: cut lemon in half and juice both halves. Combine lemon juice with avocado oil.

Drain boiled potatoes, mix with spring onions, tomatoes, and avocado, and top with dressing. Season with salt and pepper and garnish with cress.
x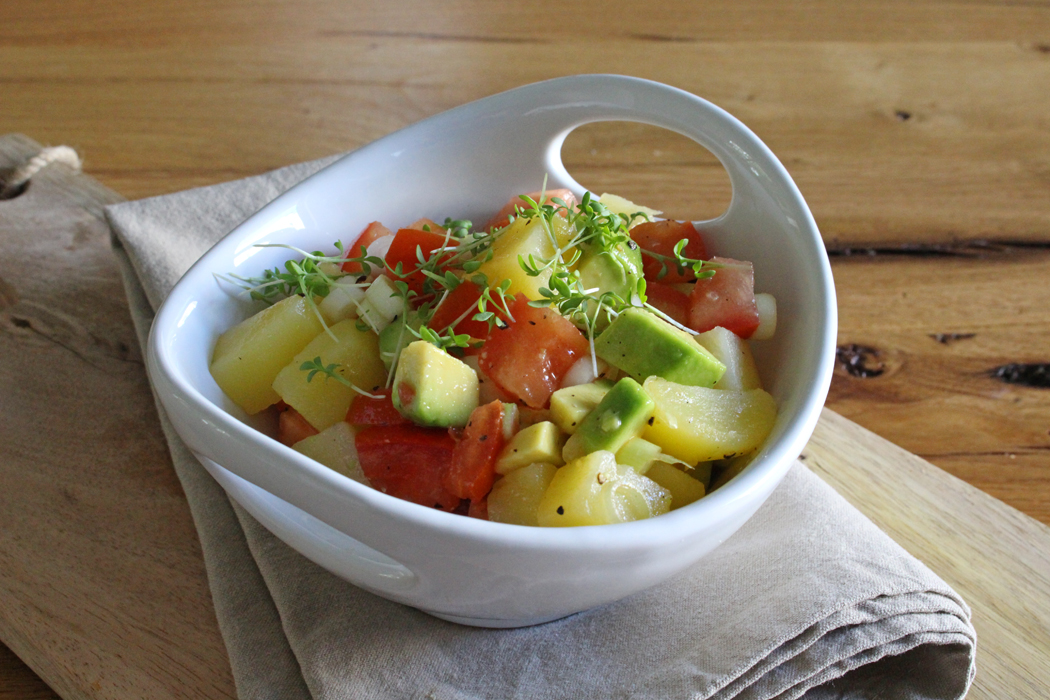 If you like things spicy, throw in a little chili powder or cayenne!
This post was created in cooperation with Peruvian Avocado Commission.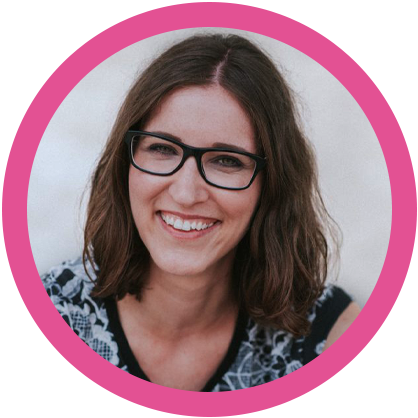 Ich bin Hannah Frey, Gesundheitswissenschaftlerin, Bloggerin und Kochbuch- und Ernährungsratgeber-Autorin. Ich helfe dir dabei, dich auch im stressigen Alltag mit wenig Aufwand gesund zu ernähren. Ich möchte dich zu einem gesunden Leben motivieren und inspirieren. Deshalb findest du hier jede Menge schnell zubereitete, einfache und alltagstaugliche Rezepte aus natürlichen Zutaten und ohne raffinierten Zucker – aber mit 100 % Geschmack!
https://www.projekt-gesund-leben.de/wp-content/uploads/2016/07/Hannah-0011.jpg
701
1050
Hannah Frey
https://www.projekt-gesund-leben.de/wp-content/uploads/2019/08/The-Healthy-Living-ProjectUnterschrift-Logo.png
Hannah Frey
2016-07-06 17:10:30
2019-07-02 10:46:00
Avocado Special Part 2: Buying and Storing Avocados + Recipe