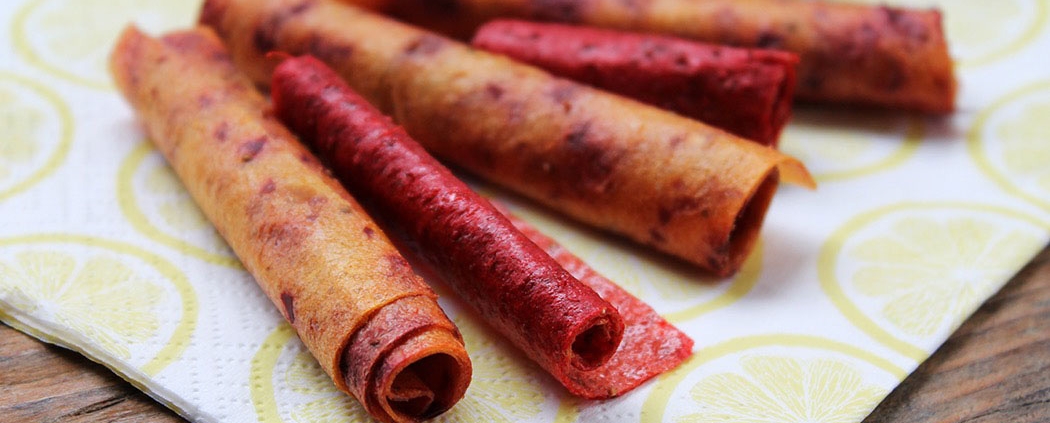 I first tried fruit rolls a few years ago after I came across them while shopping at the German vegan supermarket chain Veganz. Fruit rolls are puréed fruits that have been dried to obtain a "leathery" consistency. They bring to mind all the Fruit Roll-Ups from childhood – but they're raw, natural, and vegan and free from artificial colors, preservatives, and added sugar. A healthy snack and pure Clean Eating!
Up until recently, I always borrowed my parents' dehydrator, a rather small device with rounded bottoms that made it impossible to make fruit rolls. When I had the opportunity to try out the Excalibur dehydrator,* which was generously provided to me by Keimling, I was excited to finally make my own homemade fruit rolls!
For those of you who aren't familiar with them, dehydrators are the "ovens" of the raw food world. In addition to fruit rolls, they can be used to make dried fruits, vegetable chips, raw "pastries" and crackers, and even dried herbs. Gentle drying at temperatures below 42°C keeps everything raw, preserving valuable nutrients. The temperature of the Excalibur can be adjusted from 30 to 70°C, and the device can accommodate nine trays, allowing you to make several fruit rolls all at once. Check out more info on dehydrators on the post about my favorite kitchen gadgets, which I continually update.
Any fruit – or combination of fruits – can be used make fruit rolls. Spices like cinnamon and vanilla or Superfoods such as maca, raw cacao, and açaí powder can also be added.
I started by washing 500 g strawberries and 500 g nectarines, removing the nectarine pits and strawberry stalks, and then puréeing everything in a Vitamix. My first attempt involving covering the dehydrator trays with foil and spread the fruit purée evenly and thinly over them – but I wouldn't recommend this, as I definitely had a hard time separating the fruit rolls from the foil! I later noticed that the dehydrator comes with extra non-stick coated inlay sheets that allow the fruit rolls to be easily removed. Lesson learned! ;-)
Fruit rolls can also be made in a regular oven – it's just a bit trickier, since you can't be as precise with the temperature as you can with a dehydrator. (Oven-baking the fruit rolls also uses up more energy.) The fruit rolls will need 6–12 hours until they're completely dry. The exact time varies depending on the type of fruit and the thickness of the fruit rolls. The fruit rolls are ready when the surfaces are dry to the touch. Afterward, they only need to be cut down to the desired size and rolled up (if preferred). Fruit rolls can be cut with scissors, a pizza cutter, or a sharp knife. You can also use a cookie cutter to make them into shapes!
Because the moisture is removed during the drying process, the fruit rolls will stay fresh for a long time. But I gotta confess: mine didn't last that long! My husband and I thought the rolls were just a little too good. ;-)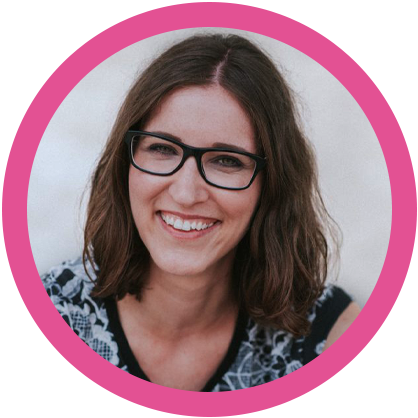 Ich bin Hannah Frey, Gesundheitswissenschaftlerin, Bloggerin und Kochbuch- und Ernährungsratgeber-Autorin. Ich helfe dir dabei, dich auch im stressigen Alltag mit wenig Aufwand gesund zu ernähren. Ich möchte dich zu einem gesunden Leben motivieren und inspirieren. Deshalb findest du hier jede Menge schnell zubereitete, einfache und alltagstaugliche Rezepte aus natürlichen Zutaten und ohne raffinierten Zucker – aber mit 100 % Geschmack!
https://www.projekt-gesund-leben.de/wp-content/uploads/2019/08/Fruchrollen-Erdbeere-Nektarine-2.jpg
700
1050
Hannah Frey
https://www.projekt-gesund-leben.de/wp-content/uploads/2019/08/The-Healthy-Living-ProjectUnterschrift-Logo.png
Hannah Frey
2015-09-17 17:45:50
2019-07-29 01:57:13
MAKE YOUR OWN FRUIT ROLLS – CLEAN EATING SNACK