In 2013, I discovered sushi anew: up until that point, I'd only had it in restaurants (and from the freezer). But this past spring, my sister, boyfriend, and a friend headed over to Hanover for a sushi-making class at World of Kitchen. It was awesome!
After the class, I tried my hand at making my own sushi at home several times. At some point, I heard that you can make sushi with quinoa instead of sushi rice – and after working with the ingredients a bit, I came up with the Quinoa Sushi recipe I'm sharing today. I've paired it with a Buckwheat Noodle (Soba) Salad, which we also learned how to make while we were in Hanover. Enjoy!
Recipe Type: Main
Cuisine: Vegan
Author: Hannah Frey
Prep time: 30 mins
Cook time: 15 mins
Total time: 45 mins
Serves: 2
Ingredients
1/2 cup quinoa

1 cup water

3–4 tbsp almond butter

Nori sheets

1 tbsp lemon juice

2 carrots

1/4 cucumber

1/2 avocado

soy sauce

wasabi
Directions
Cook quinoa according to package instructions.

While quinoa is cooking, peel avocado, cucumber, and carrots and cut into strips.

When quinoa has finished cooking, add almond butter and lemon juice to saucepan and stir. Remove saucepan from heat and let sit for a few minutes.

Using scissors, cut nori leaves in half. Place half a nori sheet on a bamboo roll and spread quinoa mixture over the bottom third.

Spread avocado, cucumber, and carrots and add a little wasabi.

Roll the sushi – this video from Kikkoman will show you how. (Admittedly, quinoa – which isn't sticky like sushi rice – makes it a bit trickier to roll everything together, but it can be done!)

Cut finished sushi roll into pieces.

Serve with soy sauce and – if desired – pickled ginger and wasabi.
I personally like this quinoa sushi more I like conventional sushi – and my friend loved it, too!  
Buckwheat Noodle (Soba) Salad
Recipe Type: Main
Cuisine: Vegan
Author: Hannah Frey
Prep time: 5 mins
Cook time: 5 mins
Total time: 10 mins
Serves: 2
200 g buckwheat noodles (soba)

1 bunch spring onions

2 tbsp sesame seeds

2 tbsp sesame oil

2 tbsp dashi broth
Cook buckwheat noodles according to package instructions (takes about 5 minutes); in the meantime, slice spring onions into ring.

 Drain noodles and rinse with cold water.

Mix with 2 tablespoons of sesame oil and 2 tablespoons dashi broth.

Add spring onions and sesame seeds.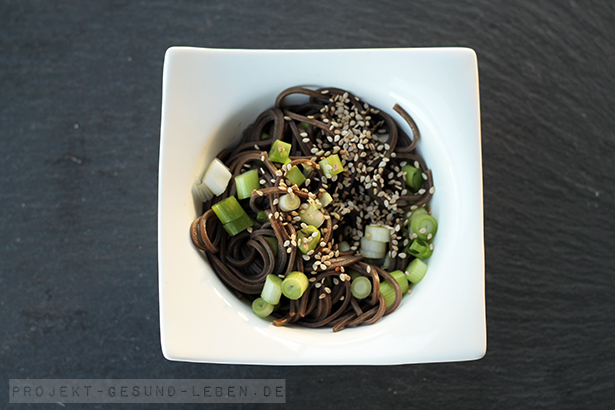 Here are some pics from our sushi class at World of Kitchen in Hanover (above) and our own sushi night, when we tried out making everything at home (below).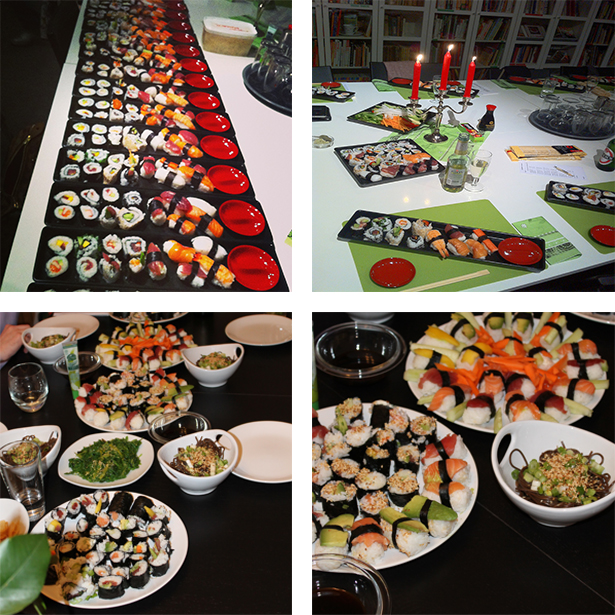 Making sushi is an art and it can take some time to get the hang of it. Be patient and keep at it!
Have you ever made Sushi with Quinoa? If not, I highly recommend it!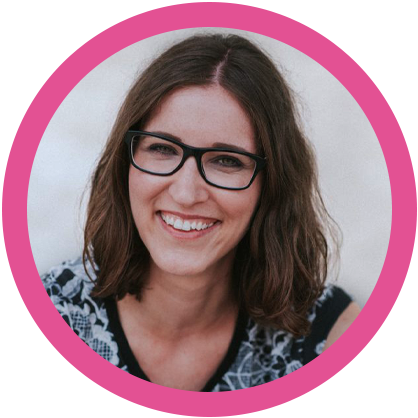 Ich bin Hannah Frey, Gesundheitswissenschaftlerin, Bloggerin und Kochbuch- und Ernährungsratgeber-Autorin. Ich helfe dir dabei, dich auch im stressigen Alltag mit wenig Aufwand gesund zu ernähren. Ich möchte dich zu einem gesunden Leben motivieren und inspirieren. Deshalb findest du hier jede Menge schnell zubereitete, einfache und alltagstaugliche Rezepte aus natürlichen Zutaten und ohne raffinierten Zucker – aber mit 100 % Geschmack!
https://www.projekt-gesund-leben.de/wp-content/uploads/2014/01/Quinoa_Sushi_Buchweizennudeln1.jpg
410
615
Hannah Frey
https://www.projekt-gesund-leben.de/wp-content/uploads/2019/08/The-Healthy-Living-ProjectUnterschrift-Logo.png
Hannah Frey
2013-12-30 21:43:52
2019-07-02 10:47:14
Recipes: Quinoa Sushi and Buckwheat Noodle (Soba) Salad